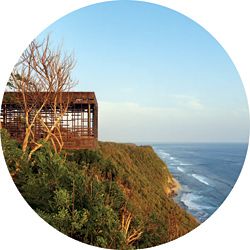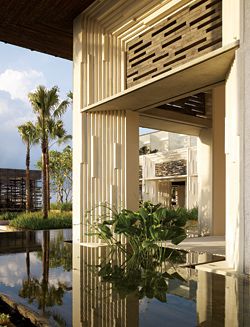 1 Commissioning, procurement and delivery.
The client is an Indonesian company and we have known one of the directors for many years. He is based in Jakarta; we are in Singapore. He commissioned us before the site had been selected, so we all went site hunting a few times. It was quite an informal appointment until we had completed the sketch design. The project took six years, due to difficulties such as the bombings, SARS and the financial crisis.

2 The brief and the response.
The brief was great. The new hotel brand Alila Villas, of which the developers are shareholders, has the tagline "surprisingly different". This was a brand-defining project, setting up the next generation of hotels. We were both keen to make sustainability one of the key pillars. We proposed an unusual masterplan, room and public areas, and we worked closely with the operations side to make sure the software and hardware developed together into the brand experience.

3 Working across cultures.
In Indonesia, you can't expect things to go on time or exactly to plan. We went with this, taking the time to really refine and test things. There are pros and cons in any system, and finding what the pros are comes with experience. In a low-labour-cost environment, mock-ups and samples are not a problem and give everyone a clear understanding of the aims, so we did intensive samples of all the main elements of the design language. This resulted in some adjustment – for instance, our recycled timber elements were reduced in size to get more pieces out of the railway sleeper modules. The Balinese workers are incredibly visually literate so, although everything is crooked due to crude setting out, in the end it all lines up perfectly. They really understand corners, junctions, forms, so they enjoyed our design and we liked working with them. The environment is much less systematized, and everything is done from scratch – you can say "let's develop a bamboo ceiling" or "we want to do a bronze-bead ceiling" and slowly get it right through trial and error.
We had a great team of consultants, who are all used to working in the region and know a lot about the history and culture, so it was a great experience building up solutions together. It's nice to be squatting in the shade at the top of a cliff by the sea, eating barbecued fish off a banana leaf, discussing bronze castings from central Java!
Design-wise, we wanted to make a language that was "knowing" of the global situation, yet also "sharing" of local knowledge. It is a meditation on what Balinese architecture is, what global architecture is, and drawing connections between the two – for instance, between Scarpa and Majapahit architecture, between Mies and Balinese pavilions – and working at this interface. What can Miesian space do with the relation of the pavilion to the exterior and to the horizon, compared to a pitched-roof pavilion? What can Scarpa's mannerist workings do to a Majapahit stepped corner? We think the final product allows an intense experience of the site that owes its impact to these fusings of the local and global.

4 What did you take away from the project?
Working in developing countries is less legalistic, more experimental, and this makes it a very creative process. The frustrations are more than compensated for by the joy of working hands-on in such a positive environment, and in such a beautiful place.
Architect WOHA—project team Richard Hassell, Wong Mun Summ, Chan Ee Mun, Ranjit Wagh, Mappaudang Ridwan Saleh, Alan Lau, Lai Soong Hai, Miikka Leppanen, Muhammad Sagitha.
Ecologically sustainable design consultant Sustainable Built Environments.
Quantity surveyor Kosprima Sarana Kuantitama.
Mechanical and electrical engineer Makesthi Enggal Engineering.
Structural and civil engineer Worley Parsons, Atelier Enam Struktur.
Landscape Cicada.
Lighting Lighting Planners Associates.
Main contractor Hutama Karya.
Photography Tim Griffith.