Alistair Knox-designed mud-brick house saved from demolition
A significant post-war house designed by Victorian designer, builder and landscape architect Alistair Knox has been granted a heritage overlay by the City of Bendigo, protecting it from demolition.
Known as Nanga Gnulle (or Green House), the house was designed in the early 1970s and features an eclectic array of reclaimed materials, including parts of a 19th century railway bridge, bricks made by Bruny Island's convicts, and remnants of Bendigo's Australian Natives Association (ANA) Hall, built in 1893 and demolished in 1971.
One of only two houses designed by Alistair Knox in the greater Bendigo area, Nanga Gnulle is characteristic of the late designer's self-build, mud-brick modernist style.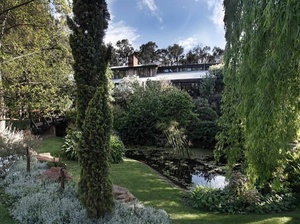 Previously used as a wedding venue, the house and its sprawling gardens were sold without conditions in 2014. Plans to raze the gardens and demolish the house to make way for multiple townhouses submitted to council in 2016 drew the ire of the community, as well as the Victorian branch of the National Trust of Australia.
The National Trust submitted to council that there was a strong case for "architectural, aesthetic and associative significance at a local level," and that a heritage assessment should be undertaken "as a matter of urgency" to inform any subdivision or future development.
On receiving a number of objections to the proposed development, the city commissioned architectural consultancy Built Heritage to undertake a heritage assessment of the site.
Built Heritage's report, submitted to council in March 2017, found that the main residence was of heritage significance because of its association with Knox, "an important and influential figure in the development of post-war residential architecture in Victoria."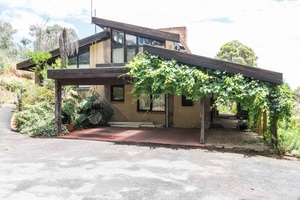 While Alistair Knox was not a trained architect he designed more than 1,000 buildings throughout his career, and built many of these. Influenced by a scarcity of materials, Knox first began building with mud brick in the late 1940s, and the material became "his means of both survival and creative expression," according to historian Fay Woodhouse.
During the 1950s, Knox's architectural style was informed by the internationalist style of Frank Lloyd Wright, as well as Robin Boyd and Walter Burley Griffin. He designed houses with simple structures that were closely connected to the landscape around them. Famed landscape architect Bruce Mackenzie noted that a Knox house "grew in the landscape in the way that trees adapted […] to inevitable forces."
By the 1970s, Knox's designs had become more sophisticated, and incorporated stone and timber as well as mud. The report prepared by Built Heritage, also noted Nanga Gnulle's unique use of recycled materials, including bricks, stone, timber and architectural features from demolition sites around Bendigo.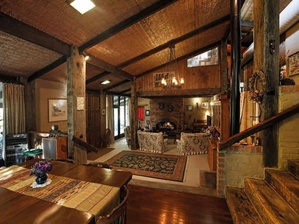 While Built Heritage recommended the main residence for heritage protection it found the surrounding gardens and additional structures built after the main residence were not of significance.  
The council voted unanimously to proceed with heritage protection for the main residence and a five-metre curtilage around it in August 2017, and the developers have since amended their subdivision application, according to the council.
In a statement, the National Trust said it welcomed the protection of the rare mud brick house, but questioned the decision to exclude the gardens and suggested the five-metre curtilage was "extremely restrictive".