All right now: National Architecture Conference day 1
At the close of the first day of the 2016 National Architecture Conference, John de Manincor reflects on the immediacy of conference reportage and our fixation on the 'now.'
In his opening address for the How Soon is Now conference in Adelaide on Friday morning, Cameron Bruhn suggested that the he and his co-creative directors Ben Hewett and Sam Spurr found inspiration in the 1985 song by The Smiths of the same title:
When you say it's gonna happen "now"
Well when exactly do you mean?
See I've already waited too long
And all my hope is gone.
Despite this explanation – and I am showing my age here – I could not help but dwell on the 2006 conference directed by Stephen Varady entitled The Future is Now! Soon? Now? Tomorrow? The question of time was central to the discussions today, indeed it always is a key question for architecture both conceptually and pragmatically, from concepts of timelessness to client demands of "when will my building be ready?!"
Time not only is a key issue for practice, but also has relevance to the very concept of the immediacy of reporting on the conference itself. It is 11pm on day one of the conference and this article should be live soon – in fact, this piece is due now! That said, by the time you have read this modest commentary, it is highly possible that you will have already seen some form of media about the day's proceedings. If you are not in Adelaide, you may have received an email from a colleague who is here, or kept up with the action "live" through the ubiquitous social media channels of Instagram, Facebook and Twitter.
"If you're like me, you're completely frustrated by too many regulations." Julie Eizenberg, my favourite #HowSoonNow2016 speaker so far #Now

— David Neustein (@dneus) 29 April 2016
I attended my first National Architecture Conference in 2004, directed by Ian Moore. I learned of the conference through posters in the lunch room at work and I am pretty sure I would have faxed my registration and payment (ouch) to the Institute. I recall an amazing array of speakers but also the strange sense of community in the foyer spaces while queuing for bad coffee, happily discussing the content of the presentations with complete strangers. Community, in the sense of real people in real conventional space, formed much of the discussion today but it primarily used models of community that date back to the pre-industrial era. More than one of today's speaker's made reference to Jane Jacobs's book The Death and Life of Great American Cities (1961), which drew heavily on her real-life experience of living in the very real and very vibrant community of New York's West Village.
Notions of community today are far more complex – online platforms provide new modes of communication accessible as soon as … well … now! In 2004, Facebook launched to an invited network of online "friends." Initially established as a means for Harvard students to "hook-up," Facebook went truly public in 2006 and now has an active online community of 1.6 billion. Twitter, established in 2006, has 320 million active monthly users, and Instagram has a community of 400 million, 75 million of which are active on a daily basis. All of these platforms were used to comment on today's proceedings – photos, thoughts and quotes were instantly shared with a global community, a community that was conspicuous in its absence, which seems odd in a conference about the conditions of the "Now."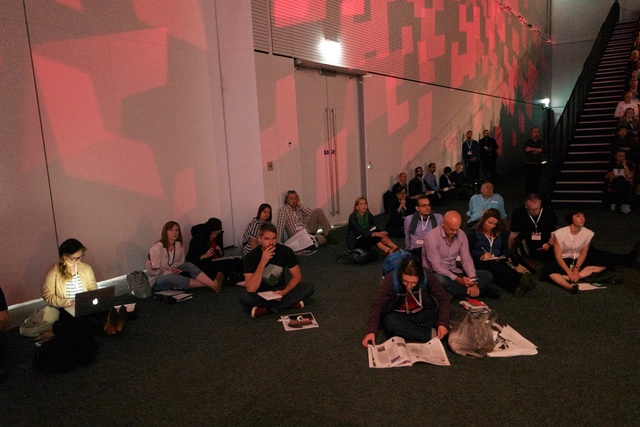 In observing the crowd gathered in Adelaide I saw some of the faces from 2004, which of course is comforting. More exciting, though, was to meet the collective of architecture students and recent graduates who, in keeping with the grass roots / bottom-up theme of today's discussions, have instigated a blog that is providing an almost-live stream of proceedings. The team has created the blog How Now is Soon. Co-ordinator Nasi Lazarou said he was interested in "bringing to the surface conversations that might otherwise only happen in bars … collecting the debris from these types of discussions and pushing them out into the public domain." While social media allows delegates to instantly share their opinions on proceedings with and image and/or 140 characters, Nasi and the team are compressing the timeframe for a (slightly) more considered response, curated at break-neck speed. Rather than repeat the online shorthand of today's events here, I suggest you go to #howsoonnow2016 on Facebook, Twitter and Instagram or, for deeper engagement, witness a community of emerging voices on architecture and design in Adelaide at hownowissoon.com… do it NOW!
Watching #HowSoonNow2016 but reading @HowNowisSoon, for the fastest, sharpest, choicest commentary going. https://t.co/WPCtAEnBBm

— Julian Worrall (@julianworrall) 29 April 2016
The How Now is Soon team comprises Athanasios (Nasi) Lazarou, Tin Do, Jenna Holder and Meherzad Shroff.
For full details of the How Soon is Now conference, visit architecture.com.au/howsoonisnow