The Domain Theatre at the Art Gallery of New South Wales is a big room in a prestigious institution. Before anyone speaks, the venue speaks first. Visitors borrow the imprimatur of the institution, on this occasion at the Architecture Symposium, Sydney curated by Angelo Candalepas and Wendy Lewin, part of the program for the 2018 Sydney Architecture Festival.
In his opening remarks, Candalepas set out the rules of engagement. "This symposium seeks to enable the epiphany of the work that exists just before its own birth … The symposium is also a collective positioning, which seeks to observe those works that are a public offering, those works that will affect more than just private households."
Already the symposium had eschewed much of what is popularly considered architecture – beautiful photos of beautiful homes. In asking speakers to present a project in process, Lewin and Candalepas created a kind of intimacy; the gorgeous artful shots we all love were mostly set aside in favour of the informal progress shots you might share with a colleague over a drink. John Wardle's construction photos of the Melbourne Conservatorium of Music were glorious for their celebration of contemporary craft. And Gerard Reinmuth's source imagery for Terroir's Penguin Parade Visitor Centre was a candid revelation of design thinking and associative formalism.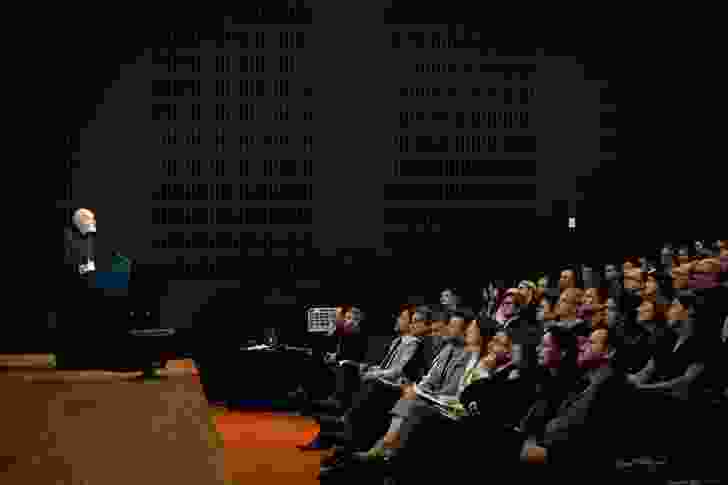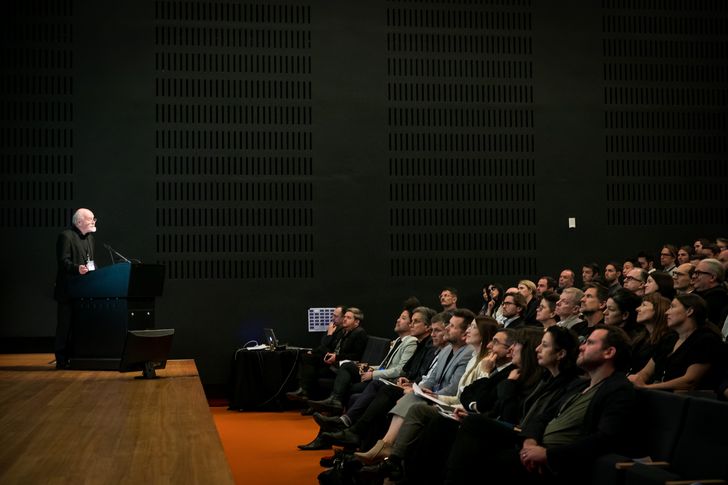 A long list of speakers describedworking in all kinds of contexts, from Moe to Bangkok, from the Pilbara to Phillip Island, and through a broad spray of typologies: shrines, multiresidential and single-family homes, schools, hotels, community centres and a rail operations centre.
The event was billed as "giving voice to Australia's world-class architects," which makes us sound a bit beleaguered and maybe a little desperate to be recognized on the world stage. But in the Sydney context, where international globetrotters and FIFOs have picked up major commissions and established significant presence in the city, it was a collegial message to local practitioners.
There was no representation, however, of alternative modes of practice. Architecture is not entirely comfortable with idiosyncrasy and in these teen years of the third millennium it's nothing but idiosyncratic, defined not by shared belief, modes of practice or agreed dogma, but by agency and opportunity. As a discipline, if not as a profession, we could afford to be more generous in our definition of practice, which often transcends traditional roles and measures. So it seemed like a missed opportunity that there were no academics, writers or filmmakers, no photographers and only one critic. And she's from somewhere else.
Karen Stein was billed as "guest critic," an understatement given her standing as co-chair of the Architecture and Design Circle at the Museum of Modern Art in New York and as a former Pritzker Prize juror. Lewin reflected on the task of guest critic: "Karen Stein can seek to make observations about the relevant intangibilities that give presence to whatever may be seen to connect us all."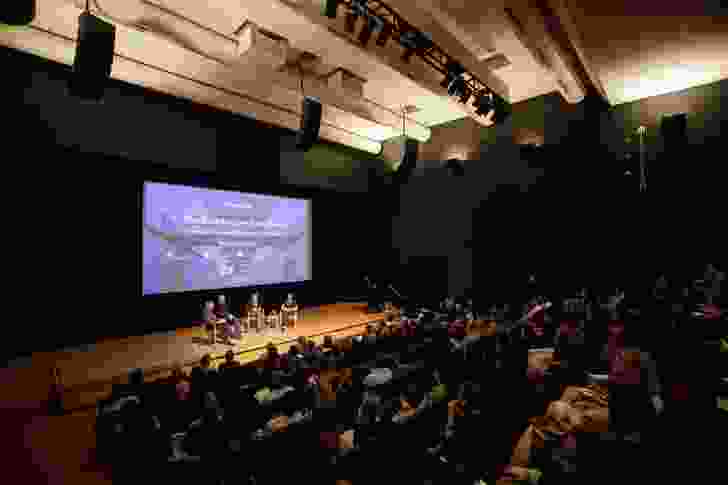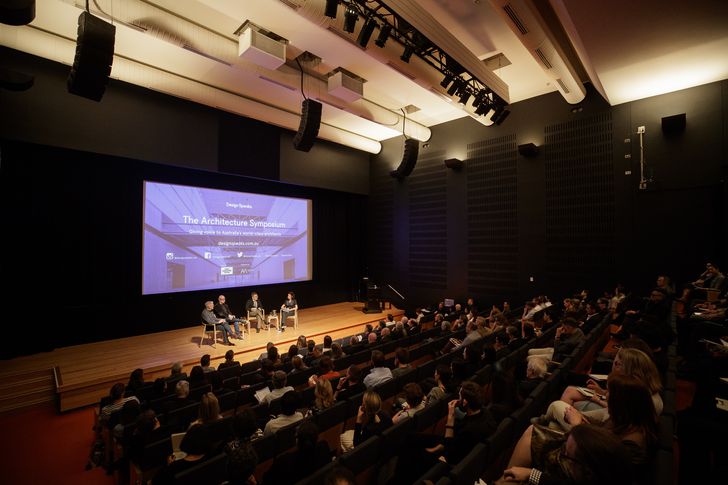 Lewin was deliberate in describing the professional and conceptual context for the symposium. "The concept of elitism has been assured in the face of feigned humility. We have assured the rating of peers to a level of higher order in the same way that the schools of the 1990s were giving every student medals or certificates for turning up." This is a common enough refrain, but then this: "The ancient lament, however – the judgement of that which is judged – is at question, and how well placed we have become to give critique to ourselves about what we do." That ancient lament is from the Sermon on the Mount, "Judge not, that ye be not judged."It's not a prohibition against critical appraisal, but a warning against hypocrisy: we will be judged by the same measure with which we have weighed others.
Lewin and Candalepas hope to celebrate the worthy. But who decides? The pre-approved? The oft celebrated? Who judges? What is the measure? Perhaps through architecture we seek opportunities for rumination, to take architecture as a catalyst for imagination, not its apotheosis. Perhaps it's not judgement we need, but something approaching grace.
At the very end of the day, after twenty speakers (a full program by any measure), there was a brief candid moment that stayed with me. Candalepas asked a terrifying question of Stein: "Did you see any common theme in terms of the culture of this place that is specific to us as compared to all the other places that you are aware of?"
There was a long pause and nervous laughter from the audience. It's an impossible question to answer. Stein answered by extolling the virtues of a collegial culture, but it was Candalepas's candidly deflated lament that was both poignant and galvanizing. "I was hoping that there was something larger." Maybe we all were.
But to ask such a question in hope: Is there something common in us? Is there something specific and unique about us? Something bigger than any one of us that we can commit to, attest to, devote ourselves to, something that marks us out as a community? It seems to me now that the day had been shot through with questioning and hope, that each speaker had worked from both their knowledge and their doubt. As Stein said, "Architecture is a leap of faith but trust isn't blind."
Neil Durbach was briefed to discuss lyricism in the cultural context of Sydney and the advocacy of things that are not there for a reason. "We live in a fractured world," he said. "It's a world without common agreement and it's a suburb with a wild disarray of buildings. You will find yourself in a context swirling with contesting architectures … And you may ask yourself, Well … how did I get here? / You may ask yourself, What is that beautiful house? / You may ask yourself, Where does that highway go to? / And you may ask yourself, Am I right? Am I wrong? / And you may say to yourself, My God! What have I done?" He got a laugh out of Talking Heads but there is a serious point to be made. "Everyone here is into architecture as a transcendental experience – making physical rooms for metaphysical roaming," said Durbach. "The advocacy of things that are not there for a reason is really the most radical position."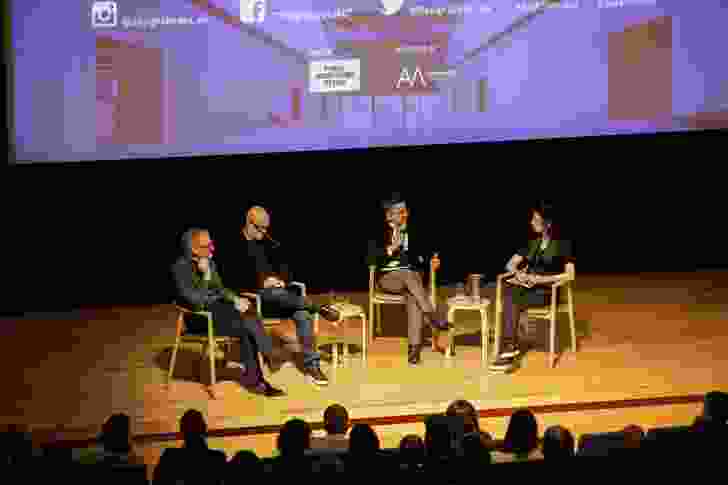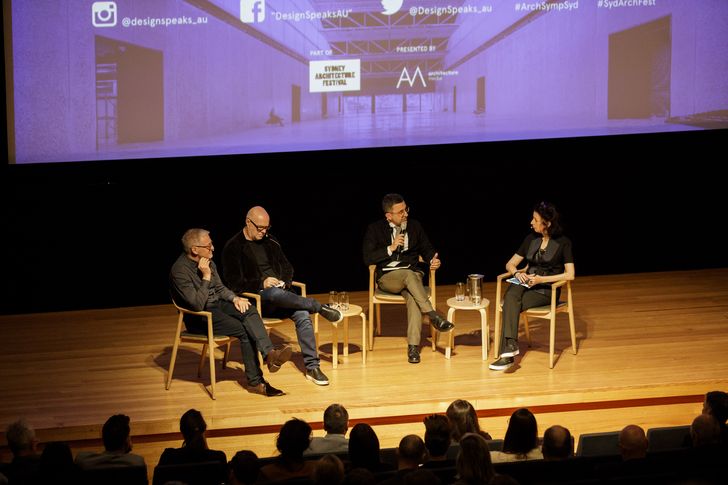 But what makes for a hopeful architecture? Jennie Officer of Officer Woods showed us her East Pilbara Arts Centre, a building that welcomes dogs and children and is a safe place for making and preserving culture. Mel Bright's St Mary's Coptic Church in Melbourne's Kensington demonstrated a new generosity in urbanism and spirit, architecture opening a community to the city. The Cranbrook School's Wolgan Valley Campus by Andrew Burns designs new rituals into the fabric of a place, while Stuart Vokes's Subiaco House offers a private family home up to the city and asks: If our houses were actively urban, what would a street be like? A city? Our communities? In all these cases, architecture is actively proposing hopeful futures where the built environment is an armature for new social bonds.
Ian McDougall said, almost at the last, "The best architects have something to say and have developed the skills to express that in their work." Rachel Neeson captured urban memory while communicating vibrancy and safety in her Juanita Nielsen Community Centre upgrade. James Grose created an Australian architecture that resists caricature in BVN's Australian Embassy Complex, Bangkok. William Smart, meanwhile, recalled nineteenth-century optimism (and not a little Louis Kahn) in his new Rail Operations Centre in Sydney. Each has brought considerable cultural value to the city through their skill and local knowledge.
McDougall cited Phillip Adams's report to John Gorton, pleading for the support of the Australian film industry. "We hold these truths to be self-evident – that it's time to hear our own voices, see our own landscapes and dream our own dreams." What more could we hope for than that?
The Architecture Symosium is part of Design Speaks, a series of talks, seminars, forums and conferences on architecture and design, for design professionals and their clients and interested members of the wider community. Visit the Design Speaks website.
Design Speaks events are organized by Architecture Media, publisher of ArchitectureAU.
Related topics