Architecture has the power to convey authority and values. In the contemporary city, this power is predominantly seen in design's emphasis on aesthetics and economics – and it's fierce. The thin, graphic experimentation that litters the urban environment is continually challenged by design firms operating in the corporate realm. One of these practices is BVN Architecture, whose corporate design vision can be seen in its recent fitout for law firm Allens Linklaters. The design raises some important questions: How does architecture mediate the need for branding and identity? What are the effects of entwining business and culture?
Allens Linklaters is an international law firm with offices throughout Australia and Asia. The Melbourne office decided to move premises and, in the process, to redefine its core values. The past fifty years have seen a diversification of office types – open plan, partitioned, cell or group. More recently we have seen offices catering to changes in working hours and styles, with the development of flexible shared offices and – a personal favourite – the "walking" office. These typologies focus on less prescribed and unprompted moments of meeting and communication to foreground the importance of employee happiness in the workplace and, naturally, the flow-on effects for productivity.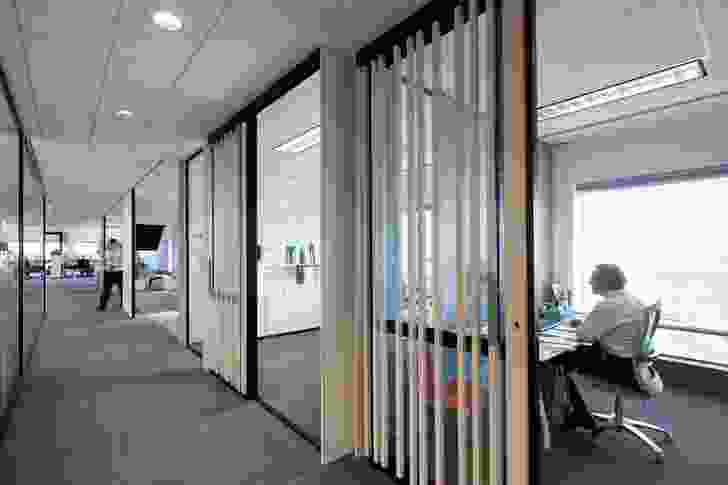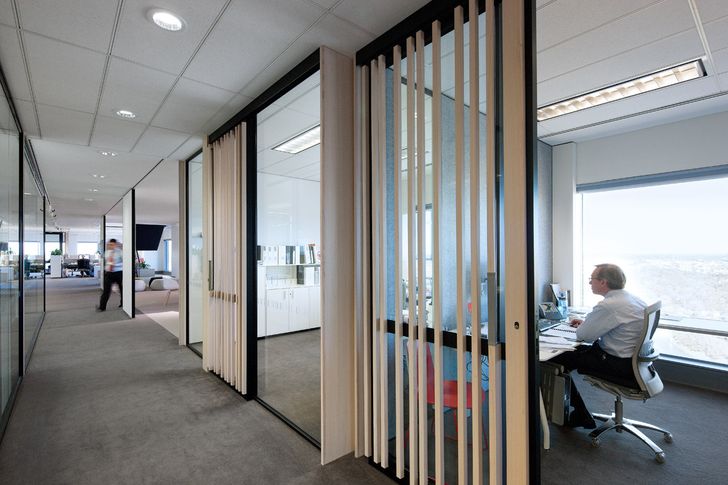 Law firms rely on being well-structured and well-organized. They know detail. For Allens Linklaters, it was imperative that the new Collins Street office reflected its strong and powerful brand as well as speak to the company philosophy of permeating every part of the client's experience. To facilitate this task the firm enlisted the expertise of BVN Architecture, which worked on the project with a primary working group of Allens Linklaters directors, partners and administrative representatives. Together they held fortnightly design sessions, and channelled the ideas raised in them into a balanced view of the company's needs and future trajectories.
BVN took a measured approach to the project. With 12,500 square metres over seven levels to work with, and six hundred employees to satisfy, the task was far from simple. Ninotschka Titchkosky, BVN's Victorian state director, saw it as an opportunity to improve company productivity, as well as to re-energize company identity and branding. The latter task is generally difficult to pull off, given the collapsed disciplinary boundaries (of, say, marketing, visual communication and the company product). These concerns must become the realm of the architect along with the spatial planning and material palette.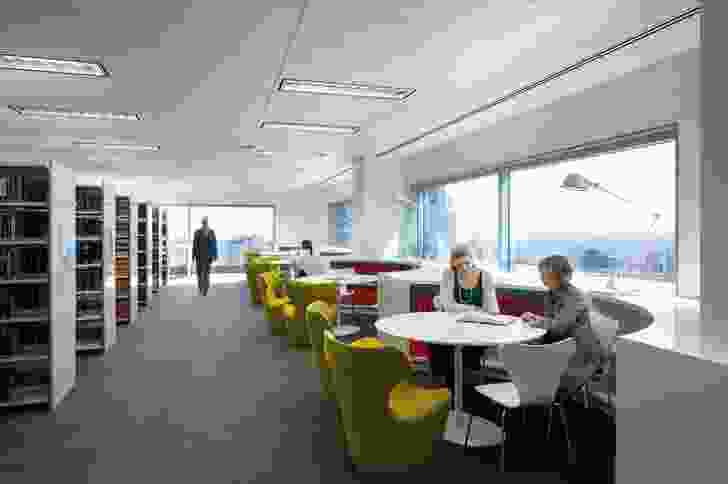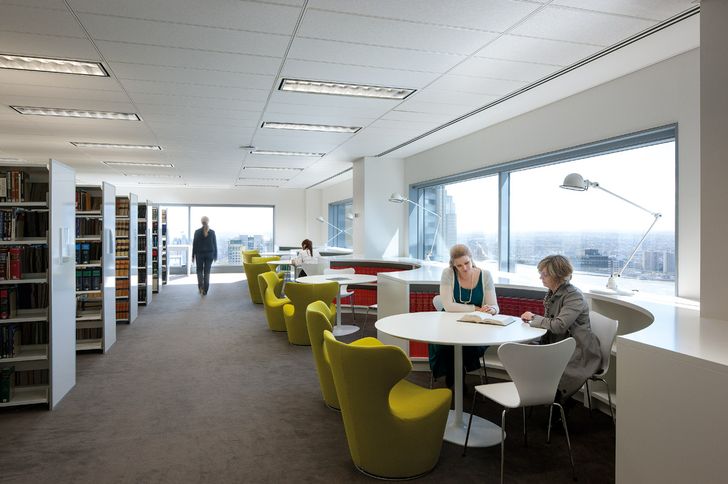 The hierarchical office system is, for the most part, a received part of the structure of a legal practice. While early discussions between the designers and the clients questioned some of the basic assumptions, options were quickly dissected and a decision was made to maintain an office-based culture. One change that did take place was that large private office spaces were made more efficient and were reduced in size to provide room for more shared and administrative spaces.
The new fitout has transformed Allens Linklaters' office culture and configuration. The old rosewood office and marble reception are gone, and in their place is a corporate landscape where values blend spatially and virtually through the uniting of the physical office with the company's web presence, graphic design and media interface. The branding insists on the blurring of all possible representational boundaries.
An oblique footprint now shapes the perimeter offices. This small move provides transparency to the central open-plan administrative areas and lessens the traditional office hierarchy by providing everyone with visual access to the stunning views. The formula across six of the seven levels includes lounges, breakout areas and media spaces, plus neutral "touchdowns" for collaboration and teamwork. Progressive technology is subtly incorporated. The library, for example, has implemented reading pods in an attempt to balance out the online emphasis. In this way the generational divide is bridged, and conventional notions of the library as a mere repository for information are overturned: it becomes a space of participation and energy.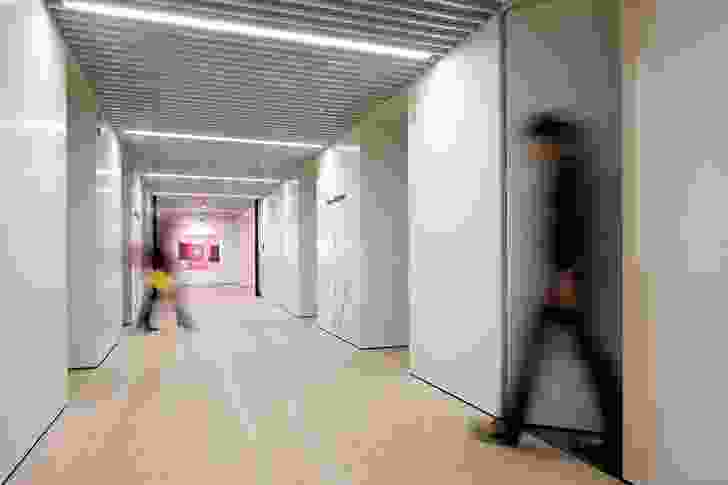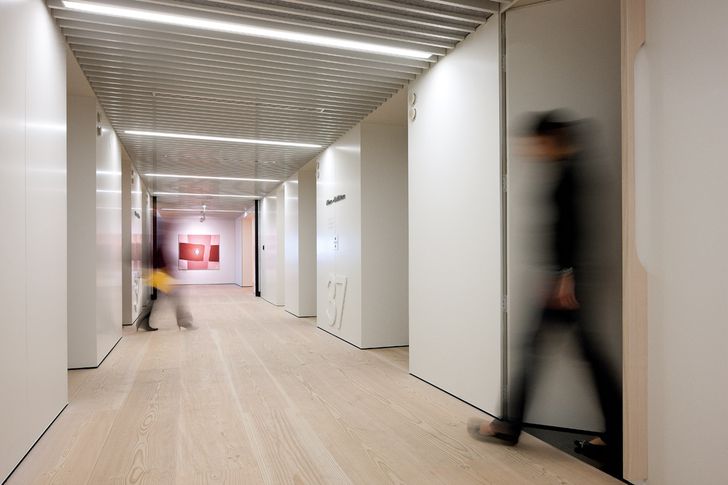 These various apertures of intimacy and privacy, and community and socialization, combine with a sophisticated material palette. For example, the Dinesen Douglas fir flooring is soap-washed white, and brings warmth to and "de-corporatizes" the client level. The upholstered wall panels in the fully interactive meeting rooms contract to provide a conference space for 140 people.
If architecture conveys the values of the organization, then Allens Linklaters' art collection conveys its vision. As a large corporate collector, Allens Linklaters chose to celebrate art in the new premises and was so committed to this that it employed a curator to manage the massive collection. The reception is part art gallery, and the work of emerging artists is on continual rotation in the adjacent foyer. Tick.
Interestingly, during the design process Allens Linklaters managed a blog about the construction as a way to keep the staff's interests piqued. It's safe to say the enthusiasm for the new fitout is still strong.
Allens Linklaters was shortlisted at the 2013 INSIDE: World Festival of Interiors.
Products and materials
Walls and ceilings

Woven Image EchoPanel wall lining. 2-pac finished MDF wall panels. Vitreous enamel whiteboards.
Windows

Blinds with black anodized finish from Lidi.
Doors

Dorma auto sliding doors and operable walls. Lockwood hardware.
Flooring

Dinesen Douglas fir timber flooring with lye and white soap wash finish. Bolon woven vinyl resilient flooring. Signorino TPG black basalt stone flooring.
Lighting

Erco art lighting.
Furniture

Unifor MDL workstations and customized storage units. Dexion shelving and compactus units. Formway Life task chairs and Enea Lottus chairs from Zenith. Jardan Tilda tables to office floor. Buttress open meeting spaces/touchdowns/breakout areas. Viccarbe storage units from Hub to the client floor meeting rooms. Wilkhahn timber veneer tables to the client floor meeting rooms. MDF Italia Stable Table and Colors Table from Hub to the client floor meeting rooms. B&B Italia Mart chair and Zanotta Derby chairs to reception. Arper Catifa leather chairs from Stylecraft to client floor meeting rooms. B&B Italia Fat-Fat Lady Fat tables and ottomans from Space to the breakout spaces. Accademia Velina chairs and stools to the breakout spaces and buttress meeting spaces. Hay About a Chair from Corporate Culture to the breakout spaces.
Kitchen

Laminate and timber veneer-lined joinery.
Bathroom

Omvivo basins.
Other

All artwork throughout the tenancy and in the main installation on level 37 is from the Allens Linklaters' corporate collection. Custom-made joinery throughout the tenancy. Custom-made meeting room doors on level 37. New inter-tenancy stair from level 35 to level 40. Sliding and fixed artwork walls to gallery and breakout spaces. Feature ceiling in level 37 meeting rooms is Woven Image EchoPanel lined with Woodform Architectural powdercoated aluminium slats and integrated servicing. Extensive AV capability throughout tenancy including rear projection rig on level 37.
Credits
Design practice

BVN Architecture
Melbourne, Vic, 3000, Australia
Project Team

Ninotschka Titchkosky, Rod Allan, Emma Coulter, Kylie Robinson, Sarah Embling, Natalie Boston, Domino Risch, Carol-Ann Pickvance, Peter Richards, Chris Barnes, Nikhat Karim, Emma Kerr, Breanna Ryan, Jasmin Starcevich, Mick Fischer-Brunkow, Rod Neil, Michael Ferrarin, David Ho
Consultants

Builder ISIS Group Australia Pty Ltd
Building surveyor McKenzie Group
DDA Morris Goding Accessibility Consulting
ESD Arup Melbourne
Engineer Arup Melbourne
Lighting Arup Melbourne
Project manager MPS Property
Quantity surveyor WT Partnership

Site Details

Location 101 Collins Street, Melbourne, Vic, Australia

Project Details

Status Built
Design, documentation 8 months
Construction 11 months
Category Interiors
Type Workplace

Source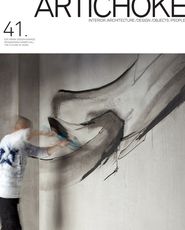 Issue
Artichoke, December 2012
Related topics