AM60, a commercial tower in the Brisbane CBD, provides a richer response to its context than its programmatic brief would suggest. The project is located in the Brisbane CBD, near several other buildings with similar scale and program. It is also located close to several smaller and older structures that serve to give continuity and character to this part of the city. The urban form of the project responds to these influences, while providing for the needs of its tenants with large floor plates, good solar access and a sustainable approach to the provision of commercial space.
Perhaps one of the most striking features of the project is the use of scaling devices on the different facades. Concrete framing devices anchored to floor slabs beyond the glass enclosure of the building provide a visual richness to the facade, along with visual differentiation from the interior looking outward, something that is usually lacking in commercial space.
As the tower reaches the ground, further articulation at the corner in the form of an upper-level garden suggests the potential for activation. One can imagine retail and restaurants colonizing this corner over time and enhancing the current ground-level cafe area. Another response to context is found in the "brick conference tower," which provides a transition piece to the adjacent building and older buildings across the street.
AM60 is an addition to the Brisbane CBD that will grow richer with time and use.
– Jury citation
"At the Queensland Chapter Awards, over 650 people attended the Brisbane Regional Awards night while Cairns motivated over two hundred for a sit-down dinner and presentation. Regional awards were also held in Rockhampton, Toowoomba, Townsville and on the Gold and Sunshine Coasts … AM60 by Donovan Hill received the Commercial Architecture Award."
– Architectureau, 13 July 2011, 2011 Queensland State Awards.
For a full list of awarded projects see 2011 National Architecture Awards – the winners and for more awards discussion see Rachel Hurst and Rory Hyde's responses to the awards and the jury overview by Karl Fender.
Credits
Architect

Donovan Hill
Australia
Project Team

Brian Donovan, Timothy Hill, Michael Moore, Kim Baber, Paul Jones, Fedor Medek, Phillip Hindmarsh, Lucas Leo, Simon Depcsynski, Grace McKellar, Jacque Jones, Greg Lamb, Sandy Cavill, Briohny McKauge, Christina Cho
Consultants

Building surveyor PMM Brisbane Pty Ltd
Certifier Bartley Burns
Consultant Arup, TTM Consulting, Cundall Australia, Conics, Graham Hobbs
Consulting engineers Sheehy & Partners
Developer Trinity Funds Management
Environmental consultant Built Ecology (previously Advanced Environmental)
Landscape consultant Gamble McKinnon Green Brisbane
Mechanical and electrical consultant WSP Lincolne Scott
Structural consultant Alliance Design Group

Site details

Location Brisbane, Qld, Australia
Site type Urban
Category Public / commercial
Type Commercial

Project Details

Status Built
Website http://www.donovanhill.com.au/images/commercial/pdf/AM60%20Profile.pdf

Source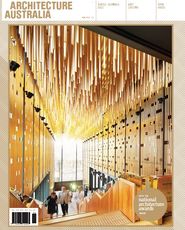 Issue
Architecture Australia, November 2011
Related topics