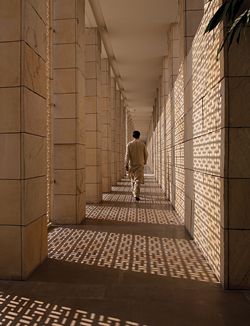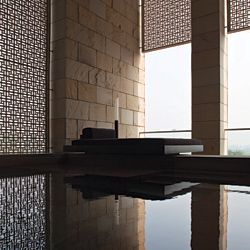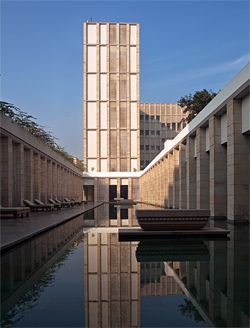 1 Commissioning, procuring and delivery.
The project was commissioned by Aman Resorts, our major hotel client.
India has its own way of doing almost everything. No foreigner can change that, and it is naive to imagine that you might. They have their own building delivery systems, at times confusing and often frustrating, which must be viewed with tolerant amusement or you won't succeed.
It is not the practice of architecture that differs so much as the attitude of the industry that commissions and builds it. Indians have a profound respect for architecture. There is great pride in India's architectural heritage, both ancient and modern, and this is reflected in a willingness to experiment for the good of a project. Flexibility in the building industry still exists.

2 The brief and response.
The project is located near the centre of New Delhi at a busy traffic junction, a short distance from Humayun's Tomb, the sixteenth-century Mughal monument. Aman Resorts has a reputation as a leader in exclusive resort hotels, and this project is one of its first urban properties. The intention was to establish a luxury hotel combining the exclusivity expected by Aman guests with the varied public facilities and social engagement demanded in a contemporary city hotel. In addition, we sought to find an appropriate response to building at this scale within the urban fabric of New Delhi. The design is composed of courtyards, water, columns and screens. The principal spaces surround a long courtyard, with lawn, reflection pools and mature trees. At a more intimate scale, guest suites and residences include extensive verandah spaces and private courtyards, most with stone-clad plunge pools set within double-height volumes.
The language of the architecture emerges in a simple and direct way from the idea of the column, which is inherent in most Mughal architecture. Columns are placed at close centres and clad in Gangapur sandstone both inside and outside, to provide a sense of order that unifies the interior and exterior spaces. Almost floating between the columns are jaalis, or perforated masonry screens. Used throughout the project, the jaalis filter sunlight and give privacy while maintaining selected city views. A clear reference to the carved masonry screens of traditional Indian architecture, in this contemporary interpretation they are moulded from glass-reinforced cement and fixed with stainless steel brackets. Throughout the day, these intricate screens cast animated shadows onto the building surfaces; at night the effect is that of a lantern.
Luxury is achieved through space, light and finely detailed finishes rather than expensive materials. The restrained palette includes dark-stained timber panelling, olive-hued Rajasthani Khareda stone and handmade carpets. Traditional design is referenced through suggestion and association rather than replication and through the reinterpretation of indigenous building forms as opposed to mimicry.

3 Working across cultures.
Spending time in another culture makes one aware of both the similarities and the differences. Though generally, in working across cultures, we have found that serious architects and committed clients make good buildings wherever they are.
Architect Kerry Hill Architects—project team Kerry Hill, Justin Hill, Ross Logie, Terry Fripp, Paul Semple, Albano Daminato, Patrick Kosky, Sapna Khattar, Debashis Mitra.
Associate architect Mohit Gujaral, Design Plus Architecture.
Project manager Project Systems International.
Main contractor Ahluwalia Contracts (India).
Construction manager Archetype Vietnam.
Mechanical and electrical engineer Spectral Services Consultants.
Quantity surveyor Barton Associates.
Structural and civil engineer Mahendra Raj Consultants.
Landscape Tierra Design.
Lighting Lighting Planners Associates.
Acoustics Acviron Acoustics Consultants.
Photography Albert Lim.