British architect and designer of Melbourne's 2015 MPavilion Amanda Levete has been awarded the 2018 Jane Drew Prize by The Architects' Journal and The Architectural Review.
The annual prize recognizes architectural designers who made outstanding contributions to raising the profile of women in architecture.
Paul Finch, editorial director of the Architects' Journal and The Architectural Review, said, "Amanda Levete is an architect whose career has been notable at several points, but whose independent practice has blossomed internationally, and whose independent voice has generated welcome debate and reform."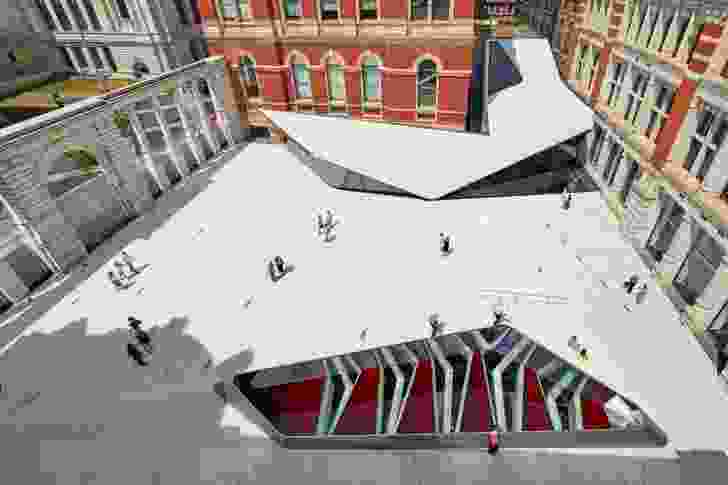 Levete is principal of her own practice AL_A. She was trained at the Architectural Association in London and worked in the office of Richard Rogers before joining Future Systems as a co-partner with late ex-husband Jan Kaplický. The practice was awarded the RIBA Stirling Prize for its Lord's Cricket Ground Media Centre project in 1999. Levete founded AL_A in 2009 and in 2011 the practice won the competition for a new entrance to the Victoria and Albert Museum, which was completed in July 2017.
The Jane Drew Prize, named after an English modernist architect and town planner, is part of the Architects' Journal and The Architectural Review's Women in Architecture Awards.
Previous winners of the Jane Drew Prize include Denice Scott Brown (2017), 2018 Venice Architecture Biennale creative directors Yvonne Farrell and Shelley McNamara (2015) and Zaha Hadid (2012).
Artist Madelon Vriesendorp was awarded the 2018 Ada Louise Huxtable Prize, which recognizes non-architects who have made significant contributions to architecture and the built environment.
Vriesendorp cofounded the Office of Metropolitan Architecture (OMA) with Rem Koolhaas and Elia and Zoe Zenghelis in 1972. She is best known for her painting Flagrant Delit, which appeared on the cover of Rem Koolhaas's Delirious New York (Oxford University Press, 1978).
"Madelon Vriesendorp is a rarity: a true artist who has a deep understanding of architecture and its protocols and whose observant and witty work has provided a thoughtful visual counterpoint to the world of bricks and mortar," said Finch.
Levete and Vriesendorp will be speaking at the Women in Architecture Luncheon in London on 2 March, when further prizes – the Woman Architect of the Year and Moira Gemmil Prize for Emerging Architecture – will be announced.
The shortlist for the 2018 Woman Architect of the Year includes Stephanie Macdonald (6A Architects), Sandra Barclay (Barclay and Crousse), Ángela García de Paredes (Paredes Pedrosa Arquitectos) and Biba Dow (Dow Jones Architects).
Related topics