The 2015 MPavilion designed by British practice Amanda Levete Architects has opened in Melbourne's Queen Victoria Gardens, opposite the city's cultural hub of the The Arts Centre, the National Gallery of Victoria.
Designed to invoke the "sensation of a forest canopy," the pavilion appears as if it has sprouted from the garden's lawn. It was officially opened by Martin Roth, director of the Victoria and Albert Museum in London, who described it as "welcoming the spring."
"When spring comes back to life in the landscape in the city, that's exactly what happens today with the pavilion," he said.
The 2015 MPavilion is not so much an enclosed structure (as with Sean Godsell's unfurling "jewel box" that was the first MPavilion in 2014) as a space defined by a field of objects. There are 43 "petals" – 13 with five-metre spans and 30 with three-metre spans – supported by 95 slender columns.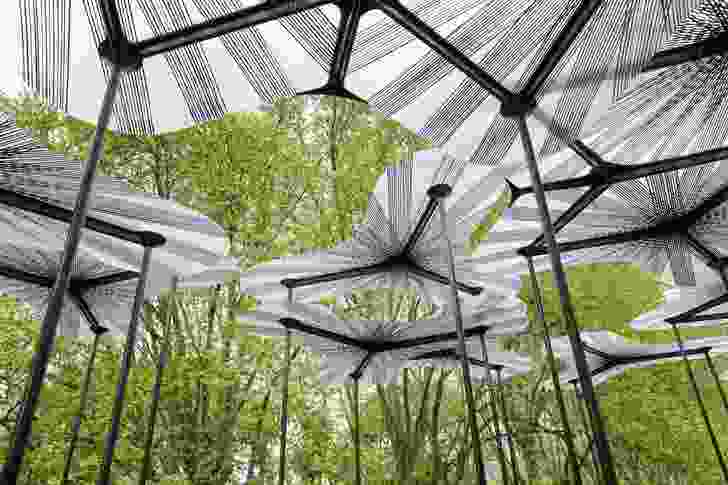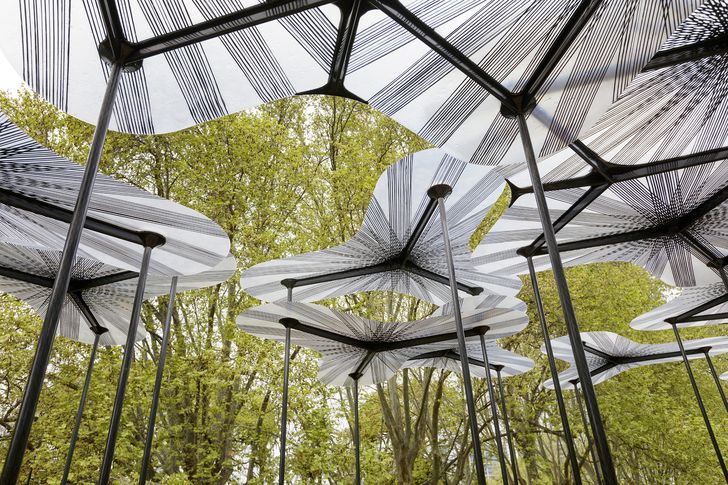 "We wanted to subvert expectations and create a pavilion that moves with the wind, rather than try to keep it at bay," said Amanda Levete. "We were experimenting with taking new materials outside of their regular application."
Levete, who jumped at the chance to be involved with a commission inspired by the Serpentine pavilion, was keen to use the opportunity to explore new challenges.
"A pavilion for an architect is a great challenge," Levete said. "It's a small project but the scale of ambition is never related to the scale of project."
This challenge led the design team to explore composite materials not ordinarily used in construction.
"The bold design fits the brief to make the pavilion a risk-taking and experimental structure," said Roth.
The columns are made of carbon fibre tubes developed in Finland for camera tripods. It creates an extremely lightweight structural system that sits gently in the landscape.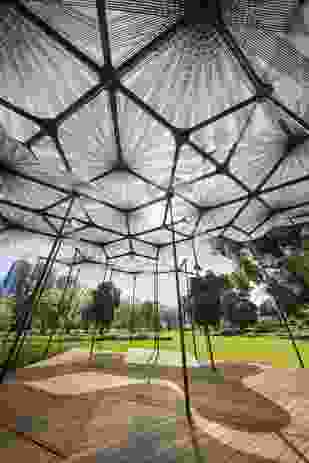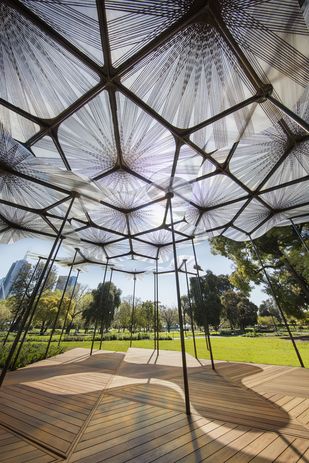 The "petals," each three millimetres thin, consist of a resin developed for surfboards made by Queensland-based fabricator MouldCam. Fibres were added to the clear resin to make it translucent enough to simultaneously cast patterns of shadow on the ground and allow dappled light through. The "petals" are reinforced with carbon fibre strands, expressed as a filigree pattern of veins.
This level of material research could lead to new and more permanent projects for Levete's practice. "For me, one of the joys of doing a significant piece of research in a project is that it never ends," she said. " We're talking now with MouldCam and [engineer] Arup about what other applications there are and how could we use it architecturally."
Lord Mayor of Melbourne Robert Doyle said the pavilion "blends in to this very beautiful environment and, of course, this is the perfect place for the MPavilion, but it also adapts to it in quite a remarkable way."
The 2015 MPavilion is open until 7 February 2016 after which it will be gifted to Melbourne and moved to a permanent location. Throughout spring and summer, it will be host to more than 200 free events including talks, film screenings and music performances. See the full program here.
Related topics