The architect's respectful fifteen-year association with Bhutan's natural environment and its indigenous buildings is evident in the careful and varied site selection for the five lodges and the architectural expression of each.
Buildings are Bhutanese in form and general materiality. However, they have been configured variously as a series of rooms (from eight to twenty-four) to create lodges. One is discovered through a forest walk, another in an orange orchard beside a restored farmhouse, another as a "village" and another as a series of random rubble buildings, drawing on traditional valley institutional and domestic building. The resulting architecture is noteworthy for its elegance of plan and the quality of external spaces for journey or contemplation.
Designed as plywood boxes within the building shells, the interiors are enriched by custom-designed furnishings, fabrics and lighting, which contrast the rustic with the crafted.
However, it may be that the legacy of this remarkable project is the transfer of Western Australia's stabilized earth technology to Bhutanese contractors. The traditional mud building technique, susceptible to earthquake and rain, now has a substitute in stabilized earth, which could prolong the traditional form of building expression.
– Jury citation
The Bhutan project has been difficult but rewarding, not least of all because it has taken twelve or more years. There is great temptation to abstract the essence of what one feels to be Bhutanese in spirit rather than what is seen as being Bhutanese. The government, however, is clear in its directive that all buildings must look Bhutanese and this is to be taken literally, through written guidelines, complete with opening sizes and decorative elements.
– Essay by Kerry Hill, a+u 2011:09 (38).
For a full list of awarded projects see 2011 National Architecture Awards – the winners and for more awards discussion see Rachel Hurst and Rory Hyde's responses to the awards and the jury overview by Karl Fender.
Credits
Architect

Kerry Hill Architects
Fremantle, WA, Australia
Project Team

Kerry Hill, Justin Hill, Tanuj Goenka, Ujjwala Naik-Goenka, Albano Daminato
Site Details
Project Details

Status Built
Category Public / commercial
Type Culture / arts

Source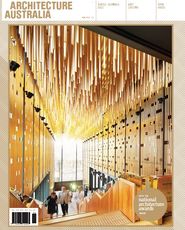 Issue
Architecture Australia, November 2011
Related topics