As tennis fans head across Tanderrum Bridge to the Australian Open, they'll be crossing one of the most internationally recognized pieces of Australian urban design in recent years.
The American Institute of Architects' New York chapter has given the bridge, designed by John Wardle Architects with Boston-based NADAAA and landscape architecture practice Oculus, an Honour award in urban design.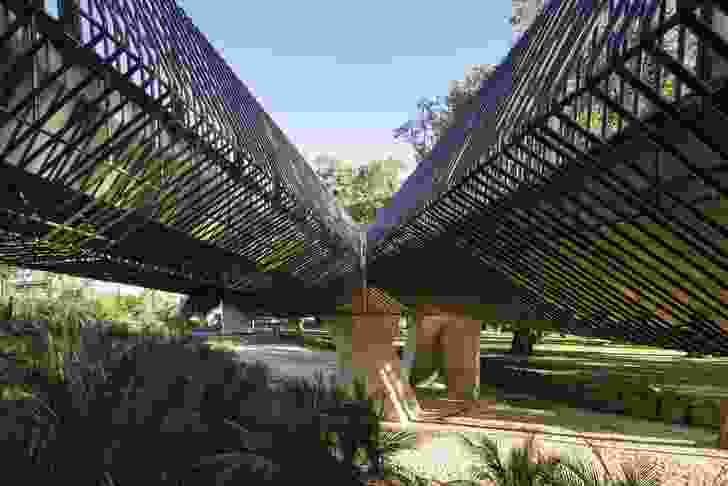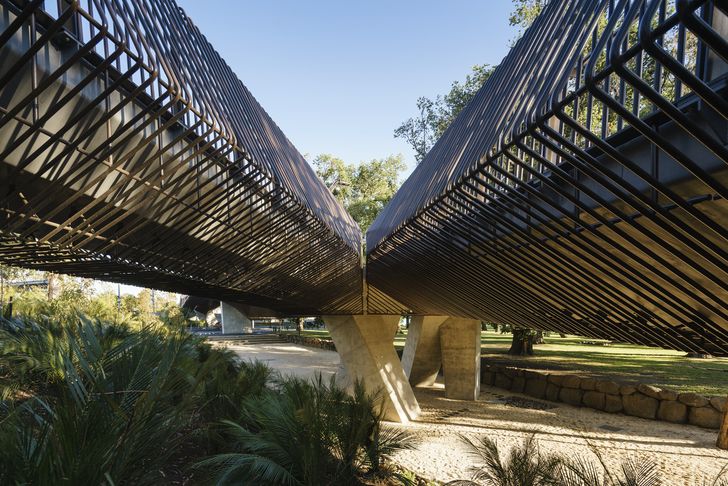 This latest accolade follows a swag of international and local awards the footbridge has received since its completion in 2016, including an award in the Architecture Masterprize in 2018, the Melbourne Prize in the 2017 Victorian Architecture Awards and a shortlisting for a World Architecture Festival award in 2018.
The bridge traverses Batman Avenue roadway and links the parklands of Birrarung Marr, on the Yarra River's north bank, with the outer courts of Melbourne Park. It is the result of the second collaboration between John Wardle Architects and NADAAA, following the completion of the similarly well-received Melbourne School of Design in 2014.
Discussing the bridge at the time of its opening, John Wardle said it brings people to "a place where they can congregate freely rather than being just something that delivers people to the centre of action.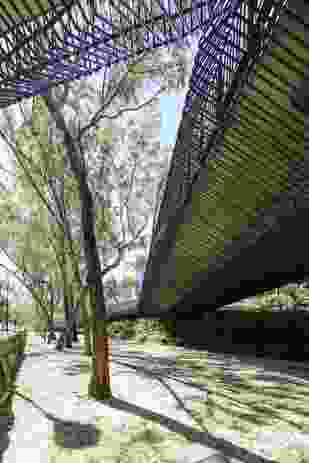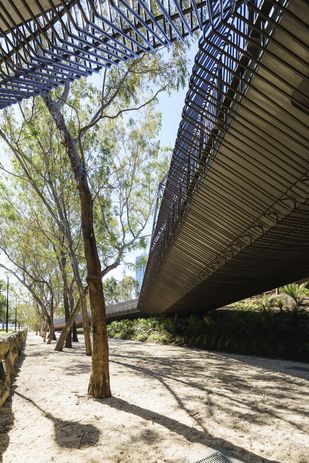 "We thought that was a nice linkage of the journey across, past Speakers' Corner and then landing in a place that was more every person's place," he said.
The bridge is constructed from a flat steel girder structure encased in concrete, which is then wrapped in a lightweight filigree skin of steel rods.
"The idea of the filigree came out of observations about the site in the initial competition," said Mathew van Kooy, a senior associate at John Wardle Architects. "The entirety of Birrarung Marr used to be an extension of the rail yard. One of our initial site visits was in winter when all the oaks drop their leaves and we thought there was a kind of synergy between the transient nature of the trees and the beautiful branches and the Victorian paraphernalia of rail yards. "The [brown] colour particularly blends in with the existing red gums in the swale and the cycads in the embankment. It's extremely sympathetic with the setting and context."
Tanderrum Bridge was built as part of the Victorian government's $338 million stage two redevelopment of Melbourne Park that also includes an eight-storey administration and media centre by Hassell, completed in 2016 and the refurbishment of Rod Laver Arena by Cox Architecture, due for completion in 2020.
The $271.55 million Stage three of the Melbourne Park redevelopment, led by NH Architecture and Snøhetta, will feature a new multi-purpose 5,000-seat sunken show court and arena, central terrace with a new elevated outdoor public space, a function and media centre, broadcast studios, central kitchen, loading dock and logistics hub.
Related topics