What makes for a memorable dining experience? The question was posed by Artichoke editor Cassie Hansen to three leading lights in the hospitality and design industries as part of the recent Artichoke Night School session held at Space Furniture's Brisbane showroom.
Arkhefield's Angela Layton is responsible for the uplifting design of the Stokehouse building, which appears to float over the Brisbane River, mimicking the river's high cliffs of shale and fluid edges in a landscape of layered, curving timber. Layton's refit of Brisbane's Urbane and neighbouring sibling restaurant The Euro also show her deference for responding to context. Shielded from the busy CBD street just outside, diners nestle into a textured arena of platforms and niches. While Layton is aware that food comes first in the design equation, the context and surrounds are given supreme roles. "The chair is very important," she says. "People sit for hours at a time so you have to get it right." How to frame, illuminate and surround the plate on the table must be equally beguiling, while the kitchen design must be in collaboration with the chef. "The idea of 'build and they follow' simply doesn't work," says Layton. "It's a very collaborative effort between the client, the chef, the branding consultants and the designers right from the word go. The brand takes on a life of its own and exists long after the designer has left."
Ryan Squires, chef and owner of Esquire, arguably Brisbane's most sophisticated and innovative restaurant (and one of only seven in the country awarded three Chef's Hats) agrees that collaboration is key. After earlier stints at The French Laundry, El Bulli, Per Se and Noma, Squires realized a childhood dream of opening his own restaurant. Standards were always to be scrupulously high and exacting. "I was so blessed to experience each of these places and to pick up ideas from each," he says, recalling the first induction cooktop he used at Mosimann's in London, and the system of deliveries to separate rooms at New York's Per Se. "You really can't go back after that. The thing I hate most in restaurants is the fakeness of a multi-million-dollar fitout when the food is just bad." His brief to Hassell architects Kirsti Simpson and Stephen Cameron for Esquire was for a "modern Queenslander," with art that would change regularly. Most important, though, was the orchestration of spaces, and creating good circulation and ergonomics between the large dining area and various cooking and serving spaces.
Justin Northrop, of Techne Architecture and Interior Design, has become a go-to designer for hospitality projects, with Melbourne's Bridge Hotel, Prahan Hotel, Barry cafe and Tonka restaurant among the extensive list of projects under his belt. Opening his own venue off Flinders Lane some years ago – The Deanery – allowed the practice to experience the swings and roundabouts of the industry firsthand. "We learnt from The Deanery that an efficient kitchen and back-of-house area might mean the difference between one more [or one less] staff member." Northrop says he has been fortunate to have had good clients in the industry who have been at one with his "big gestures." Referring to the theatricality of the Prahran Hotel and Bridge Hotel, he says time will tell if the gestures are simply a transient novelty or more enduring. While Bridge Hotel transports the idea of eclecticism into a new level of narrative and is bringing in the crowds, Tonka uses a transformative artwork by Naomi Troski to similarly inspire awe. Northrop also notes the trend towards bistro eating in a bid for profit, and the nexus between cheaper food in a "designed" place. "If you are serving $20 burgers, you put it on a nice plate," he says.
The Artichoke Night School series is presented by Artichoke magazine in partnership with Space Furniture. Night School session eighteen was held at Space's Brisbane showroom.
Source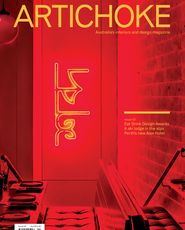 Review
Published online: 23 May 2016
Words: Margie Fraser
Images: Lara Masselos
Issue
Artichoke, December 2015
Related topics