At just thirty, Fumihiko Maki designed two auditoria: Steinberg Hall at Washington University, St Louis, and Toyoda Memorial Hall at the University of Nagoya in Nagoya. It was a propitious start to a career spanning sixty years, during which Maki witnessed the rejection of modernism, the predictable failure of postmodernism and the ongoing globalization of architectural culture to the present, which he likens to an open sea, with himself as a solo swimmer.
A founding member of the Metabolism Group, Maki remains a convinced modernist, with the caveat that it must be informed by empathy. By this he means the acceptance and spontaneous adoption of spaces by the anonymous community. His Hillside Terrace Complex (1969–1991), a work close to his heart, now in its sixth stage, is the perfect proof of his thesis.
In 1993 Maki was awarded the Pritzker Prize.
Philip Drew: At your lecture we saw virtually all your architecture. My first encounter in 1967 was the Toyoda Memorial Hall at Nagoya University (1960–61). This was a forceful Metabolist work. Your recent MIT Media Lab Complex, in Cambridge, Massachusetts, opposite Boston (1998–2010), is quite different. So different that it could easily be mistaken for the work of another architect. The materials are different; there is a devotion to transparency between inside and outside and a fluidity that are all new. Toyoda was all about constructing a framework and inserting modules; Media Lab seeks to dissolve the interior into pools of space that flow together. This is aided by a striking transparency with the outside.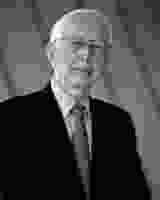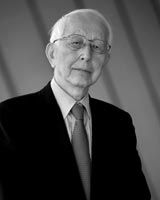 Fumihiko Maki: When I did Toyoda Memorial Hall in the late 50s, completed in the 60s, it was one of my first buildings in Japan. I was still a young developing architect and was influenced by Kenzo Tange, Le Corbusier and a few others. The context was important. The hall was situated at the centre of the campus with a low hill behind it. I considered how best I could relate the hall to the site conditions. The hill sloped gently upwards, so I conceived my hall as an open gateway that might be approached from either side. My intent was that the hall should sit well in sympathy with the given conditions, while having a brutalist expression.
MIT Media Lab, by contrast, is located on a restricted site and was an extension to I. M. Pei's earlier building. Therefore the Media Lab called for a different response and expression for an entirely different site that recognized its special identity. It was a very natural way of making a building. As with Annenberg Public Policy Centre, University of Pennsylvania (2005–2009), the site was tight, surrounded by buildings in mixed architectural styles from Collegiate Gothic to early modern. No site is exactly the same; thus the expression must necessarily be different in its form and materiality.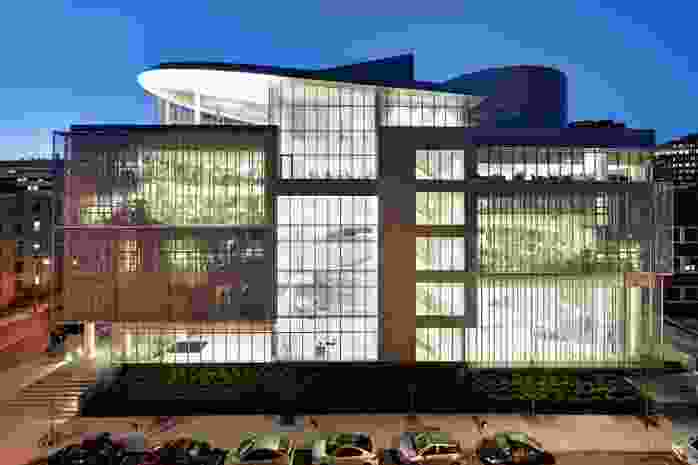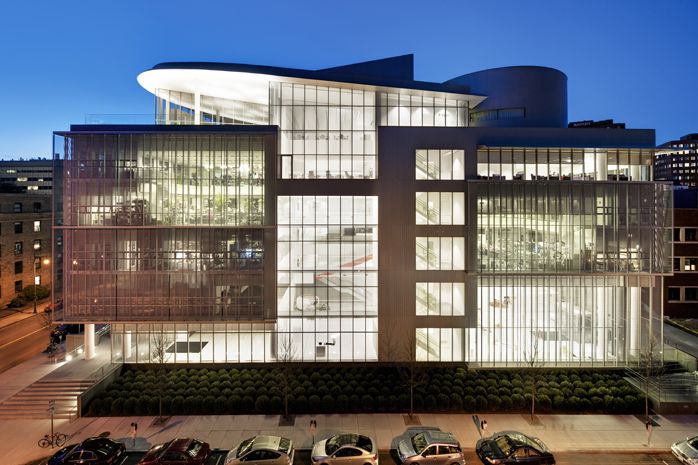 After sixty years in practice I still find the greatest challenge is to design appropriately for each context, while emphasizing how to configure the internal spaces. I visited a museum by Daniel Libeskind which was very interesting on the outside, but internally very empty – nothing. In all my projects, I seek to work from inside to outside; otherwise, the result is a type of dated camembert much like Frank Gehry's Vitra Design Museum in Weil am Rhein, Germany – structural logic is secondary to the making of a sculpture.
PD: This brings me to a major phenomenon today – media power. We find ourselves surrounded by a highly visual world. This should advantage architects, at least superficially. We depend on media to interpret and represent our world with accuracy and without bias. What we see instead is a game of constructing heroes and villains. A few architects have responded by deliberately seeking to attract media notice, their fantastic, irrational, sculptural shapes aided by the computer. Often the result is structural nonsense and a nightmare to construct. Jean-Louis Cohen suggests that what we are seeing "are spectacular high-budget productions rather than answers to the needs of the majority of people. What amounts to be called architecture would seem to be little more than a handful of diamonds amid the rubble of the planet."1
FM: I couldn't agree more. Looking back at the 60s and 70s, there were many more publications in Japan, the USA and Europe, except Italy. It was a far healthier situation then because many different viewpoints and voices could be heard. With less publication, architects in Japan and elsewhere have less opportunity to be published, resulting in less intellectual diversity. The way architectural journals are financed, they must appeal to some section of society. The need to appeal to particular groups and to avoid making enemies and attracting lawsuits dampens expression.
I wish we had healthier criticism. The media is oftentimes afraid of offending. I respect a critic like William Curtis because he is unafraid of writing what he thinks in publications such as The Architectural Review. I look forward to a return to the earlier media environment, which was culturally vital.
PD: In your talk "Modernism of the Open Sea," you compared the current situation in architecture with that of a new international language you term "Globish." You seem to be saying it is important to continue to refine the international language of architecture to prevent it slipping into the same degraded condition as Globish – that of a pottage that is an indiscriminate mixture of ideas and components. At the end of your essay, you emphasized the importance of deeply exploring certain ideas from the past, in order to build on the past. You suggest this is as important as seeking out the new. Since we are drifting on the big open sea, you recommend that we be more conscious, more critically aware in choosing the kind of sea we swim in.
FM: These days, young graduates seem lost and without the requisite orientation to navigate their way effectively across the open sea. They must begin to take stock of their situation and make a stand with respect to their commitments and position and choose a clear direction in which they will swim.
PD: Looking to the future I see a big tsunami approaching. The threat looks like Hokusai's The Great Wave off Kanagawa that is about to overwhelm the men in the boat heading into it.
FM: What kind of tsunami?
PD: In 1977 the world population exceeded the number that is sustainable for the planet. Its atmosphere cannot cope with the carbon released by burning fossil fuels, while the insistence on ever-expanding economic growth on which current prosperity depends is causing runaway resource use. As early as 1970 I discovered that the Mediterranean around Mykonos had been fished out. American military planners and actuaries in insurance companies anticipate increasing political instability such as was experienced in Europe in 1848, due to the combined effects of climate change, fresh water scarcity, rising sea levels and extreme weather events.
FM: I don't think architects can react to this coming tsunami. I don't see architects being in front to meet the challenge. Such an argument is important for all professions but I don't see architects being able to contribute.
PD: The attack on modernism has swept past us. Did postmodernism throw the baby out with the bathwater? Modernism has regained respect but has assumed a revised, altered form. You knew such masters as Tange, Le Corbusier and Sert. Was there a lack of empathy, a lack of regard for the importance of human factors?
FM: In all my projects my thoughts begin with the inside and progress from there to the outside. My desire is to relate to the users and program, including the latest desires of society in a given place and time. Only after this do I investigate what the architectural form ought to be. To me this is an essentially rational process and internal dialogue. Some architects would not agree. I attempt to follow a strong modernist path, which involves satisfying the exterior expression, or form, according to human requirements. Modernism must be approached critically; it is up to the architect to decide which ideas to follow and which he or she should disregard. That is how I practise my own modernism.
PD: You contend you are still a modernist?
FM: Sure, I still call myself a modernist.
PD: Japanese architecture occupies a special place in world architecture. Traditional Japanese values were so strongly articulate that when modernism arrived, it was given a distinctly Japanese interpretation. This quality distinguishes the work of architects such as Kunio Maekawa and Kenzo Tange, much as a Finnish interpretation distinguishes architects such as Aalto. Their interpretation of modernism was readily seen as differing from that in Germany.
FM: We still respect harmony with nature, we respect materials (concrete, steel, glass) and we appreciate materiality. We are fortunate to retain to the present day a certain Japaneseness in our architecture.
PD: How does it reveal itself?
FM: We don't see such an exhibitionist architecture as is found in the West.
PD: Photography can distort.
FM: In Japan we are able to see buildings as they are in reality. Photography plays a less important role in the judging and evaluation of new architecture. It is, however, often necessary for work outside Japan. As you might anticipate, I am sometimes disappointed by buildings I visit. I am proud to say that I have received compliments that our buildings are better than the photography might suggest.
PD: A further advantage of Japanese architects is the trust of clients. The Toyoda Memorial Hall was paid for by the Toyota Motor Corporation. Toyota later commissioned you to design the Toyota Kuragaike Memorial Hall and Guest Centre, Kuragaike (1974), outside Nagoya.
FM: They [Toyota] decided to make the guest centre. I value my relationship with clients.
PD: The guest centre at Kuragaike is impressive, very high-tech and futuristic. I was immediately reminded of a James Bond movie. Instead of a presentation about technology, as you might expect from a global automobile manufacturer, the theatre's surround movie featured Japanese nature through the four seasons. The entire presentation was automated and quite stunning. Japanese clients seem more trusting and willing to follow their architect's lead in permitting greater integrity without excessive interference.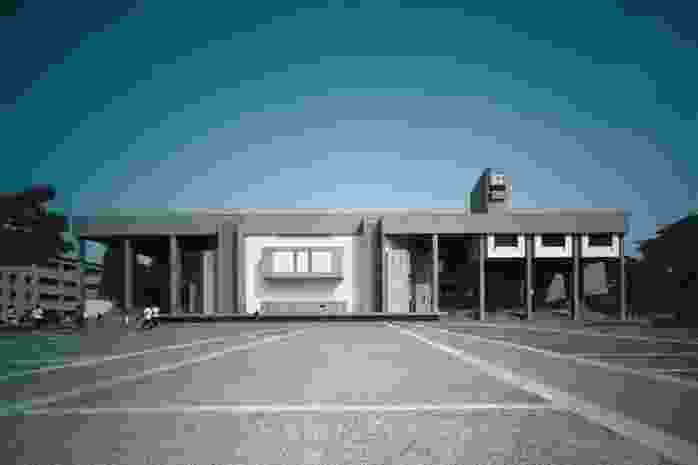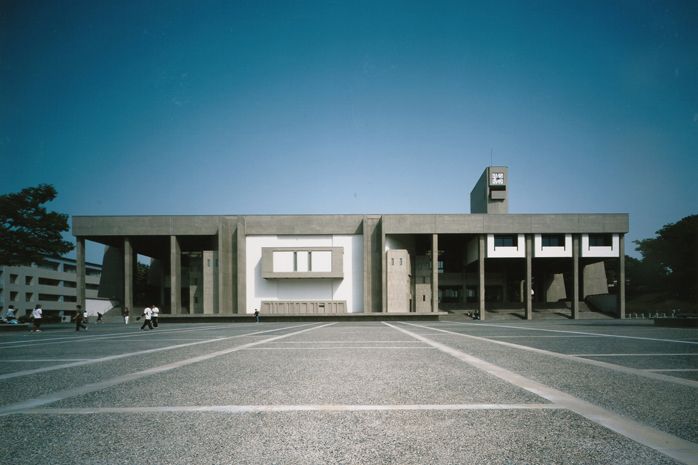 FM: Some clients do, while others can be indifferent. Every client is unique. It really does not have much or anything to do with the culture or location. When I did the renovation of Toyoda Memorial Hall the client gave us ten times more money.
PD: When I first visited Japan in 1967 everyone seemed to know who Kenzo Tange was. I was surprised that an architect was so well known, so famous.
FM: Unfortunately he was not so happy towards the end of his life. Unlike Oscar Niemeyer or Alvar Aalto, both extraordinary men who were treated as national heroes during their lifetimes, the same cannot be said for Tange. This year we will be celebrating Tange's hundredth anniversary, recognizing his contribution as one of Japan's most important architects.
PD: Whom, among the new generation of young rising Japanese architects, would you care to single out to watch?
FM: New heroes? I cannot say. I am not familiar with the new rising generation.
PD: After Aalto there seemed to be a falling away in Finnish architecture. That is natural considering it is difficult for any country to maintain a high level of creativity. So much depends on accidental circumstance.
FM: Nationalism has disappeared as a critical force in architecture around the world; we no longer talk about German or French architecture as a source of difference.
PD: Has this contributed to making international architecture into Globish?
FM: Maybe. For instance, our housing industry employs many styles to meet popular demand and appeal to all tastes so as to succeed commercially. Everything is becoming too similar. When I see young architects' designs, from Korea or Lithuania for example, I cannot decide with any certainty which country they come from. In China something like this is also occurring but this may change in the future as the Chinese become more conscious of their identity.
1. Jean-Louis Cohen, The Future of Architecture Since 1889 (London: Phaidon, 2012), 473.
Source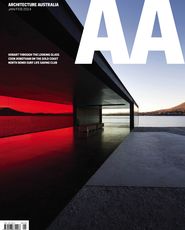 People
Published online: 15 Apr 2014
Words: Philip Drew
Images: Courtesy Maki and Associates., Toshiharu Kitajima
Issue
Architecture Australia, January 2014
Related topics