Brickwork and recycled brick
Face brick gives a clear reading of scale and texture and provides thermal mass.
boral.com.au
australbricks.com/au
bowralbricks.com.au
Isernia and Aretusa sandblasted stone
Stone gives a tactile finish to beach or harbour-side projects such as the Point Piper Boathouse (image 1).
Off-form concrete
Concrete's placticity affords possibilities of form, while the expression of its formwork in the surface lends textural richness to a space. Seen here at the Carport Treehouse (image 2).
Recycled timber
Recyled timber is used for its depth of colour, low moisture content and sustainability.
Shadowclad Ecoply
A cost-effective wall cladding system. When finished in a dark stain, as seen at the Carport Treehouse (image 4), it becomes a "contemporary interpretation of vernacular coastal houses."
Read a profile of Andrew Burges Architecture here.
Source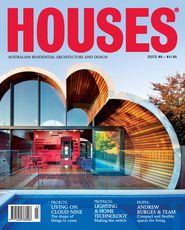 Related topics