A cooperative housing development in Perth designed by Spaceagency Architects proposes "stacked homes with no common walls," for an apartment complex in White Gum Valley.
The project is modeled on the German Baugruppen (building groups) cooperative housing concept, which draws together a group of people to act as their own developer for a multi-unit housing project.
Initiated by former WA government architect Geoffrey London, this Australian Baugruppen project is a collaboration between the WA government's development agency LandCorp and the University of Western Australia.
As London explained in a presentation at the 2017 Housing Futures Conference, plans for Baugruppen projects are "often devised where a malleable concept is developed by an architect, which then flexes according to individual needs."
Spaceagency Architects was selected by London as the architect for the project as a result of its work on a multi-residential housing project with LandCorp at Knutsford, Fremantle, which won the Frederick Romberg Award for Residential Architecture Multiple Housing at the 2016 National Architecture Awards.
The architects proposed a series of apartment designs in a range of sizes, from studio to three-bedrooms, which would conform to a vertical grid, allowing them to be stacked in any arrangement.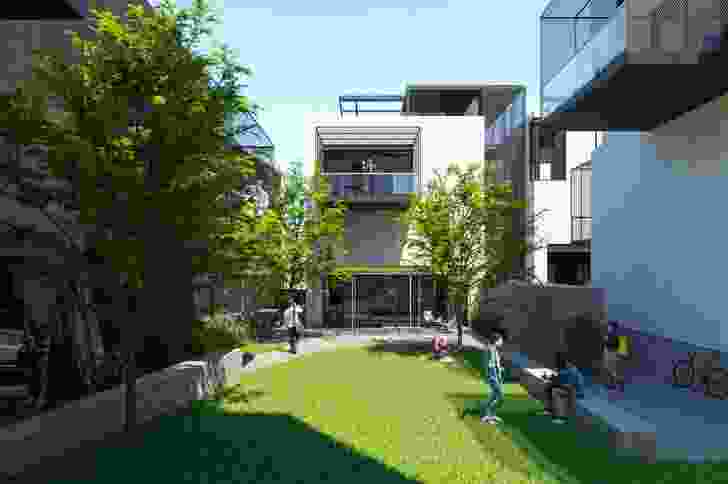 "The idea we've made is we've designed the apartments so they can slot on top of each other," explained Michael Patroni, director of Spaceagency Architects. "You can have any apartment, anywhere as long as it's available."
To achieve maximum flexibility, Spaceagency Architects have designed a single module, which can be manipulated to suit an apartment of any size.
Balconies can be carved out of the envelope of the module or added to the module as an external element. The three-bedroom apartments are arranged over two levels to conform to the envelope.
The apartments are arranged into four buildings on a 1,669-square-metre site at WGV at White Gum Valley, LandCorp's "innovation through demonstration" site that also includes a number of other demonstration projects.
The buildings will generally have two apartments per floor, with a central stairway and lobby and apartments on either side. This means "none of the apartments have common walls, but they have three walls that are open to light and ventilation," Patroni said.
"The lot is a bit unusual – it has streets on four sides. Each building addresses one of the streets. They vary in height between three and four storeys and each has its own address."
The number of units in the development can range between 16 and 23 dwellings depending on what the residents choose. At the time of publication, the Baugruppen website stated 13 of the 16 homes are still available.
The architects have also proposed a range of communal facilities, which the residents can choose to include in the complex, including a shared garden and rooftops, an activity and meeting room, guest rooms, laundry facilities and a car-share scheme.
WGV at White Gum Valley is endorsed as a One Planet Community through One Planet Living. The precinct has a number sustainability initiatives and the Baugruppen project could, at the residents' behest, be modified to incorporate energy efficient, highly insulated building envelopes, rain water collection and solar power generation and battery storage.
Related topics