In the ANZ offices we find a vibrant and dynamic workplace and community for 6,000 people at Docklands. From the beginning the architect and client worked together to understand the existing workplace culture and how they could function more effectively in a flexible, connected way.
At 83,000 square metres, shared spaces are organized in and around the central atrium and include meeting rooms, breakout spaces and a 250-seat theatre. North- and south-facing office spaces also adjoin the atrium. Much thought has gone into wayfinding, the creation of destinations and the lengthening, framing and foreshortening of views to achieve human scale in what is otherwise a very large building. Objects and volumes in the atrium and the use of a mixture of materials have aided this outcome.
Engineering solutions are impressively integrated into the whole, for example fire and smoke management allowing contiguous atrium and office floors. Floor displacement air is one of a range of initiatives that reduce the building's energy consumption. Water is recycled and stored and renewable energy generated. The end product is as much an exercise in human relations as it is architecture; the architects have created a flexible building for a business and for work practices that continue to change and adapt to the needs of this ANZ community at Docklands.
– Jury citation
Credits
Project Team

Robert Backhouse, Ken Mahar, Bronwyn Pratt, Paul Yousseph, Neil Morrison, Jano Yousseph, Anthny Aguis
Architect

Hassell Melbourne
Melbourne, Melbourne, Vic, Australia
Consultants

Acoustic consultant Marshall Day Acoustics
Builder Lend Lease
Building certifier PLP Building Surveyors & Consultants
Environmental consultant Lend Lease Design
Environmental graphics and wayfinding Fabio Ongarato Design
Fire engineering and mechanical design overview Norman Disney Young
Lighting consultant Lend Lease Design
Mechanical, electrical, security, communications, audiovisual Umow Lai Melbourne
Structural consultant WSP
Workplace advisor DEGW

Site Details

Location Docklands, Vic, Australia
Site type Urban
Category Commercial, Interiors
Type Workplace

Project Details

Status Built

Client

Client ANZ
Website http://www.anz.com.au/personal/

Source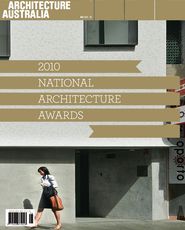 Issue
Architecture Australia, November 2010
Related topics