There is a refreshing air of confidence about Sydney's CBD of late. No longer bound by the economic uncertainty of the global financial crisis, landmark structures are breathing new life into the heart of the city. One such building is the recently completed ANZ Tower by architecture firm Francis-Jones Morehen Thorp (FJMT), a sharp wedge of glass and steel that forges a connection between Pitt and Castlereagh Streets in the new Liberty Place precinct.
Designed by Hassell, ANZ's New South Wales head office (known as ANZ Tower, Sydney) occupies twenty floors in the lower and middle sections of the forty-two-storey tower. As the anchor tenant with more than two thousand staff, ANZ secured exclusive signage rights to the tower and a dedicated foyer at 242 Pitt Street. ANZ had outgrown its former offices at Martin Place, and the relocation presented the opportunity to consolidate the various business units of its Institutional, Retail and Wealth divisions within one iconic tenancy.
The project builds on a long history of collaboration between ANZ and Hassell. Hassell originally worked on the development of ANZ's workplace guidelines in 2004, which have since evolved to incorporate a flexible working program. This was followed by the design of offices in Australian capital cities, including the award-winning global headquarters at the ANZ Centre in Melbourne.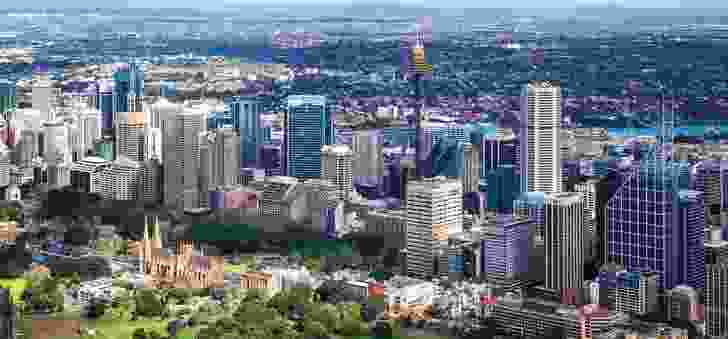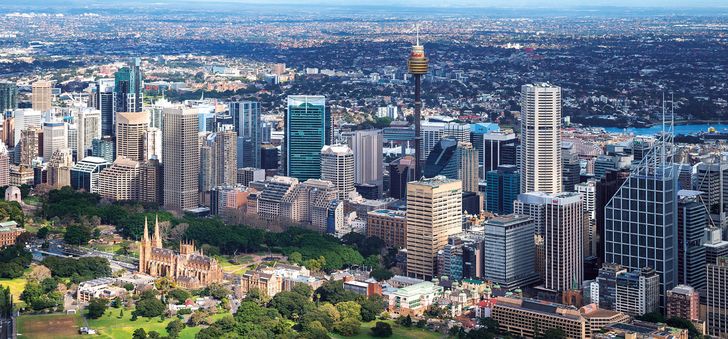 With each project, Hassell has sought to create a regionally specific expression of the ANZ brand. "The character and identity of the space should be unique to that location and that culture," says Robert Backhouse, managing director of Hassell. Having overseen the design of several ANZ projects, Backhouse is familiar with the company's core values and aspirations. Chief amongst these is the view towards a unified ANZ that is at once globally active and locally engaged.
This concept of convergence informs the design of ANZ's Sydney offices and resonates with the architecture of the base building. Converging lines pierce the triangular floor plate, creating a web of intersecting pathways that guide the layout of each level. Where they meet, nodal points form communal hubs that connect to views over the city and harbour beyond.
A light palette of limed oak, pale timber flooring and golden marble contrasts against the bolder tones of the ANZ Centre in Melbourne. "Melbourne is traditionally darker with the bluestone, while Sydney is lighter because of the sandstone," explains project designer Meredith Nettleton. This lightness extends to the detailing of finishes, with a fractal language of rhomboid forms inspired by the glazed tiles of the Sydney Opera House.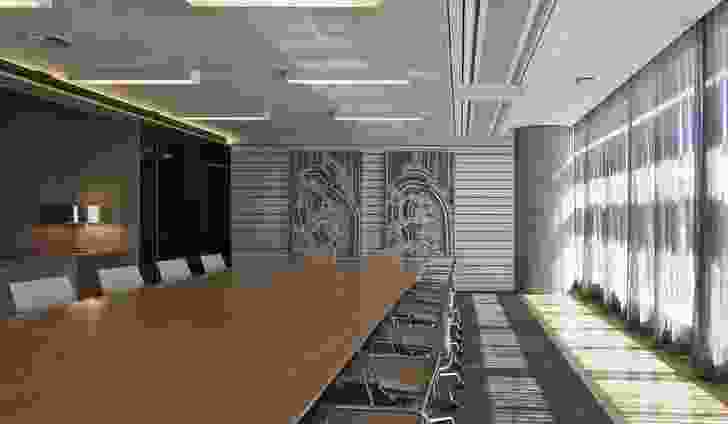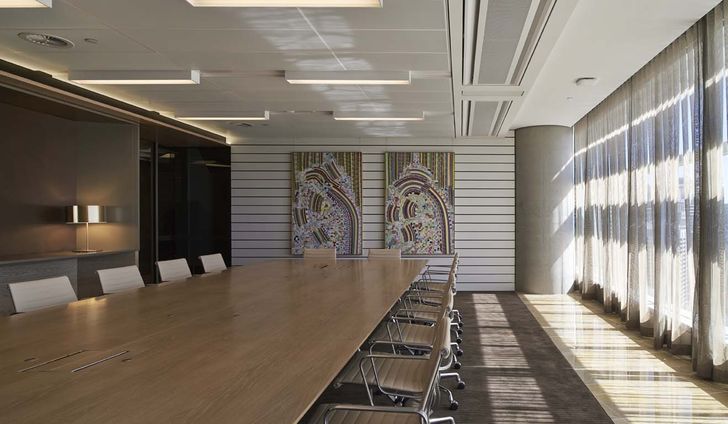 Hassell collaborated with Frost Design on the colour overlay that vertically unites the tenancy. Drawing on the natural features of the harbour landscape, the scheme progresses from the midnight blue of the water at the base to the honey-gold tones of sandstone at the top. This gradual spread of colour informs the environmental graphics that wrap the walls of the central core and is reflected in the changing hues of the carpet and accent furniture on each floor.
A key aspect of the client brief was the ability for staff to be able to move freely within the tenancy. "That's part of the whole idea – that this is one ANZ," says Backhouse. The split-core design of the base building allowed for the creation of a vertical network of pocket atria. The three levels of each atrium are linked by a main stair, while a secondary stair, located to the side of the main stair void, links each atrium. This provides a continuous path of travel from the lower-level market floors to the client reception areas at the top of the tenancy.
These atria divide the fitout into a series of human-scaled neighbourhoods that reflect the structure of the company. "It aligns really well with the scale of the business," says project coordinator Mark Talbot. "The business units that have synergies with each other occupy these pockets very nicely."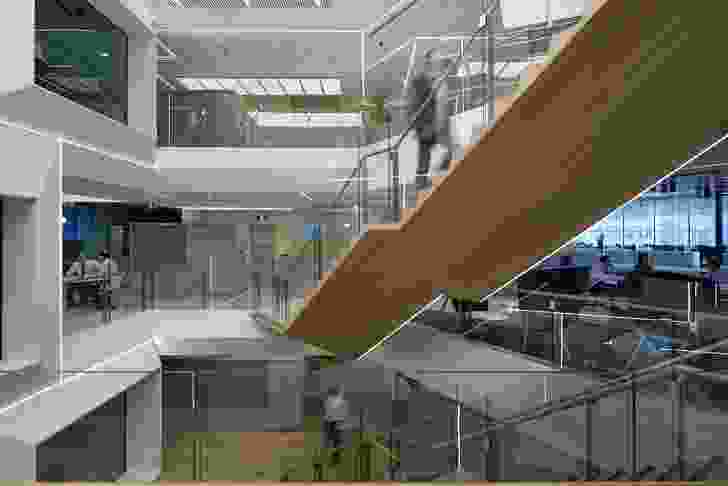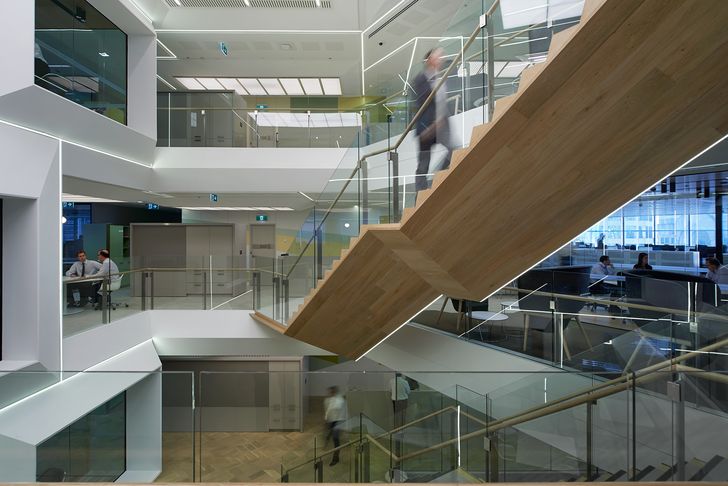 Interaction and movement between floors is encouraged through the strategic placement of alternate settings overlooking each atrium. These offer a choice of work environments, from casual lounges to communal worktables and formal meeting rooms. In the work areas, non-assigned desks allow for changing team formations, while centrally located lockers provide a home base for staff and their belongings.
Hassell worked with Robert Garrett, business change project manager at ANZ, to guide staff through the transition to a flexible working program. One floor of the former office was converted into the Experience Centre, which allowed teams to work in a flexible work environment for a month at a time before they moved to the new site. The interactive nature of this process also provided the opportunity to test and refine the furniture selection. As a result, all workstations within the tenancy feature customized laptop brackets that allow for the seamless integration of mobile technology.
The challenge with any corporate fitout is how to design a workspace that reflects the values and identity of the company. In ANZ Tower, Sydney, Hassell has created a cohesive work environment that communicates the ideal of a unified ANZ within a local context.
ANZ Tower was shortlisted for a 2014 INSIDE World Festival of Interiors Award. For other Australian projects shortlisted, click here.
Products and materials
Walls and ceilings

New walls painted in Dulux 'Calf Skin.' All core walls painted in Dulux 'Natural White.' 2-pac painted in a range of Dulux colours including 'Grape Leaf,' 'Tropical Moss,' 'Good Samaritan,' 'Salt Spray,' and 'Mesmerize.' Blackboard paint used in cafe. Natural stone walls from Signorino. Autex acoustic wall panel. Echolinear acoustic wall panel from Elton Group.
Windows

Curtains by Kvadrat Maharam and Woven Image. VFloat Grey tinted glass and silvered Optimirror by Viridian. Gold mirror from In-Ex Living.
Flooring

Heavy-grade access flooring from ASP Access Floors. Carpet tile from Interface in dark blue, dark grey and mid grey. New Stratford carpet tile from Whitecliffe Imports. Bentzon/Savanna rug and handtufted custom rugs, all from Rugs Carpet & Design. Tretford Tile from Gibbon Group. Norament rubber tread to stairs from Geo Flooring. Marmoleum flooring from Forbo Flooring Systems. Natural stone flooring from Signorino. Custom timber floorboard (rhomboid pattern) from George Fethers & Co.
Lighting

Vitra Jean Prouve Potence wall lamp from Unifor. Foscarini Twiggy Terra floor lamp and Roll & Hill Superordinate Antler lamp from Space. Flos Tab table and floor lamps and Oluce Sonora Gold ceiling lamp, all from Euroluce. Tolomeo Mega Morsetto table lamp from Artemide. Established & Sons Fold table lamp from Living Edge. AJ lamp and Fritz Hansen Kaiser idell floor lamp from Corporate Culture. Michael Anastassiades Large Ball Light from Hub. Minotti Francis lamp and Tom Dixon base table lamp from Dedece.
Furniture

Existing Formway Life, and Herman Miller Mirra and Sayl task chairs. Vitra Meda Buddy chair on all levels. Iuta swivel armchair, Doyl chair, Mart lounge chair and Posa lounge chair, all by B&B Italia, and Musa lounge and Elios coffee table by Maxalto, all from Space. Suita Fauteuil lounge chair, HAL wood side chair and stool, Suita Club sofa, Standard chair, MedaSlim side chair, Softshell chair, AC4 chair, Noguchi dining table, all by Vitra, from Unifor. Hay About a Chair, Cassina Cab chair, Carl Hansen & Son Wishbone and Shell chairs, Fritz Hansen Lissoni sofa and Little Friend side table, all from Corporate Culture. Eames shell chair and Eames Aluminium Group lounge, both from Living Edge. Chassis from Wilkahn. Alison sofa, Brooks armchair, Taormina armchair, Dion armchair and Warhol Black armchair all by Minotti, from Dedece. Hi-bridge sofa and Night & Day coffee table, both by Molteni; Ryutaro coffee table by Viccarbe; and Tropicalia chair by Moroso, all from Hub Furniture. Pod Chair from Great Dane. Flynn table and Brandy table from Jardan. Custom Stylus table and Marina table from Schiavello. ClassiCon Diana B side table from Anibou. Roundcross stool and Tea Table from Map International. Banquette seating uses leather from Contemporary Leathers, perforated leather from Pelle Leathers, and fabric from Kvadrat Maharam.
Joinery

Laminate by Laminex and Abet Laminati.
Other

Quartz Gemme slab of reconstituted stone from Quarella. Natural stone from Signorino. Stair and void handrail timber from George Fethers & Co. Pinboard from Duroloid. Aster coat stand by Zanotta from Space. Tom Dixon Beat vessel in Tall, Drop and Tap, all from Dedece.
Credits
Design practice

Hassell.
Australia
Project Team

Robert Backhouse, Meredith Nettleton, Bronwyn Pratt, Mark Talbot, Madeleine Joyce, Scott Walker, Andrea Giuradei, Kathy Roberts, Sean Bett, Jayson Deadman, Jeanne Su, Rob Harper, Jacqui Low, Sally Johnson, Tiffany Harper
Consultants

Audiovisual Peace of MInd Technology, Audio Systems Logic
BCA City Plan
Builder Built
DDA Accessibility Solutions
ESD Cundall Australia
Graphic design Frost Design
Kitchen consultant Sangster Design Group
Lighting engineer Cardno ITC
Project manager Paragon Project Management
Quantity surveyor MBM
Strategic briefing AECOM Strategy Plus

Site Details

Location Sydney, NSW, Australia

Project Details

Status Built
Design, documentation 16 months
Construction 10 months
Category Interiors
Type Workplace

Source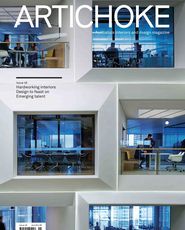 Issue
Artichoke, March 2014
Related topics