South Australia's planning commission has postponed its decision on whether 20 new buildings can be built within Kangaroo Island's Flinders Chase National Park as part of a private company's plan to provide luxury accommodation along a wilderness trail.
The proposal by the Australian Walking Company to build two new "wilderness lodges" and update existing accommodation at Cape Du Couedic Lighthouse, with designs by Troppo Architects, has been recommended for approval by the commission's planners.
At a meeting on the 23 May, however, the State Commission Assessment Panel deferred its decision to enable "further consideration of the site features and context."
The planned lodges are aimed at improving the range of accommodation options and guided walking experiences along the 61-kilometre Kangaroo Island Wilderness Trail, which opened in 2016 with five campgrounds.
They would facilitate a new four-day, three-night guided walking tour for 14 guests. Two new standing camps, featuring a range of "sleeping pods" and communal buildings are proposed for Sandy Creek and Sanderson Bay, while at Cape du Couedic the state heritage-listed Lighthouse Keepers' Cottages would be updated internally and a new common building constructed.
Troppo likens the proposed architectural experience to the opening an oyster: "raw and crusted by the environment externally, polished luxury within."
All new structures would feature lightweight frames clad in natural materials designed to "age gracefully" and soften in time. They would feature timber decking, steps, seats, and soffit linings, with broad-opening doors, shutters and windows also framed by timber. Only the steel would be painted – to a metallic rusted tone.
All together, the three accommodation offerings would be designed to offer "three distinct memories, in which architecture and site-planning marries with place."
In the works for more than two years, the wilderness lodge project has attracted fierce opposition from segments of the local population, environmentalist groups and the Greens party.
Greens MLC Mark Parnell has slammed the approval process, noting that only the developer and government representatives were allowed to give evidence to the assessment panel.
"Exclusive private developments in national parks are a betrayal of public trust", he said.
"Not only are these proposals completely at odds with preserving the unspoilt wilderness character of an iconic national park, the project has also been surrounded by secrecy. The state planning commission and state government are refusing to allow public access to the development application documents or any opportunity to make submissions."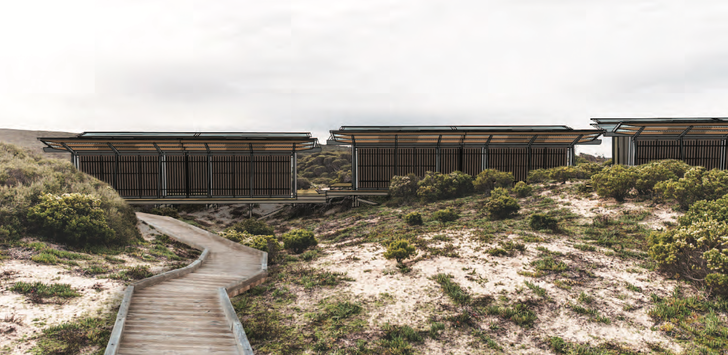 Around 500 people protested the proposed development outside parliament house in Adelaide in February, while Kangaroo Island's three Friends of Parks groups have all abstained from volunteer work in protest.
A large part of the concern relates to the position of the proposed standing camps, which opponents say are too far away from the existing walking trail, in sensitive locations where they could threaten vulnerable flora and fauna, including hooded plovers and sea eagles.
In a submission to the planning authority, which will not be considered by the assessment panel, Janine Mackintosh, president of Friends of Dudley Peninsula Parks, wrote, "the proposal for two ten-building lodges in highly sensitive and visible coastal sites up to three kilometres from the trail is clearly at odds with the original trail concept."
"Our group is concerned about the serious ecological impact of these lodges and associated roads and tracks. No less alarming is the damage inflicted on the wilderness character of these pristine shores. The clifftop lodges would undermine the elemental experience the wilderness trail seeks to provide – as well as spoil the coastline's visual appeal for other park users."
Kangaroo Island Council says in its submission to the assesment panel that it is in favour of the development, noting that the proposal "represents an exciting opportunity for tourism growth and diversity on Kangaroo Island."