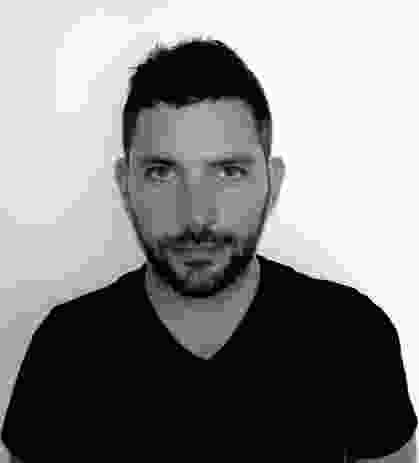 I'm staring at a big pile of cardboard boxes stuffed with overpriced architecture books and magazines, underpriced clothes from H&M and little else. I'm all packed and ready to go, but wondering where to begin.
I arrived in Barcelona in the beautiful, breezy spring of 2006. The city had been on a high since the 1992 Olympics and had consolidated its reputation with a seemingly steady flow of public and private building projects and investments. Local bureaus and international firms opened offices here, and hundreds of students and young professionals flocked to the city with the promise of sun, sea and scaffolding.
Yet even back then, the first signs of a flailing, unsustainable model were evident: ridiculous rents kept climbing on a weekly basis; culture and design reeked of officialdom, easy money and subsidy; people were hired under shady terms; and salaries stunk — although one could take it because there was enough to make ends meet (especially with government help, including everything from universal healthcare to an "independence allowance" for young people), and there was plenty of time to party. Nonetheless, I often got the feeling that the system was one big chapuza, a botched job. A little kick and it would all collapse.
And it did, of course.
The Great Hangover
Spain replicated (and intensified) internally the global credit and housing crisis of 2008. After a two-decade-long fiesta of growth fuelled by construction and real estate, the fall was proportionately more brutal in Spain than elsewhere. Close to nine hundred thousand building projects were licensed per year at the height of the boom. In 2011, they fell to a mere eighty thousand – a 90 percent drop. The private real estate and construction sectors were paralyzed and housing, infrastructure and public projects were slashed to the point where there was nothing left to build.
Architects have been deeply affected by the downturn. The Sindicato de Arquitectos de España (SArq) – an alternative union formed in response to the crisis along with the paralysis and near-sightedness of the official architects' associations – recently conducted a survey among 1050 architects who had an average age of thirty-two years. 1 The survey found unemployment to be over to 26 percent among professionals, a far cry from the 4 percent of the official estimates. Of those still working, 63 percent have suffered pay cuts and drops in their income, while about three hundred thousand Spaniards have left the country since the onset of the crisis (2008–09) for professional reasons. According to the Sindicato's findings, four thousand of those were architects, representing 7.5 percent of the sixty thousand licensed practitioners in the country.
Spanish architecture NOW!
Being an architect in Spain today means precariousness, "fake freelancing" and low wages, if not complete professional gridlock. The country had been churning out architects like chorizo in the past couple of decades: now with one architect per eight hundred people, Spain doubles the European average. To make things worse, the vast majority was trained to believe they would be building for a living.
Félix Arranz, co-curator of the first Catalan pavilion scheduled to participate in the Venice Architecture Biennale this year, feels that "the recession mainly affects architects who expected a steady stream of medium- or large-scale commissions. With no market, these firms are shutting down silently — even established studios with a long trajectory – 'retiring' or taking their practice elsewhere." A handful of large offices have landed projects in healthier markets (the Middle East, Asia, South America, even Australia) and managed to keep their offices open. But most people haven't been that lucky.
Ariadna Perich, a young associate professor of architecture, recognizes that uncertainty has become the only constant in her professional life: "I live in this limbo between teaching and practice, with a 'domestic' office infrastructure and a precarious contract in the university. This state of perpetual present – a present that lasts only a few months – has nonetheless had a positive effect on my attitude towards practice … I am still a firm believer in the value of theory tied to project and to critical analysis … We don't need to abandon architecture, but to intensify this critical view."
The economic crisis has triggered something of an existential crisis for architects in Spain. Some like to pretend the crisis is a temporal dent and believe that things will soon be back to business-as-usual. In fact, architects are "naturally" expected to look for the job they were trained to do, even if it means leaving the country. Many supposed mentors actually pride themselves in the "export quality" of local talent. Young architects not only face the hurdles of the downturn but also the indifference and obstacles set in place by the very people and institutions that are supposed to nurture and guide them.
These young architects feel cheated and are quite vocal about it. A recent graduate, Pedro Hernández, claims in an article that "after the bubble burst, [our teachers] tried to convince us that 'there is no future' … the outlook is pessimistic … but more than a lack of opportunities, we feel the bigger problem is a lack of proper tools offered by architecture schools." 2 These kids have a blunt idea of what their options are: finding a scholarship to continue their studies, preferably abroad; leaving the country in search of other construction bubbles; or leaving architecture altogether to do something else.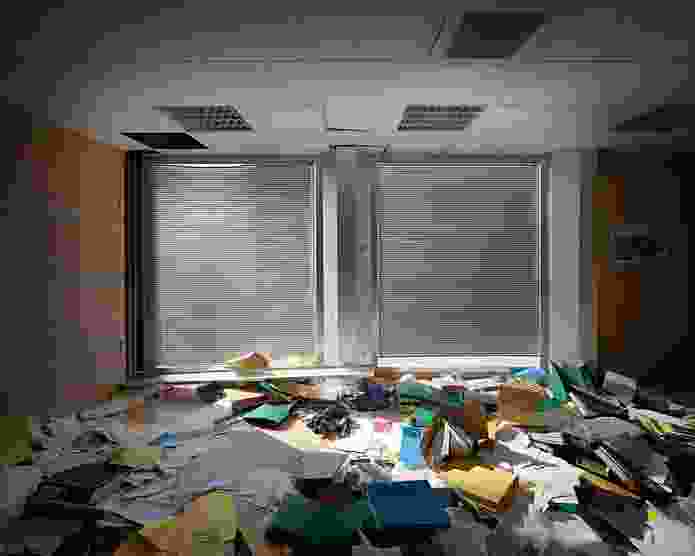 The new normal
Despite the bleak prospects, there is a future for architecture in Spain, and it is already unfolding. Young professionals who never reaped the benefits of the boom have accepted scarcity and precariousness as the normal state of things for as long as they have been practising.
"What can we do when there is no building?" ask the members of Arquitectura-G, an independent firm based in Barcelona that is part of this new crop of architects who are producing refined, innovative work that has very little to do with the traditional mindset. With scaled-down projects and egos, plus good communication skills, this younger generation is slowly earning the attention it deserves. Arquitectura-G says:
The important thing is to keep going. Instead of specializing in some architectural sub-type, we try to cover different aspects, from discussing Barcelona's urban model to designing domestic furniture. We don't only respond to commissions, but create our own projects. We try to restore the image of our profession doing what we know best. We think this is the only route to take. The economic crisis has become our new normal, our natural state. We don't have plans to leave: we still think this is a pretty good place to be an architect.
For others, though – myself included – Barcelona stopped being a good place to be an architect or a young professional a while ago. And the only real option for many of us, put simply, was to pack up and go.
Hit the road, Juan
When asked if they would consider leaving Spain because of the crisis, 65.6 percent of the participants in the SArq survey responded affirmatively. Another 7.5 percent of those interviewed were already living and working or looking for a job outside of the country. Adrià Carbonell, who moved from Barcelona to Doha last year, is one of them.
"If you ask me about Spain, it is a country I don't expect anything from. If you ask me where I fit there, I would say I don't. If you ask me about my reaction to the situation, I would answer what I've already done: get the hell out. I grew tired of investing all my time, energy, effort, and money in a country that gave me nothing in return … a country that pushes its institutions [political, cultural, academic] towards mediocrity … with a firmly established culture of corruption [where nothing works unless you have a connection, a friend, or someone that owes you a favour]," Carbonell says.
These sharp, angry views are shared by thousands of young people across the country, from all walks of life: in classrooms, in the unemployment lines, those taking to the streets and those taking off in aeroplanes bound for unknown, yet probably better, futures. Carbonell continues:
What do I do with my life as an expatriate? Well, all the things I never managed to do in Spain: work, research, write. It's paradoxical, but I've found more academic opportunities and support abroad. Designing is still difficult, but at least I don't have to put in gruelling hours to earn like an intern. The best part is that I don't live in a permanent state of hardship and dejection. It's easy to recover the energy, the curiosity … because you feel you can live again; you feel that if you chase things, you'll actually get somewhere. There is nothing more frustrating than to run and run without stopping and not get anywhere, not find anything. That's what I did, and here is where I ended up.
The words of Adrià Carbonell, Ariadna Perich, the guys from Arquitectura-G, Pedro Hernández and even Félix Arranz all resonate with me. I feel I understand them, that I share their convictions and their stubborn belief in the capacity of architecture to redeem itself. I feel their frustration and their pain at the sight of their wonderful city stuck in its old ways, tied down by fear and conservative backlash. I know first-hand the courage it takes to stay, but also to leave. It's in my gut — probably the same thing my grandfather and thousands of his fellow countrymen felt when they fled Spain and landed in Mexico not that long ago — as I have done now.
I'm completing this paragraph while looking out the window at the buzzing Mexico City skyline, packed with cranes and buildings that weren't there when I left. I'm not dazzled, though. Here we've learned to live in a permanent state of on-again-off-again crises: economic, social, cultural and environmental. Economic cycles don't come and go, they accumulate, they layer on top of each other and they leave their marks. The difference is that here we've learned to cope with crisis, to rein it in, to turn it into something productive. We even thrive on it sometimes.
I can only wonder what Barcelona will be like when it does, too.
1. "Sindicato Arquitectos," Sindicato de Arquitectos de España website, 2011, sindicatoarquitectos.es/descargas/ii-estudio-laboral-arquitectura-sarq-2011.pdf (accessed 19 March 2012).
2. "Arquitecto recién egresado en espana: ¿Y ahora qué?" Estudiantes de arquitectura website, 3 January 2012, estudiantesdearquitectura.cl (accessed 3 May 2012).
---
Images are a part of the larger series Crisis Landscapes — Offices, a collaboration between Anna Tweeddale and Javier Callejas Sevilla. The series focuses on the ambiguous landscapes left across Andalusia by the economic crisis.
From a dossier in the May/June 2012 edition of Architecture Australia, on "The Economic Paradigm".
Source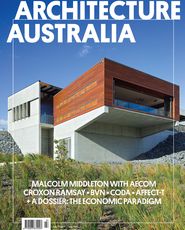 Issue
Architecture Australia, May 2012
Related topics