Youth homelessness charity Kids Under Cover recently auctioned off five cubby houses designed and constructed by architects and builders for the Melbourne International Flower and Garden Show, raising more than $100,000.
The annual Cubby House Challenge event asks builders and architects to imagine and create their dream cubby houses, and this year five projects were submitted.
The five projects included:
Pl-yground by Matt Gibson Architecture + Design and Hartman Homes
Duplay by Archsign, James Hardie, CasProperty and Gratton
Cubey House by Arkhefield and Grocon
Fun House by Fairhaven Homes
The Relic by Porter Davis Homes
The cubby houses boasted features including a climbing net, interior turf and a chalkboard hatch door (The Relic) as well as brightly-coloured 3D pyramid wall cladding (Fun House). Among the designs was a pixelated version of a treehouse that strongly recalls the graphic style of video game Minecraft (Cubey House) and a dual-use cubby with two distinct bright colour schemes (Duplay).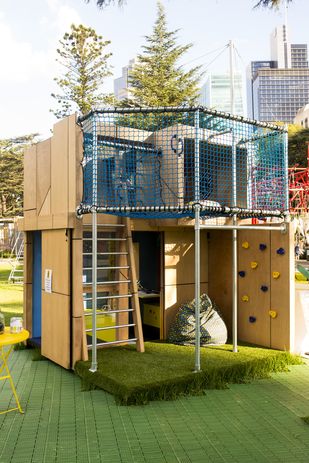 The Pl-yground cubby house by Matt Gibson Architecture + Design and Hartman Homes won the prize for Best Architectural Design, with features including a ball pit, lavender-scented walls, blackboard walls as well as a ladder and fireman's pole connecting the cubby's levels.
"This has been a great opportunity," said Phil Burns, architect at Matt Gibson Architecture + Design. "It's been extremely enjoyable to be able to put our creative thought into action, and we're honoured to collect the top architectural award."
Grand Designs Australia host and architect Peter Maddison sat on a panel of experts that judged each of the cubbies.
The Relic cubby house sold for the highest price at $17,200, while the rest of the cubbies sold for a combined total of $63,800. A $40,000 donation brought the total amount raised to more than $100,000.