New York-based architecture practice Snarkitecture has brought its popular The Beach installation to Australia for the Sydney Festival.
Installed inside the Cutaway at Barangaroo Reserve, the creation reimagines familiar beach settings as an all-white environment made with 1.1 million recyclable translucent plastic balls.
The space also features a 60-metre wide "shore," lined with a carpet material that feels like sand. The installation has been constructed using scaffolding and panelling to create the enclosure and a sloping floor and mirrors to create the illusion of a horizon. Sun umbrellas and deck chairs line the edge of what is essentially a giant ball pit.
Snarkitecture partner Alex Mustonen told The Guardian the installation is intended to be "a transformative experience."
"Part of what Snarkitecture is interested in is finding ways to make architecture accessible, engaging and interactive to a really wide audience," Mustonen said. "So we created The Beach as a public, collective experience – a place that people go to have a shared experience to create memories."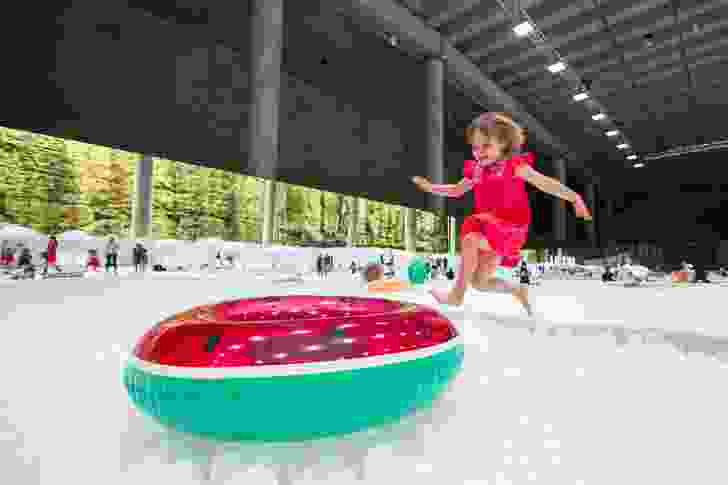 The installation was originally commissioned by the National Building Museum in Washington DC in 2015 as part of an annual series of exhibitions known as Summer Block Party. It attracted 160,000 visitors, including marriage proposals and a flash wedding.
In 2016, The Beach was recreated at the Amalie Arena in Tampa, Florida, which was almost double the size of the original installation.
The Beach at the Cutaway is the first time the work has been exhibited outside of the USA.
The work has received wide praise from the media. The Washington Post described the local installation as "the white cube art-gallery version of a McDonald's PlayPlace." Curbed found it to be "dangerously fun."
The Sydney installation was declared an "early hit" by The Daily Telegraph and The Sydney Morning Herald described the experience as "joyous."
However, social media in Australia has not been as kind towards the installation. Both Snarkitecture and Sydney Festival received "a big thumbs down" from Facebook users who voiced their disdain at the "wasteful" use of plastic and its effects on plastic pollution in the world's oceans and waterways.
The plastic balls are recycled from the installation in Tampa, Florida. Sydney Festival organizers are working with local plastic recycling services to repurpose the balls after the installation finishes.
The Beach at the Cutaway runs from 7 to 29 January 2017. Entry is free with limited ticketed sessions available on selected days for a fee.
Related topics