The preliminary results of a "pulse check" survey of Australian architects by the Association of Consulting Architects show that the majority of practices are anticipating, or have already experienced, the cancellation of projects in light of the unfolding COVID-19 crisis.
The survey attracted responses from 1,341 practices, which collectively employed 12,167.5 full-time staff and 1,721 casual workers. It was launched on 15 March and closed on 17 March.
In answer to the question "Have any of your projects been cancelled or delayed because of the COVID-19 restrictions?", 189 practices said "Yes", while a further 466 said that while they had not yet had projects cancelled or delayed, they were anticipating them, making for a combined 57 percent of respondents that had or were expecting projects to cease.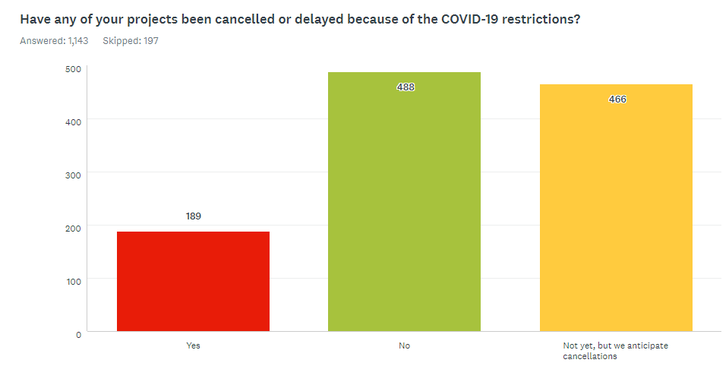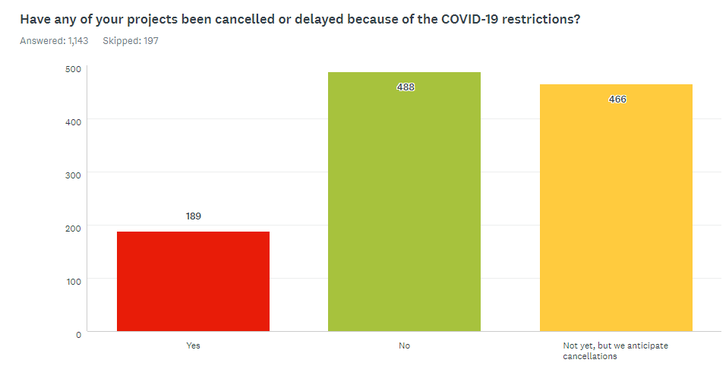 In a separate question, respondents were asked how they would describe the current workload of their practice. The majority, 648, said they had a "good match," while relatively equal numbers of practices had "too little work" (243) and "too much work" (216).
The survey also asked questions about how advanced plans are for responding to the outbreak and how easily work can be undertaken at home.
"Managing immovable contract deadlines," "Reliance on other parties (for example, consultants)," and "Impact of carer duties on work (for example, children, parents)" were described by a majority of respondents as between "very challenging" and "somewhat challenging."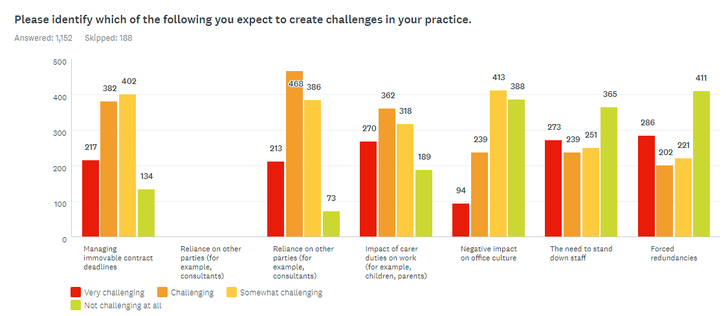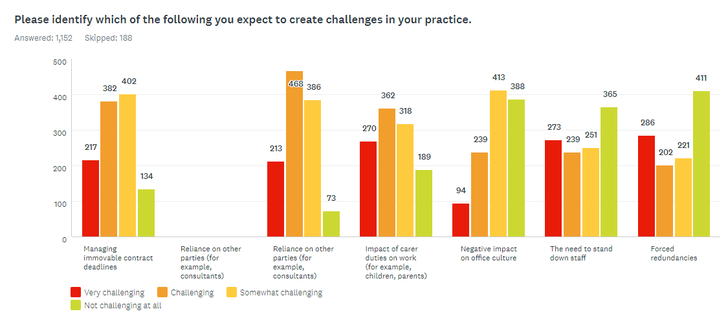 "The need to stand down staff" and "Forced redundancies" were more likely to be chosen by respondents as "not challenging at all," but the results here were more mixed.
Most practices also reported that they were able to support working from home arrangements.
Both the ACA and the Australian Institue of Architects have begun posting resources relating to the COVID-19 outbreak. ACA resources relating to employment can be found here, while the Institute is updating its HR Hub portal for members. The Australian Institute of Landscape Architects is also running a survey with similar aims to ACAs. The AILA survey can be found here.
Founded in 1987, the ACA represents the interests of architectural employers in industrial matters. It maintains branches in all states and territories.
Find the preliminary results here.
If you would like to share how your practice is managing during this time, please contact us at aau@archmedia.com.au.