Hassell and non-profit Architects Without Frontiers (AWF) have collaborated with the Bawinanga Aboriginal Corporation on a concept design for a new, community-focused cultural precinct in a town in the Northern Territory.
The precinct will be located in Maningrida, also known as Manayingkarírra by the Kunibidji people, approximately 500 kilometres to the east of Darwin in the Northern Territory. The town has a population of 2,300, and serves as a hub for 32 outstations and homelands in the region.
The precinct will co-locate three existing Maningrida cultural institutions operated by the Bawinanga Aboriginal Corporation – the Maningrida Art Centre, Djómi Museum and the Bábbarra Women's Centre. The new precinct will occupy the existing site of the art centre, which neighbours the town's airport.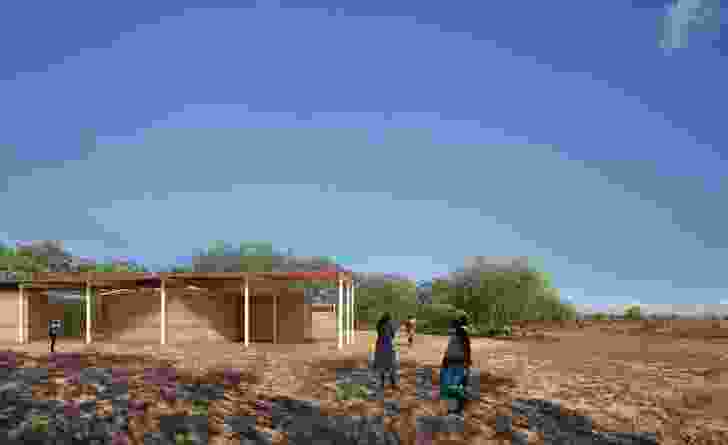 The concept design for the Maningrida Arts and Culture precinct was produced by Architects Without Frontiers together with Hassell, and a number of of network partnership members including Tract Consultants, Hayball, Bonacci Group, LCI Consultants, Grocon and WT Partnership.
In the proposal, the new museum would be more "public and outward reaching," with a central space surrounded by "gallery boxes" that have views over nature and the nearby airport. The women's centre, in contrast, would become "more internal, private, local and connected," focused on the needs of the local community. The complex will be constructed from a cohesive kit of materials despite the two distinct uses.
Hassell principal Mark Loughnan said, "A custom-made facility for the community is crucial to supporting and harnessing the creative, cultural practices within this region.
"The precinct not only provides a local service to the people of Maningrida and its outstations – it can also create sensitive and sustainable connections to the world beyond.
"With intensive consultation, we can establish a place that truly engages with the community, develops ongoing local legacy and training programs, and also supports a form of social enterprise through the build and the creation of artwork, workshop spaces and education spaces."
John Mawurndjul, a prominent artist who was born near Mumeka, roughly 50 kilometres south of Maningrida, said the reinvigorated centre could play an important role in the intergenerational transmission of the local culture.
"This project is story Ngarduk - my story. I looked at those buildings, the [old] museum and Babbarra designs, and I saw the walls cracked, the roof leaking and I decided we needed to move those important places. We need all the arts and culture areas together konda (here at the art centre site) to make one arts and culture area. All the young people will learn about kunborrk (song, dance) and all the cultures from here," he said.
"At this place, they will see their family history, all the bim (art), the wubbunj (canoes), photos and films. I have travelled all around the world with my exhibitions and people all around the world want to come and learn more about our art. We should have buildings that are kamak rowk (really great) in keeping with our art, culture and designs."
Related topics