Whether because of recent high-profile disasters or the flat economy, there has been a marked increase in interest in the not-for-profit sector, both from students and practising architects. However, good intentions do not always produce good results. Uninformed "emergency response" can often reflect the cultural expectations of the concerned architect more than the community's actual wishes. In such cases, charity can quickly turn into a liability.
Architects Without Frontiers (AWF) has taken a different approach: it only works on projects that it has been invited to work on and in which the community plays a central role. Since 2004, AWF has worked on thirty-four low-cost projects including schools, hospitals, orphanages, mobile libraries and community centres. In most of these cases, AWF members work side by side with those "on the ground" to deliver culturally appropriate, environmentally sensitive, cost-efficient responses.
One such example is a childcare centre in rural Vietnam, which was developed from a cross-campus RMIT University design project. The centre will support eighty children with disabilities in Dien Ban (near Hoi An). This area was greatly affected by the use of Agent Orange, the legacy of which is a very high prevalence of disability, in a country where the availability of disability services is very low. The Kianh Foundation, which has been helping children with disadvantage or disability since 2002, approached AWF for assistance with designing a purpose-built childcare centre in 2007. The centre will provide access to urgent health, physiotherapy and educational services.
The project idea became part of an innovative studio run jointly by RMIT University and RMIT International University Vietnam (RIUV), entitled Building the Community, which ran from 2007 to 2011. Determined to avoid empty design promises and the tendency for communities to be "researched to death," Building the Community combined community engagement training for the students with real design experience working with the client and the architects. Students worked on site with Australian firm Büro Architects and local builders. RMIT University financed the majority of the project through its Learning and Teaching Investment Fund.
The centre, which was officially opened on 11 April, 2012, allows the Kianh Foundation to carry on its work in disability services. Additionally, it has the potential to provide an ongoing learning platform and live case study for students of RMIT and RIUV, as well as demonstrating a sustainable built outcome for the local community.
Credits
Architect

Architects With Frontiers

Site details

Category Residential
Type New house

Project Details
Source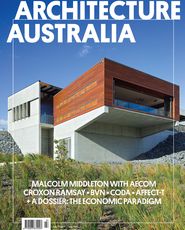 Project
Published online: 1 May 2012
Words: Andrew Mackenzie
Images: Khan Phan Van
Issue
Architecture Australia, May 2012