The Victorian government has released the Fishermans Bend Draft Framework, which lays out plans to manage housing density and encourage a more diverse range of architectural styles in Australia's largest urban renewal area.
The framework covers an area spread over 480 hectares, which includes a 250-hectare precinct divided into neighbourhoods of Montague, Lorimer, Sandridge and Wirraway, to be located to the west of the Melbourne CBD. Also included is the 230-hectare existing industrial precinct, which will becomes a jobs-focused "Employment Precinct" area on the bank of the Yarra river.
The government's recently refreshed citywide planning document, Plan Melbourne, envisages that the central city will host almost 900,000 jobs by 2050, double the 435,000 central city jobs in 2011. The Plan assumes that 80,000 new residents will live in Fishermans Bend. Its employment precinct is identified as a National Economic and Innovation Cluster by Plan Melbourne and the areas is expected to support the economic growth of Melbourne with 80,000 jobs.
The target of 80,000 residents by 2050, puts Fishermans Bend at a density of 323 people per hectare – just above the densities of the Melbourne CBD and Southbank at 297 and 308 people per hectare respectively.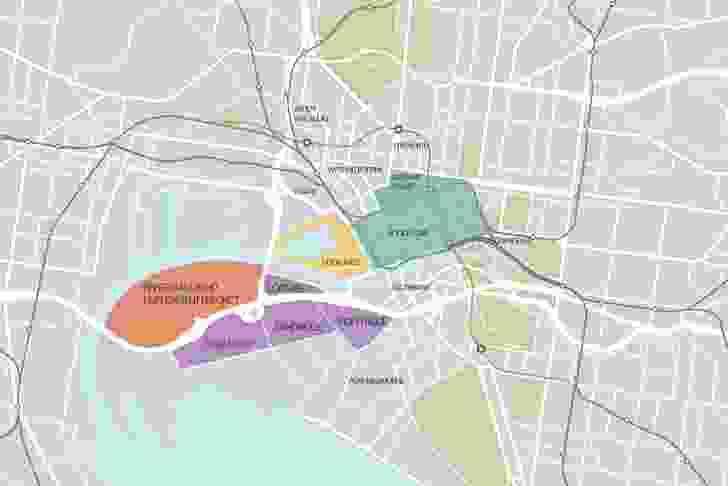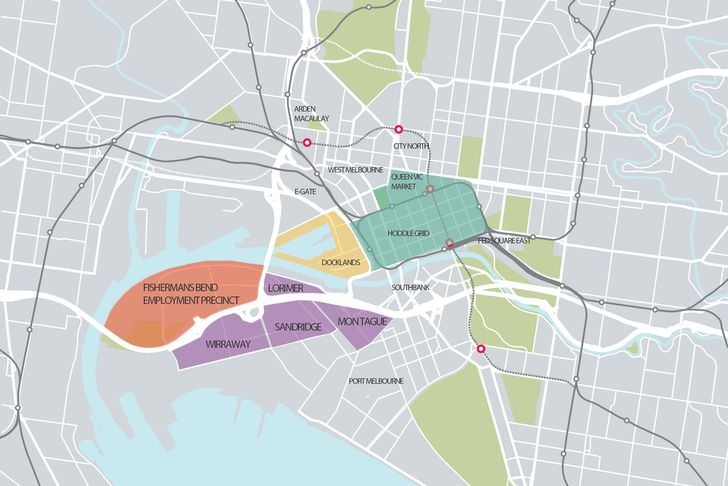 The framework notes, however, that current planning controls in Fishermans Bend have resulted in densities of 950 people per hectare in the Lorimer area and 1,300 people per hectare in Montague North.
The draft framework for Fishermans Bend lays out the goal of "a diversity of high-quality publicly accessible spaces within new development on large sites, including new squares, gardens and laneways" as well as "encourage a diversity of architectural styles.
The framework states existing controls are focused on tower developments and do not support a diverse range of building typologies.
"Current development controls in Fishermans Bend include maximum height limits and minimum setbacks. Height and setback controls create potential built form envelopes on each site that can effectively address amenity outcomes such as privacy, sunlight and daylight access."
"They do not, however, consider the overall amenity impacts such as overcrowding or congestion that occur if population densities exceed the capacity of the local infrastructure such as streets, open spaces, transport and community infrastructure."
The framework says the government should "Introduce density and built form controls that support the creation of a clear centre in each precinct and support increased economic activity."
Among the planning controls that the framework proposes are a Floor Area Ratio and Floor Area Uplift scheme, which would permit addition storeys to proposed buildings if those developers "make a contribution of an agreed public benefit."
Public benefit is defined as affordable housing, community infrastructure and/or additional public space.
Height controls would also be imposed on the area, with some sites retaining "unlimited" height maximums. Overshadowing controls would be introduced to protect public open space.
A range of multi-functional public open spaces, including parks and civic spaces are included in the framework.
Currently under construction in the Montague area is an 8,000-square-metre public park by Hayball and Tract Consulting.
The framework emphasizes the importance of the proactive inclusion of public transit and transit-oriented development, but doesn't recommend the investigation of any particular mode or option. The framework does recommend protecting potential underground rail station sites.
The framework notes that only one school, also Hayball and Tract-designed, is planned for the area – South Melbourne Primary School at Ferrars Street, which was announced as Victoria's first purpose-built vertical school in February 2016. The designs for the school won the World Architecture Festival's Future Project of the Year award in the same year.
An independent planning review panel has been established to consider and hear submissions on the framework during February 2018.
Once finalized, the planning controls will replace interim controls introduced in 2016.
Related topics