Photograph Bill Brennan
JURY CITATION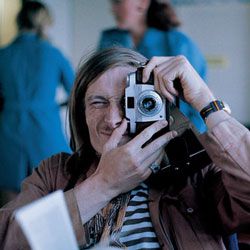 The Education Prize emphasizes contributions made over a period of time and recognizes an outstanding career within academia. The jury felt that there could be no more fitting recipient for the 2004 prize than Rory Spence, who died in May this year.
Rory's contribution can be measured on two fronts: by his contribution to debate and writing on architecture in journals across the globe, and by his inspirational teachings to a generation of students at the University of Tasmania, based on his profound belief in the social role of architecture and the productive role of architectural history in the design studio.
The full list of Rory's published works includes some 125 articles for a range of journals around the world including The Architectural Review (England), Architecture d'aujourd'hui, Transition and Architecture Australia. An indication of the high international regard for Rory's talents to encourage critical thought and discourse in architecture may be gained from his invitation to be guest editor for the internationally renowned The Architectural Review when they devoted an issue to Australian architecture in October 1988. Rory was also the author of an as-yet-unpublished book on the work of Richard Leplastrier.
While he was a prolific author and commentator, most of Rory's career was devoted to his passion for teaching. Rory's inclusive, generous, modest and personal way of teaching allowed students to share in his enthusiasm for the profession in a very direct way. Rory gave students the ability to discuss, articulate and explore issues related to the built environment on a global scale in a clear and informed manner well beyond the scale of their local area.
He imparted to each of his students a foundation in the history of modern architecture and its consequences for contemporary design. This knowledge has become an invaluable tool and allowed many to achieve far beyond their expectations. Rory encouraged students to believe and showed them how architecture could be employed for the greater good. For Rory history was not dead, but lived in every design decision, every pen mark and as a test for every new proposal.
Rory taught design as passionately and with as much devotion as he brought to history. He was equally respected by students and peers in both the design studio and the lecture theatre.
COMMENDATION
David Morris and Nick Opie, University of South Australia
JURY CITATION%br%%br%The jury agreed that David Morris and the late Nick Opie should be recognized for their teaching programmes involving the design and construction of actual built projects, and for a range of other teaching initiatives.
Their approach to teaching through the design and construction of real projects was innovative in a number of ways, including the opportunity to learn through actual testing of designs, the practical application of professional practice and the exemplary use of cross-institutional and cross-disciplinary teaching programmes.
David Morris and Nick Opie initiated this teaching programme in 1993, and over the last eleven years the students of the Louis Laybourne Smith School of Architecture and Design have designed and built a succession of community buildings, with demonstrable benefits to the students involved.