An exhibition currently running in a basement gallery space at RMIT Design Hub in Melbourne is seeing women working in architecture and related fields demonstrating the various "workarounds" they employ in their efforts to effect positive change in the built environment.
Workaround, which began on 25 July and ends on 11 August, is the product of a long-germinating curatorial collaboration between RMIT Design Hub curators Kate Rhodes and Fleur Watson and Monash University's Naomi Stead.
Stead, who proposed the exhibition, said, "We were very intellectually ambitious and wanted to think about 'what is work?' – Work as distinct from labour, work as a process, work as an outcome, work as something which is valued as being meaningful and leading to a "work" – a work of art, a work of architecture.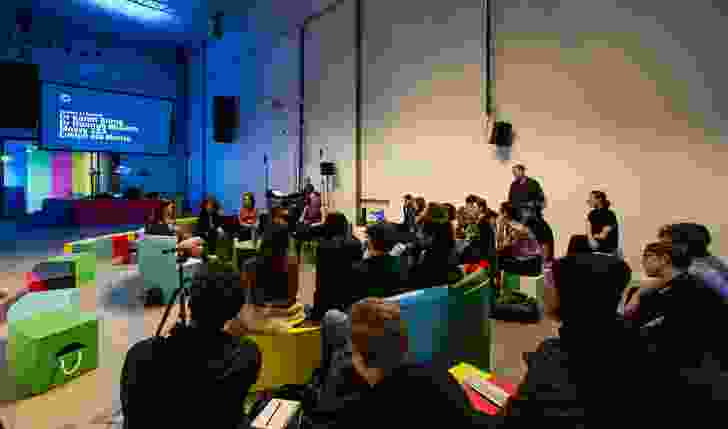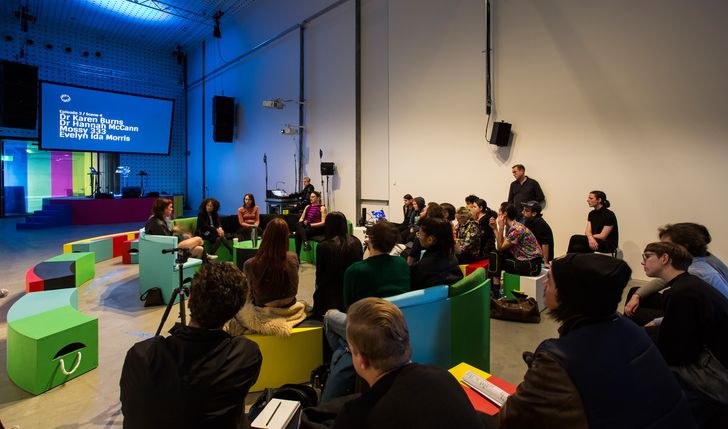 "I was particularly interested in the idea of invisible work, or the work that is not valued – the "back of house" work, if you like. It started to fall into place when we came up with the concept of the workaround – which of course is about work but it's also about finding ways of continuing working given obstacles."
Stead said that, in an "interesting myriad" of ways, the careers and practices of all of the participants illustrate various "workarounds."
The exhibition features women engaged in a movement of advocacy and activism within an expanded field of architecture, whose work doesn't often result in physical outcomes which can be exhibited in a gallery. This led to an unconventional format for the exhibition.
The gallery space has been costumed as a technicolour television studio, designed by Sibling Architecture. During the exhibition period, 14 "episodes" will be broadcast from the space, each can be seen in person at the venue or viewed online via the Design Hub website.
The various presenters involved were given free reign of the space to plot their respective episodes, reconfiguring the colorful furniture elements commissioned for the space into a "UN-style" stage, a circular "conversation pit" or a large stage space. Sibling Architecture referenced old broadcast test cards in the design's colour scheme.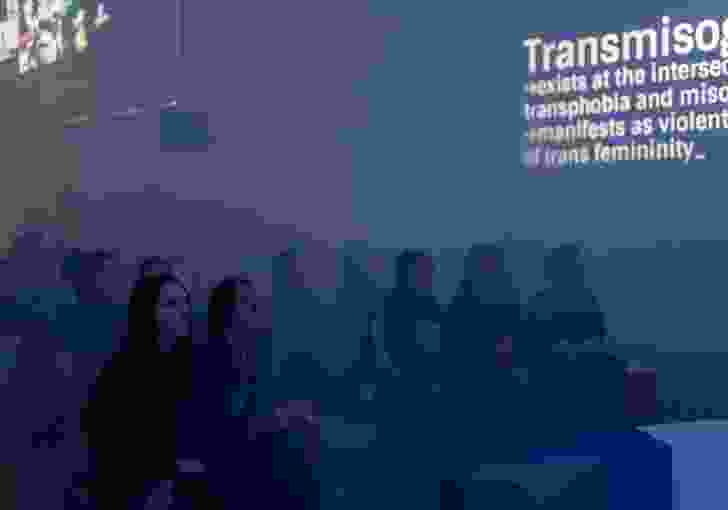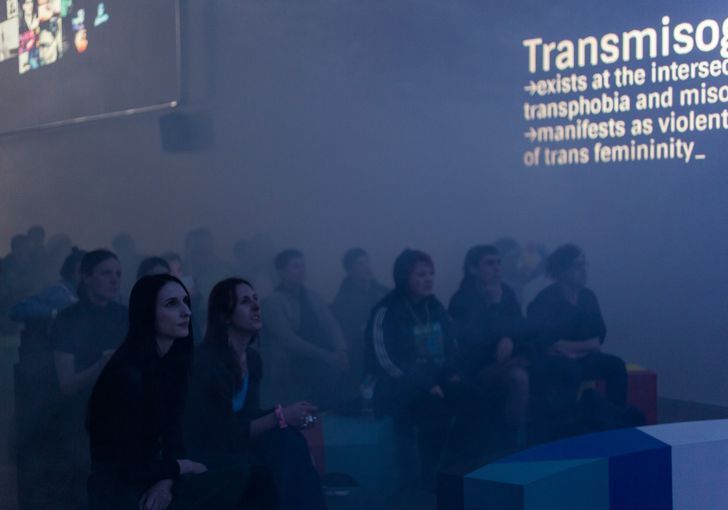 Upon entering the space, visitors pass through a narrow gallery space where projections, with graphic design by Studio Round, will provide background on the presenters and footage of the previous day's broadcast (which Rhodes, now confident in the language of broadcast production, calls "rushes").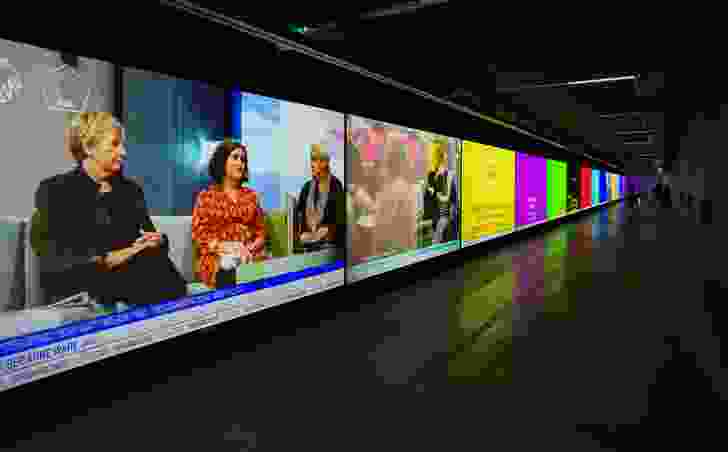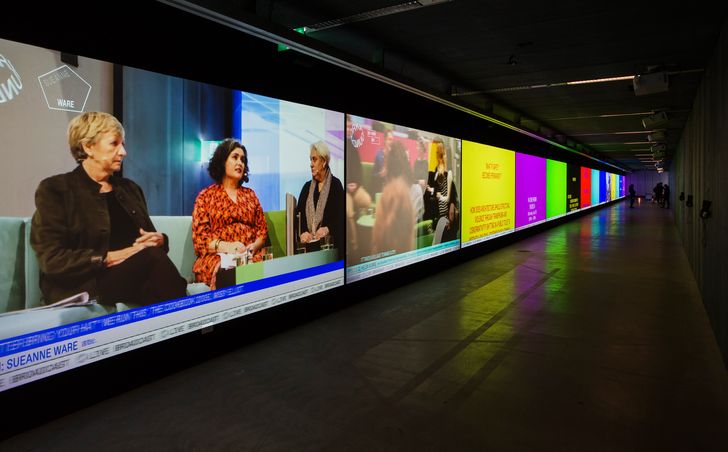 "We gave these elements to everyone participating in the show and said 'do what you will,' said Rhodes. "Some of them are workshops, conversations, performances, and displays of archival material. We're getting them to do what they do in their practice every day, here at the Design Hub, so you're seeing a day in the life in their practice."
One example is Guest Riggs, a double-act comprising Australia-based Stephanie Guest and London-based Kate Riggs that produces work that straddles architecture and literature.
"They're working around their family responsibilities, study and all the other things that they have going on in their lives."
The Guest Riggs episode, broadcast on 31 July, involved a participatory "literature-architecture exchange" that resulted in the launch of a publication in the afternoon.
DJ and architecture academic Simona Castricum, meanwhile, used her episode on 27 July to demonstrate her dual research interests of music and architecture with a session that involed live musical performance.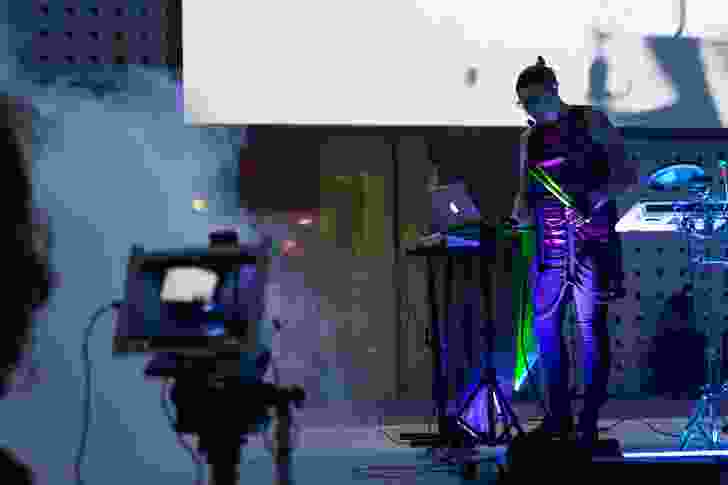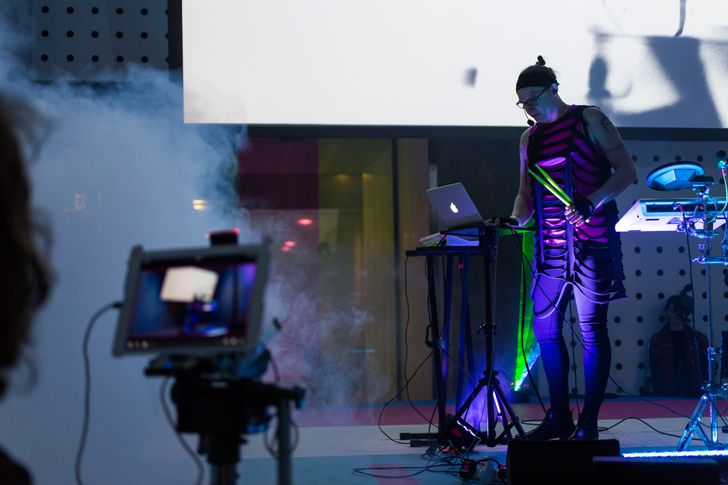 The exhibition, Rhodes said, is all about "making everything these people do public, so that they might serve as models for these ways of working."
"Part of the audience for this show, we hope, is people who are embarking on study or currently studying or working in the field, but who are thinking 'Is this the place I wanna be? Is this the sort of work I wanna do? What other outlets might their be for my interests, for my anger, for my desire to see change?"
"This would be a series of exemplars for what a life outside of conventional practice might look like."
The practitioners involved in Workaround are are Simona Castricum; Esther Charlesworth; Pippa Dickson; Pia Ednie-Brown; Harriet Edquist; Mary Featherston; Guest, Riggs (Kate Riggs + Stephanie Guest); Amy Learmonth; Helen Norrie; OoPLA (Tania Davidge + Christine Phillips); Parlour; Sam Spurr; SueAnne Ware and XYX Lab (led by director Nicole Kalms and core members of the Lab).
For more information, go here.