The health of Aboriginal and Torres Strait Islander people compared to that of non-Indigenous Australians is one of the more disturbing and enduring measures of inequality in Australia. Compared to those in urban centres, measures of Indigenous health decline in remote and very remote regions, where access to health services is more haphazard and factors that determine health – housing, education, unemployment and poverty – vary with place.
The most recent Aboriginal and Torres Strait Islander Health Performance Framework Report to address the gap in Indigenous health identifies a need for readily accessible, culturally supportive healthcare services, but the design of hospitals and clinics is ignored in this otherwise comprehensive set of recommendations. By comparison, we recognize that culturally appropriate design matters in Indigenous housing and that sociocultural imperatives should influence prison and courthouse architecture. Given accepted practice in these building types, can healthcare architecture be improved to help ameliorate this crisis in the health of Australia's First Peoples?
Although wanting, evidence-based design (EBD) research has made inroads into health architecture, incorporating research into ideas ranging from the effectiveness of views to workplace efficiencies. Mostly North American in origin, EBD research into measures of patient satisfaction and recovery has largely neglected cross-cultural design. A lack of coherent policy about healthcare design that meets Indigenous cultural and social preferences led to an unedifying media focus in April 2018, when the NSW health minister updated state policy to direct that hospitals consider segregated waiting rooms in future emergency departments in order to reduce the high numbers of Aboriginal patients failing to present and stay for treatment. This decision appears to have been made without much architectural research or design expertise.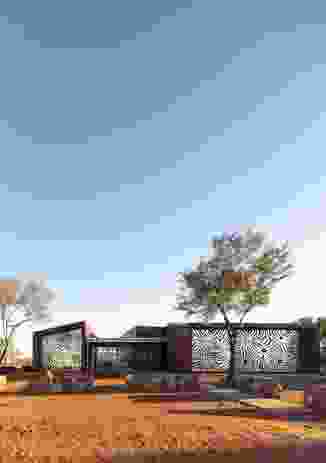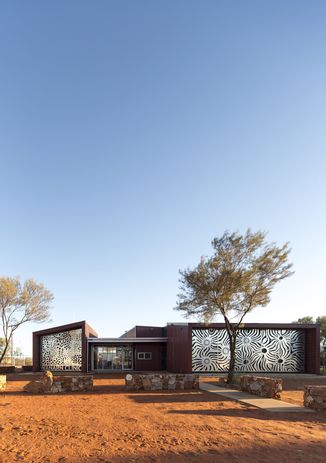 A current multidisciplinary study led by Paul Memmott at the University of Queensland is attempting to answer questions about Indigenous perceptions and experiences of healthcare architecture.1 This research aims to add to the fragmented anecdotal evidence for cross-cultural design by compiling data from surveys and interviews with Aboriginal and Torres Strait Islander people and health workers. An additional task is to interview architects about recent healthcare projects that reveal a growing awareness of Indigenous requirements in both public hospitals and clinics. Projects that initiate such responses add to the meagre evidence about cross-cultural design, more so if the projects can be thoroughly evaluated.
The study surveyed and interviewed Aboriginal and Torres Strait Islander participants in Mount Isa and Townsville, Queensland. Both places have established Aboriginal-controlled healthcare organizations, while the public hospitals in both cities treat a disproportionate number Indigenous patients – in particular the Townsville Hospital, which services a large area of regional and remote Queensland. Across a range of healthcare settings, the results indicate that architecture affects Indigenous experience and use of hospitals and clinics. For example, data from different sources in our research confirm that waiting rooms – from emergency to oncology – are often a cause of discomfort for Indigenous patients and visitors.
We can begin to describe varied and overlapping social and cultural reasons that cause discomfort in hospitals and clinics to which designers might respond. Healthcare staff reiterate common observations that Indigenous family and kinship connections bring more visitors to both hospitals and clinics whether seeking primary care or as inpatients. Participants informed us that spaces are too often inadequately sized for visitor numbers; this includes inpatient rooms, maternity wards and waiting areas. Indigenous patients and visitors show strong preferences for outdoor spaces both for social reasons and for thermal comfort. This need for outdoor space has implications for the planning and detailed design of entrances. Other spatial implications for public areas include the need to provide for levels of privacy while maintaining visual communication with other people. This might vary with location, but the stress of interaction, sometimes accompanied by feelings of shame, are given as reasons for avoiding healthcare services.
Unsurprisingly, survey preferences for views from inpatient rooms and from waiting areas accord with the general EBD research, with similar results for comfortable outdoor spaces and clarity in wayfinding. While benefits of art in clinical settings are relatively well established, Aboriginal and Torres Strait Islander people also value Indigenous cultural symbolism in healthcare architecture. This is becoming a more regular feature of recent urban and regional hospital projects as architects engage with local Indigenous artists, such as at the Sunshine Coast University Hospital in Queensland by Architectus and HDR and the redevelopment of Broken Hill Community Health Centre in western New South Wales by Conrad Gargett.
A strategic response to inequities in Indigenous health includes the support and expansion of Aboriginal-community-controlled clinics. Much can be learned from recent primary care clinics that respond to and acknowledge Indigenous staff and patients – the Casino Aboriginal Medical Service in Casino, New South Wales by Kevin O'Brien Architects in association with AECOM (see Architecture Australia September/October 2016) is a notable example. Further south at the Biripi Aboriginal Medical Centre in Taree, NSW, Sydney practice Kaunitz Yeung Architecture worked with a local artist to create a conspicuous Indigenous entry facade to a modest but carefully planned building. Just beyond the entry, the reception and waiting area focus on a courtyard that exploits an established Poinciana tree.
In the design of Wanarn Clinic, which serves a remote Indigenous community in Western Australia's Gibson Desert, Kaunitz Yeung also used laser-cut screens based on local artwork to create a robust presence on a sensible arrangement of prefabricated buildings. The screen is symbolic to both patients and health workers, but also works to mediate privacy without compromising visual connection to the comings and goings of the community. In these local clinics, consultation that includes frequent engagement with local user groups helps to establish a community connection with the building.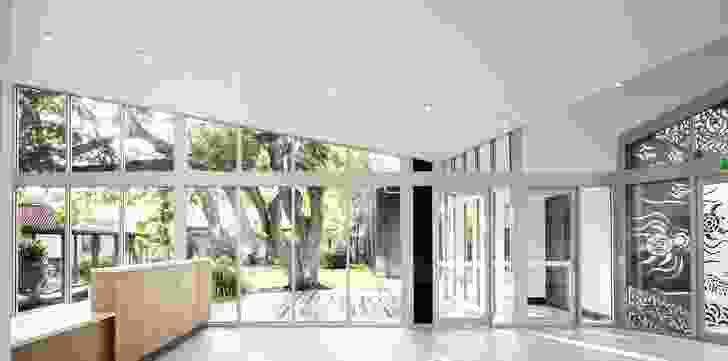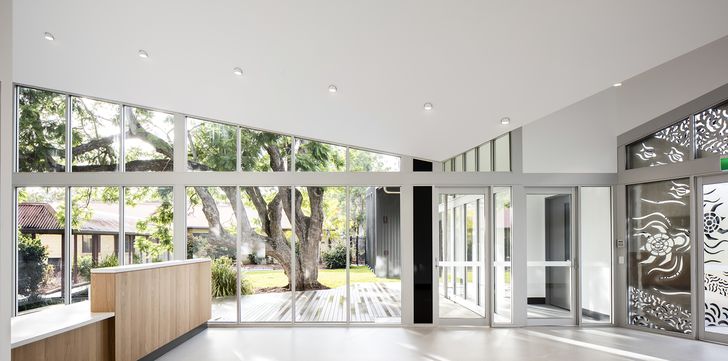 In close-knit communities, social structures – the avoidance of familiar people for both social and cultural reasons – pose architectural challenges. One such challenge is to create visual transparency at entries that continues into public circulation zones, while providing places for privacy and discrete waiting. In its design of the Karratha Central Healthcare in the Pilbara region of Western Australia, CODA Studio (now Cox Architecture) allowed alternative entries to the reception area as well as dual circulation. Indiscernible but considered planning strategies such as these may reduce the potential for stress in Indigenous patients, and just as likely improve the experience of healthcare environments for non-Indigenous users and staff.
Responses to sociocultural requirements can vary with place, and may be more pronounced in remote areas. For its major upgrade of the Mount Isa Hospital, Conrad Gargett engaged anthropologist Paul Memmott to report on specific Indigenous needs that could influence the masterplan and design of different health units. The report informed hospital planning as well as more mundane details including the retention of a large fig tree used as a gathering place, the inclusion of a smoking ceremony room and the creation of a large shaded entry with drinking water fountains.
Cross-cultural design for hospital projects, with local, representative consultation, is not always easy with processes governed by varied priorities. The sites have confronting histories and are often politically contested and sometimes fractious. On larger healthcare projects, assembling a multidisciplinary team that can connect with a broad and representative range of Indigenous user groups can elicit relevant data for the design brief.
Architecture is only one of multiple factors that affect Indigenous participation and experience in healthcare, but the spatial qualities and architectural features of hospitals and clinics are significant to many Aboriginal and Torres Strait Islander people. Government-led initiatives for the type of design processes that result in architectural change are variable and too few projects are thoroughly evaluated. Further design research is needed in different places and across different health planning units to affirm that design matters across a range of settings. As the projects discussed here and many others show, architectural advocacy for meaningful consultation can result in healthcare buildings that recognize Australia's First Peoples.
– Timothy O'Rourke is a senior lecturer in the School of Architecture at the University of Queensland. His research interests include the cross-cultural design of healthcare and domestic architecture.
1 ARC Discovery Project: Understanding Indigenous experiences of architectural settings to improve Indigenous health outcomes: Does design matter? With researchers Professor Paul Memmott, Professor Michele Haynes, Dr Daphne Nash and Dr Timothy O'Rourke.
Source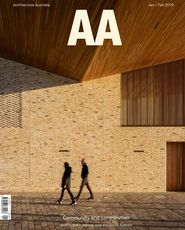 Issue
Architecture Australia, January 2019
Related topics