¡Hola amigos!
Arquia Próxima is a two day architectural festival/congress celebrating Spanish architecture and emerging architects from across the country, which occurs every two years. The theme for 2018 was 'Relevant Practice' and what took place was a very important conversation on the shifting face and practice of architecture and how we respond the the fluid, new contexts we are working in.
The festival asked questions like, what are the criticisms of today's architectural practice? What do we value these days in contemporary society? How are we (as architects) working? And how do the new and diverse formats of architecture differ from the traditional notions of the discipline?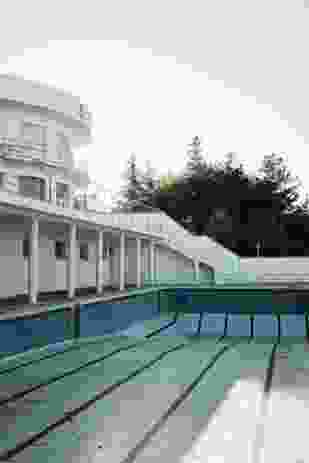 The first morning of the Arquia foro (forum) started with a visit to an abandoned, mid-century elite bathing house, Piscina-Club Stella in Hortaleza. It was originally built in 1947 for Manuel Pérez-Vizcaíno Pérez Stella and family, and it is still owned today by the third generation of this family.
It was conceived of as an urban oasis for the high society of Madrid back in the day. It had a feeling of being by the seaside, lounging under sun parasols, but there was no ocean in sight. It was influenced by rationalism, boating forms and the style of the nautical clubs of San Sebastian constructed in this period. It is a building that stands the test of time and is just as formally relevant now as it would have been then. It's sinuous, well proportioned and easy to love.
We then went to Matadero, a contemporary centre for arts, culture and practice in Madrid. This part of the day comprised rolling conversations set in architectural locations. The Greenhouse of Arganzuela was the backdrop for a architectural chat with Pola Mora, editor of Platforma Arquitectura in Chile. Mora spoke of the role of architectural media and her approach to the digital architectural landscape. She explained how, in her view, images are used to promote architecture, but they never take the place of the architectural experience.
Then we moved outdoors to sit in a semi-circle with Javier Peña Ibañez and Gonzalo Hererro, as they discussed the reasons why we so dearly need more honest and direct constructive criticism in architecture. They pulled this topic apart, piece by piece, analysing each part of the idea of 'architectural and urban criticism'. For example, as stated by Javier and Gonzalo, architectural critque often happens in closed architectural forums (our lovely but internal industry echo chambers).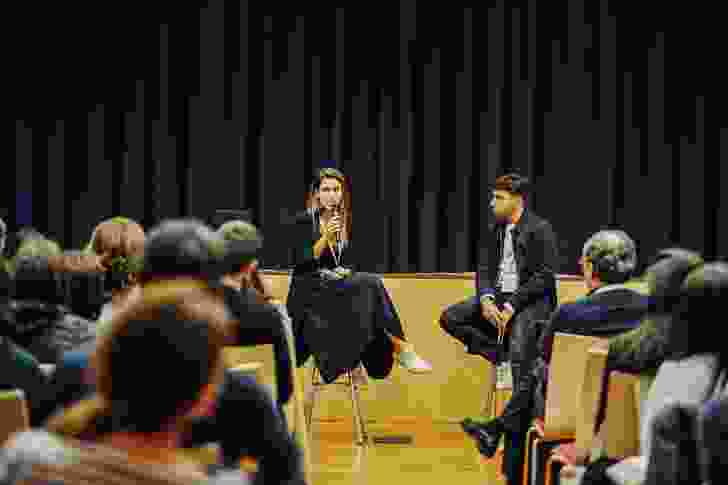 Gonazalo emphasised the importance of criticism by the public and criticism by professionals but in 'accessible' public forums. He talked about the over-academic nature of architectural criticism. You could see that his preference was for a focus on discussion and debate about what is relevant, needed and good in our cities, from the perspective of all – embodying the notion of what "civic" really means.
This was followed by a charismatic talk by Portuguese architect Andreia Garcia. She spoke of the practice of 'social destiny' and gave architectural examples of how she has activated the city using both events and architecture. She lead us through ideas of the ephemeral, memory, identity, the specificity of place, architectural anticipation, casualidad (chance) and the ability that architecture has to connect with all things. These words of advice she gave stuck with me, "We must know how to observe, to understand what is missing, in order to decide what is necessary to do."
The second day was a series of round table discussions. They were open, informal, inviting and, for this little kiwi trying to keep up, very captivating, albeit in Spanish.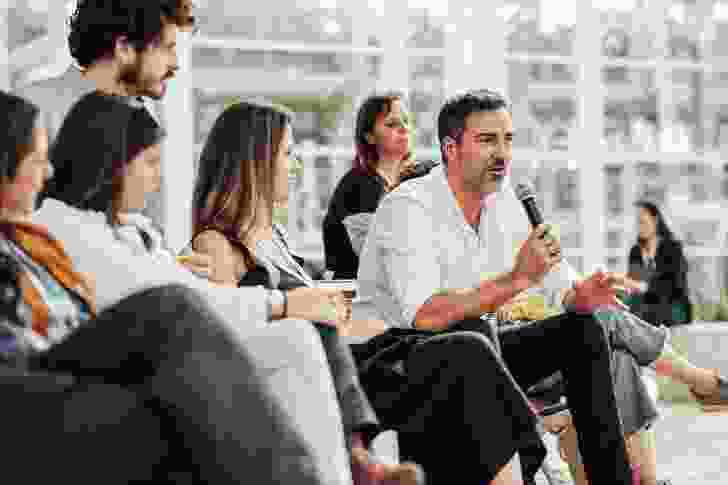 The day was opened by Iñaki Carnicero of Rica Studio who curated Arquia '18 (alongside Javier Peña Ibañez). He is an inspiring, warm and intelligent architect that you can see has a real heart for Spanish architecture and especially for the emerging generation. He said, "This is a time, a moment, to reflect on potent and diverse ideas, on points we have in common and on architecture as a universal discipline driven from a local context, where we plant the ideas."
He invited us all to consider how architecture can be more relevant in our changing locations, virtual networks, quick travels and heavy economies. I particularly liked the topic, 'The magnitude of the small: connections and intersections'. It made me question what the meaning of scale really is, practically and theoretically.
All this and we hadn't even got to the two keynote speakers from Portugal: João Luís Carrilho da Graça and Eduardo Souto de Moura.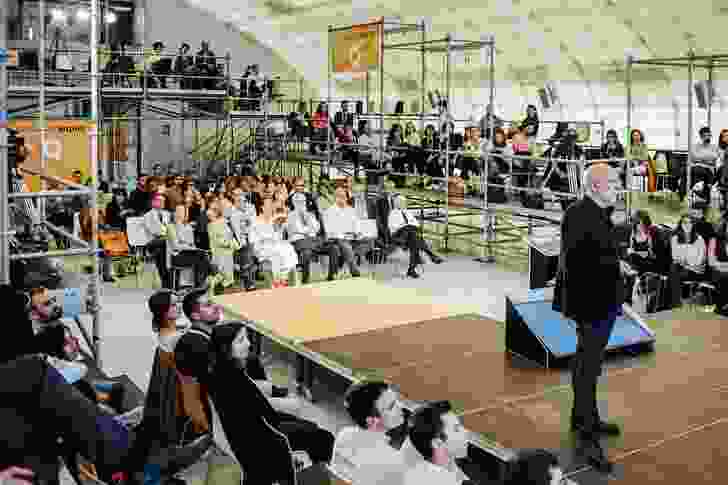 The day was ended with utmost class and finesse. João Luís Carrilho da Graça was smooth, mysterious and almost mono-syllabic in his presentation titled Una Casa Discreta (A Discreet House). He spoke minimally, and the images he showed were flicked though in architectural silence. Then he sat down, leaving the images to re-flash back through your mind, if you had time to catch them. I have never experienced anything quite like it. Abrupt but enticing.
Next up was Eduardo, who we had all been waiting to hear from. Eduardo Souto de Moura was kingly, comedic and super relaxed. It was a privilege to listen to him speak. He is an architect who has helped shape contemporary architecture in Portugal, hailing from greats like Alvaro Siza.
Together, they have helped prove through their actualisations that architecture is very much about public space, cultural identities and social experience (Check out the wonder that is the Expo' 98 Pavilion de Portugal, a Siza project that was worked on by Souto de Moura and also Cecil Balmond – an architect's kind of engineer). One of my favourite projects of Souto de Moura's is Casa das Histórias Paula Rego in Cascais: brilliantly formalist, confident, fun, finely considered and inviting.
Souto de Moura deservedly received the Pritzker Prize in 2011 and the jury said this of him: "His buildings have a unique ability to convey seemingly conflicting characteristics—power and modesty, bravado and subtlety, bold public authority and sense of intimacy—at the same time." I can't help but agree.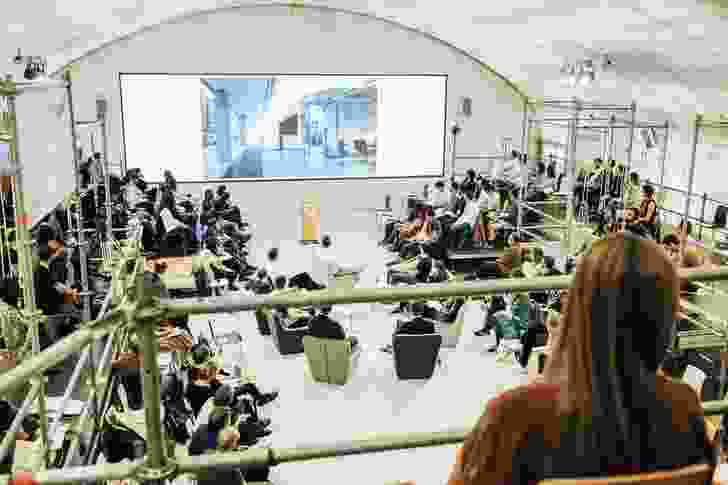 Eduardo was one of those guys that you can see most definitely knows what he is doing and has a laugh doing it. How can one be so cool, so funny, so cheeky and yet so strong, serious and elegant in architecture? He introduced us to four great projects, each distinct from one another: Casa Quinta do Lago (Algarve, 1989), Capela Vaticano, (Venice, 2018), Barragem Foz Tua – Hydropower Station (Alijo) and an exhibition layout in Siza's Serralves Museum of Contemporary Art (Porto, 2017).
I won't paraphrase him, as I can't, but if you get the chance to hear him speak – or you learn Portuguese and look him up online – he is a joy to listen to and watch as he speaks so charismatically about his works.
These are the words he left us with, "Architecture is form, and formation…" And, as some might say, no more and no less.
Spanish Architects are people to watch. They have passed through very difficult economic times, but their creativity, criticism, attitude and style is ever-strong. As is their culture!
Muchas gracias Arquia Próxima.
This article was first published on ArchitectureNow.com