New South Wales' first public high-rise school in Parramatta will miss its scheduled opening date and won't be ready for students until at least term four in late 2019.
Grimshaw Architects and BVN won the contract to design the 16-storey Arthur Phillip High School and the adjacent Parramatta Public School following an international design competition in 2016. Both schools were expected to be open for day one of the school year, on 29 January.
Arthur Phillip High was described by the department of education as a "showcase" for the delivery of multi-storey education facilities in response to metropolitan Sydney's increasing residential density.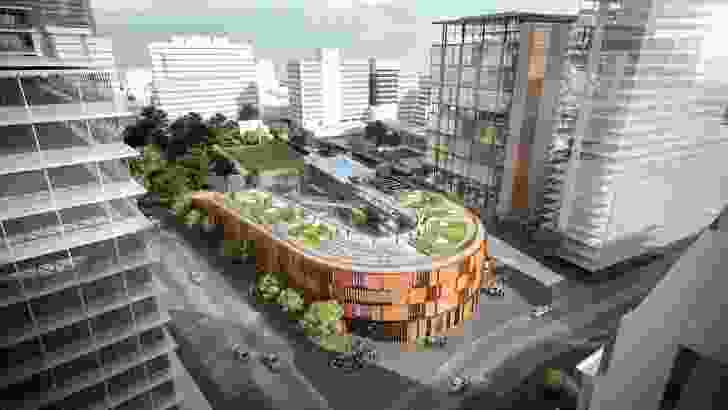 But in the face of construction delays and concerns about ongoing logistics, education minister Rob Stokes has signalled that the government will no longer prioritize high-rise schools.
Speaking with The Sydney Morning Herald, Stokes said high-rise schools were complicated to build and were difficult to adapt to changing needs.
"There was a lot of initial excitement about the concept of vertical schools," he told the paper. "My ardour is not as strong in relation to them.
"You don't have the same flexibility as you do when you can move spatially outward. When you are going up and down you are locked in once you've built it."
The APHS building will be almost double the height of the state's first high-rise school building, St Andrews House for the private St Andrews Cathedral School, an eight-storey precast concrete building in central Sydney, designed by Noel Bell Ridley Smith, which opened in 1976.
It will comprise a series of two-storey stacked volumes that will house six "schools within a school" or "home bases" of up to 330 students each. The building will also feature outdoor learning terraces and semi-outdoor vertical circulation elements, which are designed to encourage interaction between the home bases.
The adjoining Parramatta Public School is based on the same model, with "home bases" housing up to 280 primary students each. The home bases will be linked horizontally and vertically via stairs, terraces and platforms. In total the two schools will cater to 2,000 secondary and 1,000 primary students.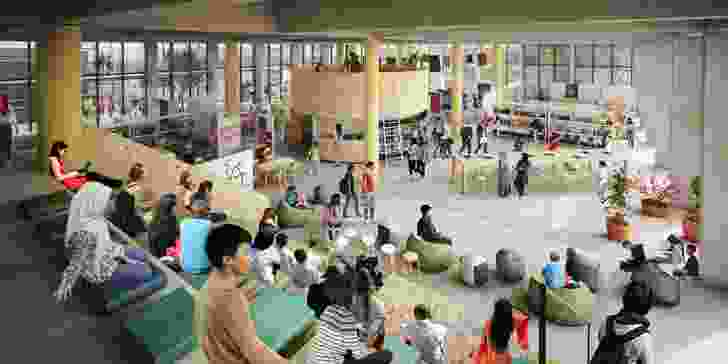 Contributing to the project's delayed progress was a major fire at Parramatta Public School in May 2018, which the NSW fire department said did "extensive" damage to the heritage building of the existing school.
On top of the delays, the project's budget has ballooned from $225 million to $325 million. NSW Opposition's shadow education minister Jihad Dib told local media the project had been a "failed experiment" and that five new schools could have been built with the same money.
Raising concerns about the capacity of lifts, he suggested that high-rise schools would "always" present logistical problems. "Not only is it highly impractical, but from an educational perspective, it just doesn't work," he told the Parramatta Advertiser.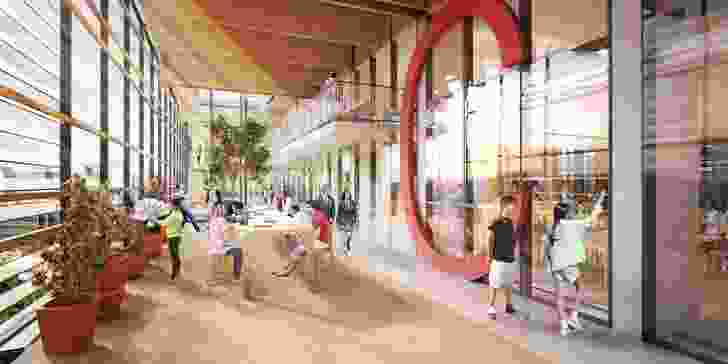 A second vertical public high school in Surry Hills designed by FJMT, the proposed 14-storey Inner Sydney High School, is expected to be completed by 2020. Victoria's first vertical school, South Melbourne Primary School by Hayball, opened in 2018, while Gray Puksand's Prahran High School is opening for term one 2019.
NSW premier Gladys Berejiklian and education minister Rob Stokes announced on 22 January that 17 new and upgraded schools would open for the first day of term one, providing almost 400 new classrooms.