Arena Calcetto was a big hit at Australia's pavilion for the 2012 Venice Architecture Biennale and now the fiesty foosball tournament is coming to Sydney. Archrival's Claire McCaughan and Lucy Humphrey and collaborators will reconstruct the six black timber towers in the sunken gardens of Paddington Reservoir for Art & About (20 September to 20 October), the City of Sydney's annual festival that is this year themed Art in Unusual Places.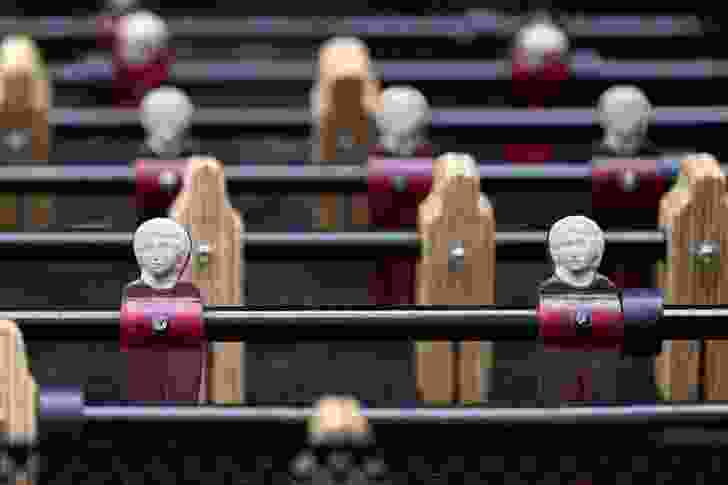 As well as live foosball tournaments, Archrival will be holding talks and workshops with the local creative community, students, businesses, residents, and, at the end of Art & About, will tour the tournament to other Sydney locations. Archrival has already begun localizing the Arena Calcetto landscape, holding workshops at the William Street Creative Hub to involve other architects, designers, artists and other creative "makers" in designing and fabricating their own foosball team. Objects from the project will be included in installations at the William Street Hub and shopfronts along Oxford Street, Paddington, as part of the precinct's revitalization.
"When we made this installation for Venice, we always wanted it to go somewhere else – so we've been working on it all year," says Humphrey. "The sunken garden at Paddington Reservoir is a perfect spot because you'll see the tops of the towers poking up as you drive by. Designers from Arup will hopefully be doing the lighting at Paddington, as well as having done the engineering on the original structures. The timber structures are quite tall and slender. They were inspired by boats and masts, so we're hoping that eventually they'll end up somewhere by the water: on Cockatoo Island maybe, or on a barge."
Arena Calcetto and workshop details here. Art & About program here.
Related topics