Arkhefield designs Art Deco-inspired Brisbane music hall
Brisbane practice Arkhefield has produced designs for a new 3,300-capacity music hall in Fortitude Valley that is being billed as a homage to the city's much-loved Festival Hall, demolished in 2003.
Fortitude Music Hall, to be located on Brunswick Street Mall, is designed to be reminiscent of Brisbane's classic theatre venues and will feature an Art Deco-inspired façade.
The long-discussed venue is a project driven by prominent figures in the Brisbane music industry, including John "JC" Collins, a former member of Powderfinger and owner of Brisbane venue The Triffid, Paul Piticco, co-founder of touring and events company Secret Sounds), and US events and venue operator Live Nation. The Queensland-based construction company Hutchinson Builders is also attached to the project, with chairman Scott Hutchinson contributing $43 million to the project.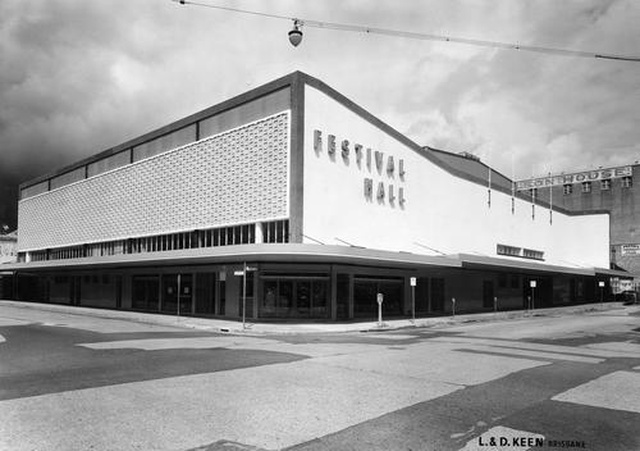 "It's always been our dream and mission to build a venue that fills the void left by Festival Hall and we are proud of the vision we've created for The Fortitude Music Hall," said John Collins in a statement. "The masterplan is well and truly rolling out for a venue and space that will enhance the area and one that the community will enjoy and benefit from for many years to come."
The venue will occupy the old Optus Centre building, with construction at the site already underway. It will include food and beverage venues and a function space and feature state-of-the-art production, while aiming for a nostalgic design aesthetic.
"We drew inspiration from all the beautiful Art Deco theatres and venues that existed in Brisbane and were torn down in the 80s," said Collins of Arkhefield's design.
The main inspiration is Brisbane Festival Hall, a 4,000-capacity venue, designed by architects Crick, Lewis and Williams and built by Queensland construction company E.J Taylor and Sons in 1958 on the corner of Albert and Charlotte streets.
Festival Hall was Brisbane's primary indoor music venue until its demolition in 2003 to make way for Festival Towers, designed by Cox Rayner.
"Over time, we hope the Fortitude Music Hall can become as iconic as Festival Hall was," said Paul Piticco.
The consortium behind the project are aiming for the venue to open in June 2019.