ARKit is a hybrid prefabrication company combining architectural services, research and development, project management and manufacturing. ARKit designs and manufactures factory-built buildings using a sustainable wall-panel system, which provides integrated insulation to protect the interior environment from thermal variation while also providing structural stability to ensure a durable building.
The ARKit construction system utilizes the natural properties of timber in manufacturing – it is lightweight, it uses off-the-shelf standards and practices, it has lower embodied energy and lower carbon emissions than other common building materials, and it is economical, renewable and harvested from a sustainable source. Each panel and window interlocks to form a rigid wall system. Constructed in a factory, each panel is crafted to precision tolerances and quality standards.
The ARKit panel is manufactured using unused short lengths of western red cedar as the external cladding – a sustainably managed natural resource with exceptional beauty, built-in resistance to harsh environmental conditions and inherent insulating properties. This is combined with a plantation-harvested hoop pine plywood interior lining to create a building that sits harmoniously in its environment.
The ARKit is economical and takes a fraction of the normal time to manufacture, deliver and erect. It offers clients a sustainable architectural solution where design, time and budget expectations are known prior to the installation of the building, offering a certainty and quality that are sometimes missing in traditional construction processes.
The EcoStudio is just one example of a building built using the prefabricated ARKit system. This single-bedroom fifty-square-metre building is assembled in our factory and delivered to site complete with kitchen, bathroom and all the wiring and plumbing ready for connection.
An integral part of the design is its environmental engineering, starting with the variable services hub at the rear of the building. The hub is fully accessible and contains the hot water unit, electrical meter and switchboard, grey water system and telecommunications node. The hub can also accommodate options such as a solar hot water unit and solar electricity to suit the local and specific client requirements.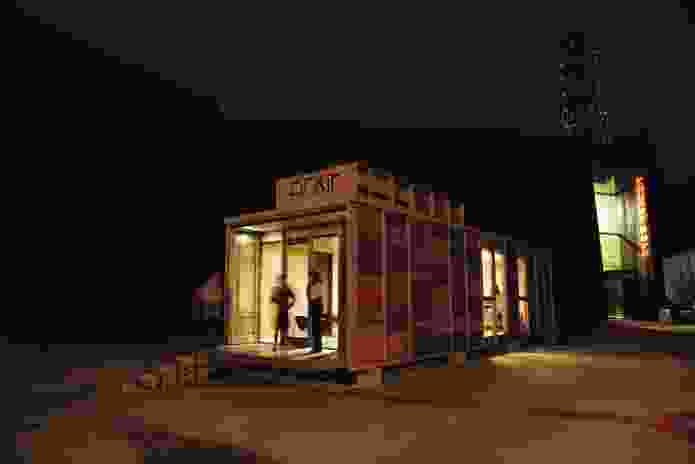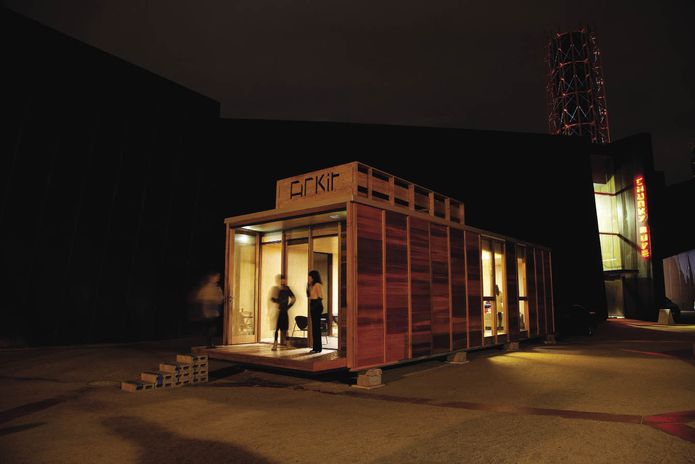 The EcoStudio can be engineered to respond to different climates and to adapt to the absence of civil infrastructure, providing intelligent options for sustainable living. The sustainability strategy and philosophy for adaptable building infrastructure has been developed in partnership with Tai Hollingsbee of GHD. It represents a considered, integrated approach between architecture and engineering as an exemplar of sustainable design.
GHD optimized the building envelope in response to detailed thermal, energy and comfort analysis of the building design. The life-cycle cost analysis shows a marked benefit in long-term running costs for the building over traditional building alternatives. This adaptable building systems strategy can also enable off-grid installations with the potential for an independent, zero-carbon mode of living.
ARKit standard passive environmental features include external sunscreen devices concealed in the external walls of the building, cross-flow ventilation, double glazing and insulated floors and ceilings. The EcoStudio displayed at this year's State of Design Festival in Melbourne featured a green roof provided by the School of Land and Environment Green Roof Research Program at the University of Melbourne, which is ideal as a way of limiting solar gain and mitigating stormwater run-off and air pollution in urban environments.
The EcoStudio in standard specification is expected to achieve a First Rate 5 rating of 6.1 stars in Victoria – well ahead of current standards and above the requirement for 6 stars for all new residential buildings in 2011. The EcoStudio is envisioned as a residential accommodation for the urban backyard or rural block, for temporary accommodation, weekenders, eco tourism and for home office or studio environments.
Products and materials
Roofing

Lysaght Klip-Lok, Zincalume finish; University of Melbourne Horticulture Department green roof garden.
External Walls

Western red cedar, finished with Cutek oil.
Internal Walls

Austral Ply hoop pine plywood, finished in polyurethane; Laminex Aquapanel.
Windows and Doors

McKay Joinery cedar windows; Viridian double glazing; custom cavity sliding door, low VOC paint.
Flooring

Porcelanosa tiles from Earp Bros.
Lighting

Zumtobel Crayon LED.
Kitchen

Fisher & Paykel appliances.
Bathroom

Nobili tapware, toilet and sink; Evo shower.
Heating/Cooling

Thermofilm panel heaters.
Credits
Architect

ARKit
Melbourne, Vic, Australia
Project Team

Craig Chatman, Daiman Otto, Tai Hollingsbee
Consultants

Builder ARKit
Environmental engineer and lighting GHD
Furniture Cult
Interiors ARKit
Structural engineer Structural Works

Site details

Number of stories 1
Site type Mobile
Building area 50 m2
Category Residential buildings
Type Residential

Project Details

Status Built
Construction 1 months
Website http://arkit.com.au/

Source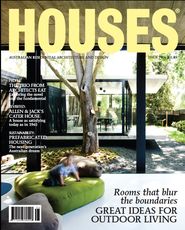 Issue
Houses, October 2010
Related topics