A proposal for a floating pool in Swan River in central Perth, designed by ARM Architecture, could become an "amphitheater" in the river, according to its proponents.
Grant Oldfield of developer Northstar Developments is leading the team behind the proposal that also includes Aecom, Oceanis International, APP Pracsys and Shape Urban.
The pool's proponents say they have developed a preliminary plan for the deck, which would be sited next to Elizabeth Quay, designed by ARM Architecture with TCL, and linked to shore via a bridge.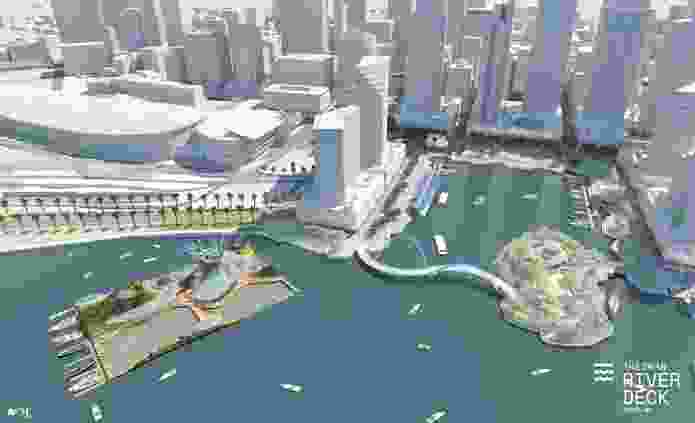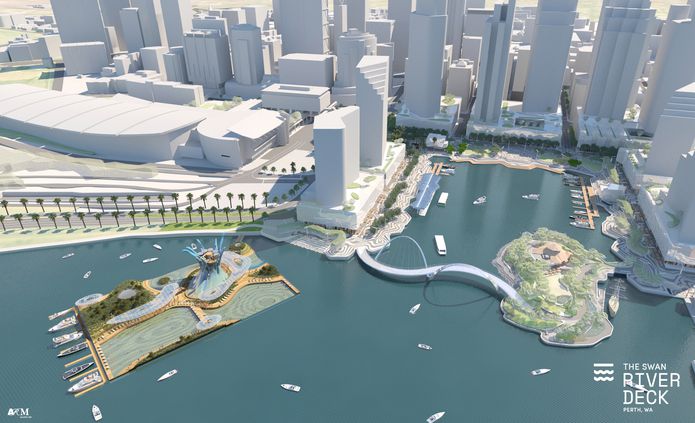 The proposal includes a 100-metre swimming pool filled with filtered water from the river that would be useable year-round. The conceptual design is generated by "a splash," which forms multiple pools, a "sand-bar" area to "sunbake and to stay dry," and a landscapedmound, beneath which will be an event and exhibition spaces. A splash-shaped structure was also proposed for an outdoor amphitheatre and stage structure as part of stage one of the Gold Coast Cultural Precinct by ARM Architecture.
The group also says that the pool could be planned in tandem with the proposed Indigenous Cultural Centre, which was originally part of the planning for Elizabeth Quay and later removed from the project, along with a cable car connecting the quay to Kings Park.
The group is seeking public feedback for the Swan River Deck via an online survey. The group says it has met with a number of government and community leaders and organizations, including the WA Minister for Environment, local Indigenous, business and community leaders, Tourism WA, the Metropolitan Redevelopment Authority, Landcorp, Tourism Council of WA, WA Department of Transport, the South West Aboriginal Land and Sea Council, Swimming WA and the Committee for Perth.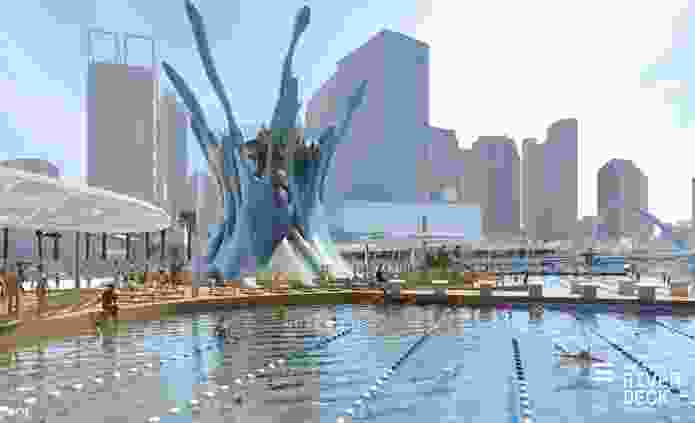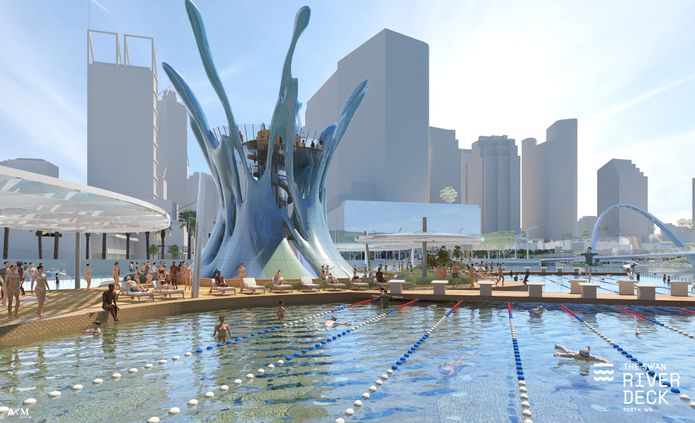 The plan has also been submitted to theWA Department of Biodiversity, Conservation and Attraction's Perth Water Precinct Plan public consultation process, with the pool's proponents saying that they will "move ahead" with the regulatory process once this feedback has been received and processed.
Elsewhere, proposals for floating river pools include the Yarra Pool by Studio Octopi in Melbourne and the Plus Pool in New York City's East River. The proponents are in contact with the team at Plus Pool.
Related topics