Developer GPT Group has unveiled designs by ARM Architecture for an office that will sit above the Melbourne Central shopping centre and mall in the Melbourne CBD, on the complex's Lonsdale Street edge.
The tower, dubbed "Frame," will comprise a glass façade over an engineered timber frame, containing 19,400 square metres of office space. A retail, hospitality and entertainment space will occupy the roof of the building The tower will be a vertical extension of Melbourne Central, a major retail and transport hub originally designed by Kisho Kurokawa in association with Bates Smart McCutcheon, which was redeveloped in 2001 to designs by ARM.
The tower will also feature a "sky lobby" on the fifth floor.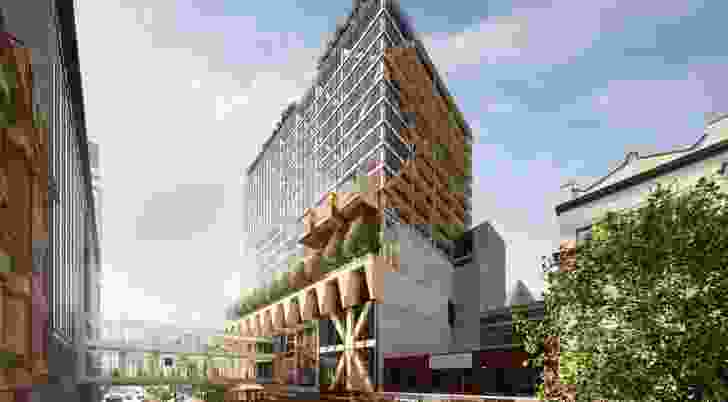 Ian McDougall, ARM principal, said, "The new rooftop retail precinct is a unique concept where city dwellers and visitors gather to learn, interact, have fun and be inspired. It is a meeting place between workers and the rest of the city."
GPT's head of office and logistics, Matthew Faddy, described the design as featuring "abundant natural light and a warehouse-style environment, with the design of the building aimed to improve the sense of well-being of its occupants."
The proposal is the latest in a series of large-scale projects that make use of engineered timber for the majority of the structure. Completed buildings include the 10-storey 25 King tower in Brisbane by Bates Smart and International House in Sydney's Barangaroo by Tzannes, while under-construction projects include a multi-purpose building for UNSW in Sydney by Tzannes and an office building in Melbourne's Docklands by NH Architecture.
Cross laminated timber (CLT) and glue laminated (glulam) timber are becoming increasingly valid materials for the construction of high-rise projects.
CLT was first developed in Switzerland in the 1990s and has a lower carbon footprint than many other building materials used in commercial projects, in part because the production process produces no waste.
Related topics