The Mayor of the Gold Coast Tom Tate has unveiled new designs for an outdoor performance venue, part of stage one of the Gold Coast Cultural Precinct Development.
Dubbed "Splash," the project by ARM Architecture will feature an outdoor, grassed amphitheatre, seating up to 10,000 people, and a stage structure in the form of giant splash of water in suspended animation. The stage will "provide concert-goers with one of the world's most breathtaking amphitheatre backdrops," said Mayor Tom Tate.
The proposed Gold Coast Cultural Precinct will be located at Evandale, a seventeen-hectare site bounded by Bundall Road and the Nerang River, opposite the residential and retail precinct of Chevron Island. The site is currently home to parkland as well as a number of civic and public buildings including the Gold Coast City Art Gallery.
Stage One works will also include a Riverside Hub, which is to be adapted from the existing Riverside building that will accommodate a new cafe, gallery and administration spaces and potentially a creative tenancy. In addition, the development will make a start on a sub-tropical outdoor garden, Artscape, linking the proposed new facilities with enhancements to Evandale Lake.
ARM and Berlin-based landscape architecture practice Topotek1 won the commission for the Gold Coast Cultural Precinct in November 2013, following an eight-month international design competition. The partnership defeated Japanese practice Nikken Sekkei, named the second largest architecture firm in the world in 2015, and an international consortium of CRAB Studio (UK), Vogt (Switzerland), and local Gold Coast practice DBI Design.
The jury unanimously awarded the scheme for its "playful and inclusive" design, which incorporated everything from skateboarding to theatre and opera, contemporary art, fashion and public gardens. Central to the masterplan is a fourteen-storey spiralling tower that will become the New Arts Museum, topped with a bungee platform. In addition to the Splash outdoor amphitheatre, the precinct will also have two indoor theatres, seating 1200 and 350 respectively.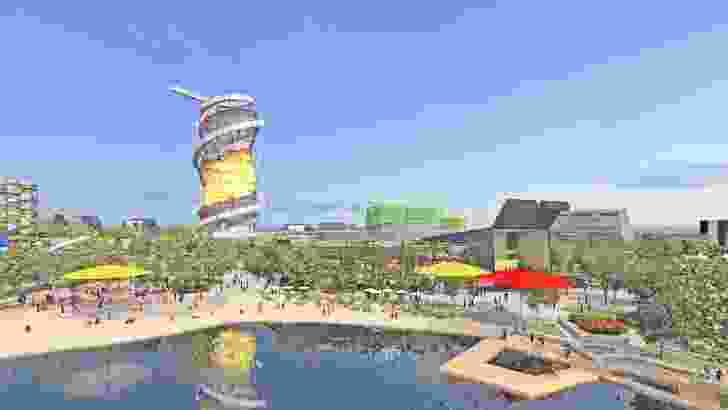 Throughout 2014, ARM and Topotek1 worked with the local council, stakeholders and consultants, including national event promoters, to refine their initial design, ensuring the proposed amphitheatre can be used all year round in all types of events including concerts, fashion parades and outdoor cinema.
Construction of the amphitheatre will begin in early 2016 and is scheduled for completion ahead of the 2018 Commonwealth Games on the Gold Coast. The remaining parts of the masterplan will be gradually delivered over the next ten to fifteen years.