Architectural firms are great at creating knowledge and value through design. But when it comes to R and D, architects are good at doing the R but not so good at the D. Arguably, the disintermediation of architects in procurement processes, the rise of partial services and the easy replication of architectural services by others are the result of an endemic lack of both research and development in architectural practice. Retaining research knowledge as tacit expertise in the brains of practice directors or designers, the so-called genii of the office, is not enough these days. Nor is the development of research ideas about merely doing competitions or speculative design projects or teaching a studio at the local architecture school. Nor does R and D mean conducting applied research into trivial aspects of BIM or parametric modelling, while being unaware of more advanced pure research in this area.
It seems that in many architecture practices, the systems and infrastructure needed to support the development of research are mostly fragmentary and ad hoc. While many practices will claim that what they do is research, few practices have formal R and D procedures in place. In a recent survey I conducted through my Surviving the Design Studio blog, 75 percent of the 330 respondents stated that they did not have a formal R and D program or research function in their firms. Conversely, the same number of firms (75 percent) considered that designing, competitions and speculative projects were valid forms of research. Many practices do not employ or develop procedures for articulating and documenting their original design or research outcomes. Aside from publishing for peer-to-peer marketing, including via the various awards systems, much of the research knowledge that is generated in architecture remains implicit within firms. The lack of development, as well as ad hoc and informal research practices, makes it difficult for others to ascertain what aspects of research are, in fact, a contribution to knowledge. This state of affairs continues to have an impact on the industry as a whole because research is needed to maintain competitiveness in a context where rivals either market similar services or create more highly specialized services at a faster rate.
The Australian Research Council's (ARC) public research funding system has not benefited architectural practice and management in this country. Perhaps this is because in Australia, innovation and research management skills are not articulated or recognized in the architectural accreditation system. Architects don't often do formal research methods courses and only a few graduate schools of architecture offer subjects based on design research. Innovation theories, policies and systems, along with venture capital pathways, are not something that architecture schools have frequently taught. Too often these areas of knowledge are somehow seen as being "too corporate" for the design and history connoisseurs. Even more damningly, the proponents of "design as research," associated with the rise of software technology since the early 2000s, have failed to convince the sceptics that design is research that contributes to knowledge.
Innovation pathways are rarely used by architects, although there have been some exceptions. A notable example is the Unitised Building system developed by Nonda Katsalidis in line with the Australian Research and Development Tax Concession. Katsalidis filed a patent for the system in 2009 and it was used to construct the Little Hero Apartments in Melbourne in 2010. The licence was then sold to the Hickory building group and the system is still a competitor in the prefabricated construction market. For projects like this, the Australian Government's Research and Development Tax Concession (now called the Research and Development Tax Incentive) can be greatly encouraging. But while many architects might claim for this if they could meet the eligibility criteria of "experimental activities" under the scheme, to be eligible would require "systematic progression of work," proceeding from "hypothesis to experiment, observation and evaluation, and [leading to] logical conclusions" and, most importantly, that the work be "conducted for the purpose of generating new knowledge (including about creating new knowledge or improved materials, products, devices, processes or services)." This rigorous criterion precludes the kind of research work that architects are engaging in, enhanced by the lack of research infrastructure and knowledge of innovation pathways in architectural practice.
A health check of development in architectural firms would ask the following questions: Does the firm research social issues or policy debates related to architecture or the firm's areas of specialization? Does the firm research potential and emerging innovations related to architecture? Is there a governance or management structure that allows staff to contribute to research? Do the firm's research projects and focus arise out of the firm's strategic planning? In addition, as new knowledge is created in a firm, are there knowledge systems or other systems in place to document, store and allow for this knowledge to be retrieved?
Large architectural firms, including very large global multidisciplinary firms, point to the different ways that research is developing in practice. For example, the European firm UN Studio has organized itself around a series of knowledge platforms, which is an organizational structure designed to capture and share design knowledge. In Australia, large firms have approached the issues in various ways: ARC Linkage Projects, yearly research conferences, knowledge groups, investments in pure research or a competitive process within the firm to allocate research funds.
New ecologies of practice orientated around research can take on a life of their own and architects need to be comfortable with the ambiguity this can create. This shift will require a fundamental change in the way that architects think about their profession. What is necessary for practices is not so much the creation or delivery of buildings or representations of those buildings for that matter, but the creation of design knowledge. Managing design knowledge as a distributed ecosystem (namely a project network) rather than being project-centric (namely the notion that knowledge is solely embedded in the built object) will cede more significant results. The Institute's awards system, as it currently stands, is too focused on physical objects and design as a thing . Architects need to encourage awards for design as a process – for entrepreneurial initiatives, policy initiatives and the outputs of materials and technical research.
Architects who continually value knowledge creation through research are able to secure new work and provide new services to future clients. Creating new knowledge in a firm doesn't come about by simply saying, "Hey, we are a brilliant and creative bunch" or "our pedigreed networks will always guarantee jobs" or "the clients will keep coming and paying because they like us." Across architecture, there is an enormous potential for the development of new research. Yet this potential is not fully realized and it's up to architects to build the infrastructure they need, that will support research in their practices, before it's too late. Simply saying that design is research is not enough to save our future skins.
— Peter Raisbeck is a senior lecturer at the University of Melbourne.
Source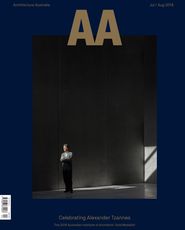 Discourse
Published online: 13 Mar 2019
Words: Peter Raisbeck
Images: Paul Dielemans Photography
Issue
Architecture Australia, July 2018