The rooftop of the Art Gallery of WA will be transformed into an indoor and outdoor gallery and the largest rooftop venue in Perth.
The rooftop transformation, designed by TAG Architects and FJMT and dubbed Elevate, will create an open air sculpture park that will feature works from the State Art Collection.
The project will also create a rooftop venue capable of hosting 500 people, was well as an external lift and bridge from the Perth Culture Centre precinct, which will allow people access to the rooftop after hours.
"Elevate will provide stunning views of the hills, the city skyline and the New Museum, and the combination of rooftop events, artworks and people will add vibrancy to the Perth Cultural Centre precinct," said culture and arts minister David Templeman.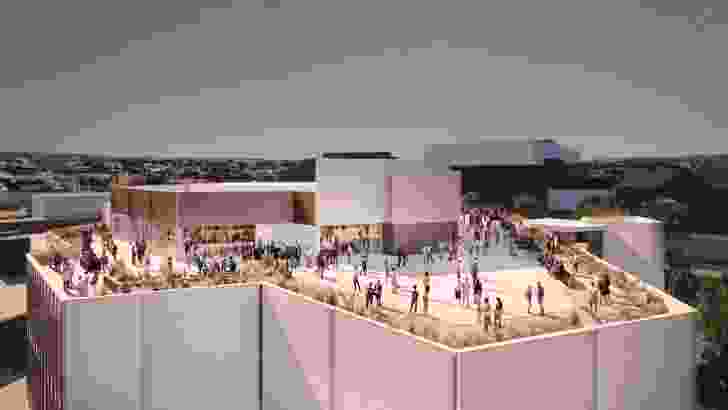 A new internal gallery will also be located on the roof. The conservation lab will be relocated from the roof to the basement, where new facilities will enhance the conservation, preservation and preparation of works for the State Art Collection.
The main gallery building of Art Gallery of WA, designed by Polish émigré Charles Sierakowski, was "designed in the Bauhaus method with a Brutalist exterior, which was popular in European design," according to Perth Heritage. The building has an unusual hexagonal plan, which allows visitors in the gallery spaces to gain glimpses of other spaces. Internally, the building is also distinctive for its hollow honeycomb ceiling.
For the rooftop redevelopment, the WA government has also commissioned a 34-metre-long work by Noongar artist Christopher Pease that will wrap around one third of the rooftop wall.
"Aboriginal art is not only strikingly beautiful, it is critical to truth telling and provides us insight into the history of our state and the connection of First Nations people with these lands," said treasurer and Aboriginal affairs minister Ben Wyatt.
The WA government awarded the construction contract to ADCO Constructions. The rooftop project is due be completed in January 2021.
Related topics