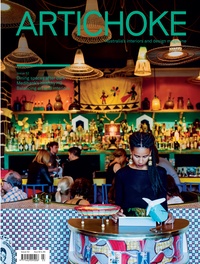 The doctor's waiting room can be a dull place; a room where the sick and injured await their diagnosis accompanied by decade-old copies of Reader's Digest. It's not typically a place one looks forward to visiting. But at Holdsworth House Medical Practice in Brisbane, Twohill and James has brought delight to visiting patients through custom-made furniture, bold colour and artworks. The clients, keen collectors of contemporary art, conceived the waiting room and hallways as galleries. The artworks serve as an expression of the client, but also as distraction and therapy for patients.
The directors at Bresic Whitney's Hunters Hill office also have an enviable art collection, including pieces by Bill Henson and Tracey Moffatt. Chenchow Little Architects has combined two unexpected and unconnected uses – that of real estate agency and art gallery. The project succeeds because the architects have struck an all-important balance, where the interiors don't dominate the art and the art doesn't dominate the interiors.
Conversely, at Wolfdene, designer Claire Larritt-Evans plays the role of curator, choosing works for the directors' offices in response to their personalities and interests. The designer has introduced the clients to pieces by Esther Stewart and Dion Horstmans, igniting an interest in art not previously held by the directors.
In these projects, the interiors provide the frame for every piece and the art offers "space – a certain breathing room for the spirit," as novelist John Updike said. And we are reminded that both art and interior can enrich our lives.
In this issue we also look inside Medibank's new headquarters by Hassell, the theatrical Napoleon Perdis Chapel by Studiobird and new restaurant interiors in Adelaide by Alexander & Co and in Melbourne by SJB Interiors, and we meet the duo behind Studio-Gram.
Follow Artichoke on Instagram, Facebook and Twitter.
Subscriptions and back issues : Print and  Digital