There aren't many beachside views in Australia more recognizable than the one from Icebergs restaurant in Bondi, looking down at that clear saltwater pool and the surrounding wild blue of the Pacific Ocean. As 2015 Eat Drink Design Awards juror Stephen Todd writes in this issue, "To sit in the dining room of Icebergs is to swim in the ocean below." Icebergs, designed by Lazzarini Pickering in 2001, is our 2015 Eat Drink Design Awards Hall of Fame inductee. The venue embodies the qualities needed for an enduring restaurant interior, going far beyond the good fortune of vast ocean views.
This issue celebrates the best of Australia and New Zealand's new eating and drinking interiors through its coverage of the Eat Drink Design Awards' shortlisted, highly commended and winning entries. Now in its fourth year, this awards program continues to astound us with the sheer number and high quality of entries. We thank the designers and architects who continue to enter and support the Eat Drink Design Awards.
This issue also takes a look at two new hotels. The first, Alex Hotel in downtown Perth with interiors by Arent&Pyke and architecture by Spaceagency Architects, is a seventy-four-room hotel driven by the idea of "hotel as home." Its domesticity is evident in the living room-like lobby and a self-serve kitchenette and bar in the communal area, which encourage guests to get acquainted. Astra Lodge by Grant Amon Architects, in the alpine climes of Falls Creek in Victoria, echoes the convivial warmth of Alex Hotel but in a very different (and nippier) setting. At Astra, open fires, leather lounges and a rudimentary palette hark back to ski lodges of the sixties and provide a welcome environment after a day on the slopes.
Enjoy the hospitality from all over Australia on offer in this issue.
Follow Artichoke on Instagram, Facebook and Twitter.
Source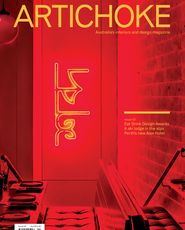 Issue
Artichoke, December 2015