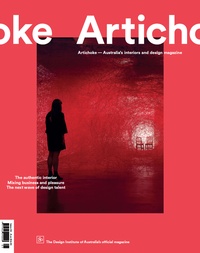 A hotel is not just a place to lay your head. A hotel must be so much more – a meeting place, a
restaurant, a backdrop for art and performances, an experience, a workspace, a city landmark, or even an unofficial couples counselling retreat. The three hotels featured in this issue – Brae in country Victoria by Six Degrees Architects, Amanemu Resort in Japan by Kerry Hill Architects, and QT Melbourne by Nic Graham and Associates and Indyk Architects – capture this. Each of these hotels offers its guests a unique design experience, a rather perfect induction to its location and something to remember it by long after they've left – be it a three-hatted restaurant, a private onsen overlooking forested hills or a mesmerizing neon art piece.
Increasingly, designers and architects are being asked to create spaces that blur their traditional typology in both look and function. And of course, it's not just happening in hotels. Recently we've seen workspaces that offer cafe-like collaboration zones, cafes that look like hotel lobbies and retail stores that are like art installations. There are even examples in this very issue. Driven by a multitude of factors – changing workplace habits, technology, shopper expectations and the growth of the sharing economy – these hardworking hybrid spaces offer new challenges but also opportunities for creativity, risk and knowledge sharing. It's an exciting time for architects and designers.
I hope you find some inspiration on these new look pages of Artichoke.
– Cassie Hansen, Editor, Artichoke
Follow Artichoke on Instagram, Facebook and Twitter.
Subscriptions and back issues : Print and  Digital
Save
Save
Save