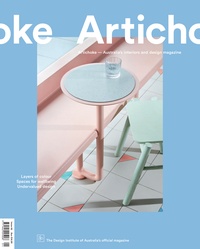 In Australia, the source book on colour for a generation of designers has been Janne Faulkner and Harley Anstee's book Using Australian Colour (first edition 2002). The rich terracotta soil of the Red Centre, the silvery green-grey of eucalyptus trees and the deep blues of our brilliant beaches have provided a diverse colour palette that is uniquely "us." Looking through this issue of Artichoke, it's clear designers are still drawn to this Australian palette, but over time they have experimented further with colour combinations and influences. We see many examples in this issue – Vacation Cafe by Therefore, RNA Day Spa by Cameron & Co., Life Ready physio studio by Russell & George, the Melbourne Cup Carnival Marquees, and the Victorian Auditor General's Office by Baumgart Clarke Architects. For the first time in a long time, the pages of Artichoke are filled with confident, colourful interiors. Maybe, finally, the Scandi-Japanese-Kondo-esque approach to minimalist colour is over.
The power of colour is extraordinary. The power of colour in spatial design, even more so. A 2007–2008 experiment performed by psychologists at the University of British Columbia found that the colour of interior walls influenced people's imagination. As part of the study, six hundred participants performed cognitive tests in red, blue and neutral-coloured rooms. They found that while there were cognitive benefits to working in a red room – subjects were more alert and aware – a blue room doubled the creative output and imaginative power of the test subjects. When you consider this, and all the other research in colour psychology, we can begin to unpack the immeasurable benefits that colour can bring to our spaces and their users. When applied to health, work and learning spaces in particular, colour could become the most important tool to the success of our future spaces and even, perhaps, human advancement.
In this jam-packed issue we also review Bondi Hall by Alana Cooke, Sean Connolly at Dubai Opera restaurant by Alexander & Co with Tribe Studio Architects, This Is A Voice exhibition design by Studioplusthree, Building No. 2 by Wolveridge Architects and Curtin Connect by Geyer.  We also profile artist and florist Doctor Lisa Cooper and see the winning work of the Artichoke Magazine Prize.
– Cassie Hansen, Editor, Artichoke
Follow Artichoke on Instagram, Facebook and Twitter.
Subscriptions and back issues : Print and  Digital