Our June issue celebrates the award-winning projects of the 2019 Australian Interior Design Awards, Australia's leading awards program recognizing excellence in interior design. This year we received 551 entries, representing a variety of scales, budgets and strengths. This year's award winners have used critical design thinking to dissect and investigate simple activities like a haircut, visiting a museum or going to work. The assemblage of award winners across the categories asserts the promising and robust state of our architecture and design industry and shows that design excellence is stretching to every corner of Australia – from the concrete tangle of downtown Sydney to a town in outback Queensland with a population of just 950.
Good design solves problems and it makes a positive contribution, advancing and enriching the human experience. The future of design relies on our industry constantly evaluating itself. This includes asking if something should exist and, if it does, how its design can not only remedy a particular problem but also anticipate for and manage future ones, and in the process, make lives better. This type of analysis requires time; consideration; diversity of culture, experience and gender; and a desire to understand and connect with each other. Of course, it's not always easy to have these qualities or the luxury of time. But if we aim for this "perfect scenario," we can get close.
Congratulations to all the winners, and those commended and shortlisted. You are all making your contribution to good design and, in the process, a better future for us all.
– Cassie Hansen, Editor, Artichoke
Follow Artichoke on Instagram, Facebook and Twitter.
Source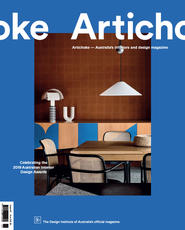 Issue
Artichoke, June 2019