After a busy few months attending design awards and events, I've been reflecting on the rapport and closeness among our design community. In Australia, we are part of a relatively small community of designers and the degrees of separation are few. You attend the same events, have worked at the same practices, have caught the same red eye to Milan, and cut a rug at the same after parties. The chances are that if you don't know each other, you know of each other. You've spent time together, had similar experiences, formed bonds and, with the help of social media, learned more about each other than just the work you do – you know about one another's personal lives, interests and struggles.
Like anything, though, you only get out what you put in. If you're "out there," engaging with your fellow designers on Instagram and at events, you'll be welcomed. This closeness would be impossible to achieve in a large community, but here, our size is our strength.
Ultimately, what brings us together is the mutual respect we have for one another and our work. There's a strong sense of encouragement, unity and belonging in our community. Whenever I open Instagram and see a new project or an award win on my feed, I also see the positive, enthusiastic comments (and the clapping emojis) from your fellow designers. It's beautiful. It's profound. And it's important.
We all want the same thing – to create better spaces and a close network. We are already doing it, with ease and authenticity, but to keep this up will require constant effort – solidarity, altruism and support, particularly from the top down. Keep doing what you're doing, team (insert clapping emojis).
Also in this issue: Hotel Rose Bay by Richards Stanisich, Prince Dining Room by IF Architecture; Zagame's House by Lukas Partners Interior Architecture; Dust by Liminal Spaces; Piazza Dell'Ufficio by Branch Studio Architects; Giraffe Early Learning Centre by Supercontext; Curtin Think Space by Arcadia; Melbourne Central Arcade by Kennedy Nolan; and stories on lighting designer Flynn Talbot and Janet Laurence.
– Cassie Hansen, Editor, Artichoke
Follow Artichoke on Instagram, Facebook and Twitter.
Source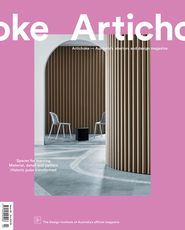 Issue
Artichoke, September 2019