It often seems like everyone and everything is vying for our attention. News headlines are shouty, advertisements are pushy, social media feeds are deafening and inboxes are nagging. All of this noise can feel overwhelming. Short of surrendering completely to a life in overdrive, how can we find relief? And how do we find it in our interiors?
At The Commons QV co-working space in Melbourne (page 102), quiet zones are essential. Foolscap Studio responded with a range of spaces, but one in particular, the sensory room, uses soft lighting and muted materiality to create a space for sleep, meditation, thinking or whatever your brand of personal intermission. For Aesop's new Sydney store (page 60), Snøhetta designed the entrance as a "decompression zone," inviting those entering from the clamour of Pitt Street to slow their pace and thoughts and enjoy a moment of calm. Seen Skin
by Golden (page 88) has a similar intent. A pragmatic yet tactile interior affords clients privacy and retreat while they receive restorative treatments. And at Byres Street (page 110), a Brisbane office building designed by Cavill Architects in association with Hogg and Lamb, a generous central atrium with abundant planting and views to the sky fosters cogitation and musing, away from the work zones.
These spaces are a form of reprieve – an antidote to maxed-out schedules and the relentless noise that comes with modern life. These are places to sit in silence, to reflect and reconnect with ourselves, and to recognize how welcome and essential a space for quietude is to us all.
– Cassie Hansen, Editor, Artichoke
Follow Artichoke on Instagram, Facebook and Twitter.
Source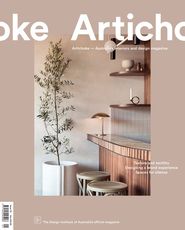 Issue
Artichoke, March 2020