At a recent Artichoke Night School forum in Melbourne (February 2014) three leading professionals spoke about "defining the sustainable workplace". Sue Wittenoom, director of AECOM's Strategy Plus practice group; Geraldine Maher, a principal at Jackson Architecture and director of Jackson Interiors; and Kate Langan, general manager of property at ANZ, each spoke about their experiences with workplace design, looking at the changing nature of staff needs, workplace demographics and technology.
Sue Wittenoom's "less is more" approach to commercial office strategies is underpinned by research and an eye on the the key workplace needs and issues facing staff including the ability to move away from the traditional desk. She discussed the evolving ideology of a shared workspace, pointed to studies citing flexible hours and autonomy in the workplace as important to staff, and compared "workscapes" within the office environment to the topography of a city, where there are various public and private tiers and zones.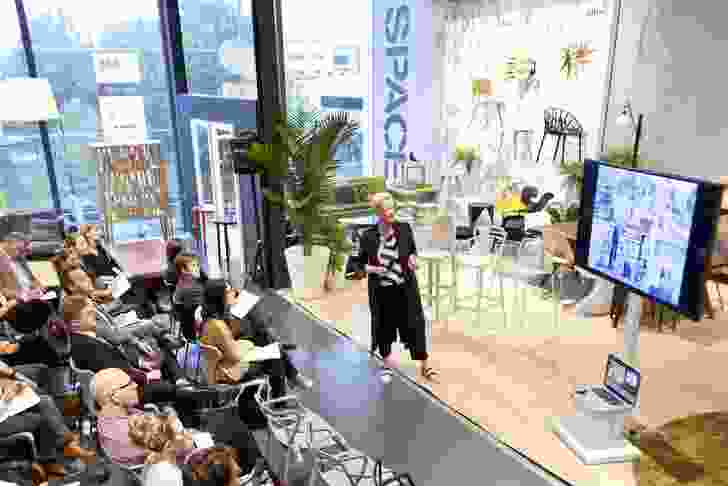 Geraldine Maher discussed domestic architecture in the office environment, citing two Melbourne projects – Analogue Adaptable Workplace and Residence project, and Visy Headquarters. For Analogue Adaptable Workplace and Residence, the brief required a commercial area that could be hired out for meetings and events, plus a residential component that could be used by the client. This was established by integrating retractable walls, pivot doors and demountable building block systems.
Visy Headquarters was produced in collaboration with Jackson Clements Burrows Architects, with a brief based on Visy's environmentally responsible philosophy. Parts of the existing office environment were re-used including workstations and ceiling and floor coverings. A curtain wall made from recycled bottles was used to connect the entry zone to the floor below, and a rectangular bale of recycled materials encased in clear perspex was placed in the reception area.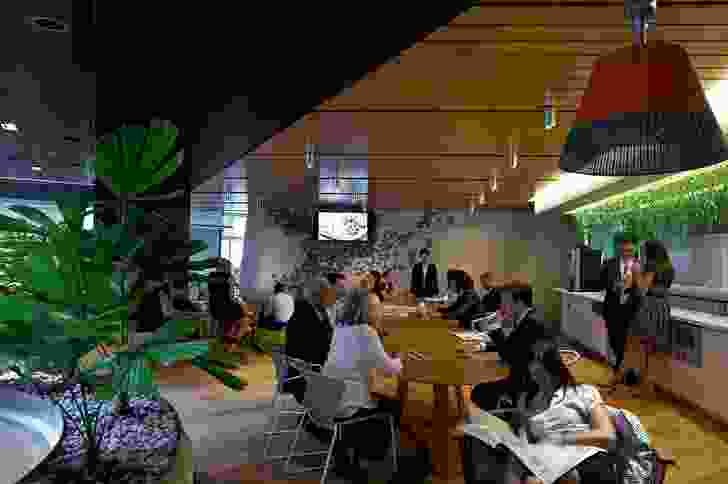 Kate Langan talked about office design from a client and consumer perspective, discussing the ANZ Bank's new workspaces, conceived as sustainable, collaborative and flexible. The ANZ Centre at Melbourne's Docklands by Hassell and AECOM addressed the client's need for increased light, transparency, openness and connectivity. Other ANZ offices in Australia and overseas have deployed this design principle which includes elements of colour and vitality, and social spaces where staff can relax and recharge.
Overall, the trend in innovative office spaces seems to be to provide and maintain sustainability by considering environmental impact, customer and staff needs, and design vitality and innovation.
A review of Artichoke Night School No.13 will be published in Artichoke 47, on sale June 2014.

Related topics