To start up a new architecture practice takes a broad range of specialist skills, depth of experience and a network of prospective clients. It also depends substantially on luck.
The practice of Edwards Moore opened just over a year ago. This newness belies its directors' depth of accomplishment – they have worked for 1:1, BVN, Grimshaw and LAB among others. But rather than just letting their quickly emerging body of built work – a collection of small-scale, temporary and residential projects – speak for itself, they also promote themselves by offering their problem-solving skills to a wider audience through a free advisory service.
Every Thursday between 4 and 7 p.m., Edwards Moore's Fitzroy office is open for free thirty-minute sessions. "Participants will be given a half-hour consultation, original sketches and other discussion material to assist them in developing their project brief," is the practice's promise. Local newspapers (The Age, Broadsheet, and The Leader) reported the offer, and consequently Edwards Moore finds its Thursday slot solidly attended.
Houses editor Katelin Butler and Architecture Australia editor Timothy Moore dropped in to ask the architects how they are going. Is a chance engagement such as those that occur in a free introductory consultation a good starting point for a relatively new practice looking to drum up business?
---
Timothy Moore Katelin and I come to you today wearing two hats. First, we're magazine editors, and second, we're fairly recent leavers of architecture schools, having both graduated about four years ago. We wonder, in light of your having recently established an office, how you've found the experience of exposing your practice via an advertisement for a free session? What happens when you open your door to chance?
Juliet Moore You never know who will walk in and what they will ask. All we know before the initial meeting is their email address and the appointment time on a given Thursday. Many people won't tell you anything beforehand.
Timothy Moore Are you discovering that people have unwritten briefs in mind?
Juliet Moore There was one couple that came to us and said they had a room in their house that they didn't know what to do with. And then we saw it. They have the most amazing house, and the room itself – it's like a 1980s James Bond film set. In the end, we hope we're helping people understand what they'd already been thinking.
Ben Edwards It's also about changing the perception of how architects operate. There's a misconception that architects are too expensive to engage with. "Ask an Architect" is a means by which we break down this perception and show transparency in the way we work.
Timothy Moore Was public exposure the driving force behind the project?
Juliet Moore The idea arose while we were working on a residential project. We were renovating a narrow, 3.7 metre wide terrace house in Fitzroy. While we were renovating the back end of the house, the street elevation, which included a front living room, was to remain unoccupied. We thought, "Why not open up the living room and invite people in to see us there?" It was an opportunity for people to see the building site behind, and by showing them this we made the architect's role more tangible and accessible. For various reasons, we thought it was best to shift "Ask an Architect" to our workplace. Here, one can see our processes and the environment we work in.
Katelin Butler What type of projects are people bringing in?
Juliet Moore They're generally residential and small-scale, from a small room extension in Yarraville to the re-functioning of a room in Keilor. We're designing on the spot, with our yellow tracing paper out.
Timothy Moore Would you normally undertake sketch design in front of a client?
Juliet Moore No, not normally. We're usually more guarded. We don't want to be in a position of designing on the spot because when we're designing, we do it together and need time to discuss the ideas and revise it over time.
Ben Edwards But what we produce in the session is ideas. We sketch them out in various options. "What about this? What about this?" These sketches we give away after the session.
Timothy Moore It is one way to promote the skills of the architect, but I wonder, as a business model, is it a good avenue for the procurement of worthwhile projects?
Juliet Moore People you meet might have a friend who has a house that needs something done.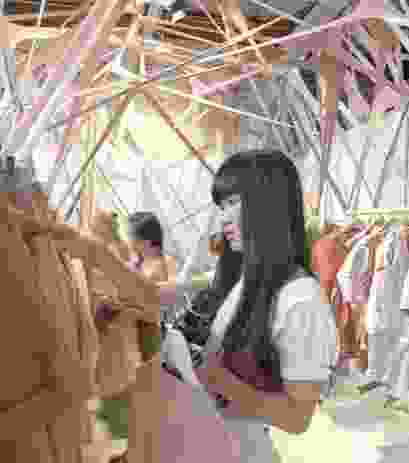 Ben Edwards We never charge for a first meeting, when we're getting to know a client. This method is about making the initial point of contact more accommodating for people who would not necessarily think to seek an architect out. And the bottom line is that we're trying to generate work. Our office has been in existence for just over a year.
Juliet Moore We are planting a lot of seeds. When you first start a practice, it's an empty paddock – so you'd better get planting. Architecture isn't an immediate thing. It might be six months later that someone you saw for half an hour needs you.
Ben Edwards When you first start a practice, you don't just get a knock on the door. You have to generate the project yourself. We were mainly doing residential projects and we thought: "How can we get into retail projects?" One opportunity came up with the label Arnsdorf, but there was only a two hundred dollar budget and we thought, "let's do it here in our office," and we created a temporary cave-like space (inspired by crystalline forms and rocky landscapes). It generated lots of media attention.
Juliet Moore By doing these sorts of projects, it gives us the portfolio we need to do things more legitimately.
Timothy Moore What do you mean by "more legitimately"?
Juliet Moore Someone ringing you up and saying that they are going to pay you. It may be that nobody rings you and offers you that exciting retail fitout or exhibition. You have to go out there and do something. You have to go out there and do it, to prove yourself.
---
Edwards Moore's Cubby House was reviewed in Houses 75.
Related topics