Aspect Studios and Aileen Sage Architects have designed an experiential children's playground for the City of Sydney.
The proposal would see the addition of the playground to the existing Cook and Phillip Park in the Sydney CBD. The playground will flank the Cook and Phillip Park Aquatic and Fitness Centre designed by Lawrence Nield of Bligh Voller Nield with landscape architect Spackman Mossop.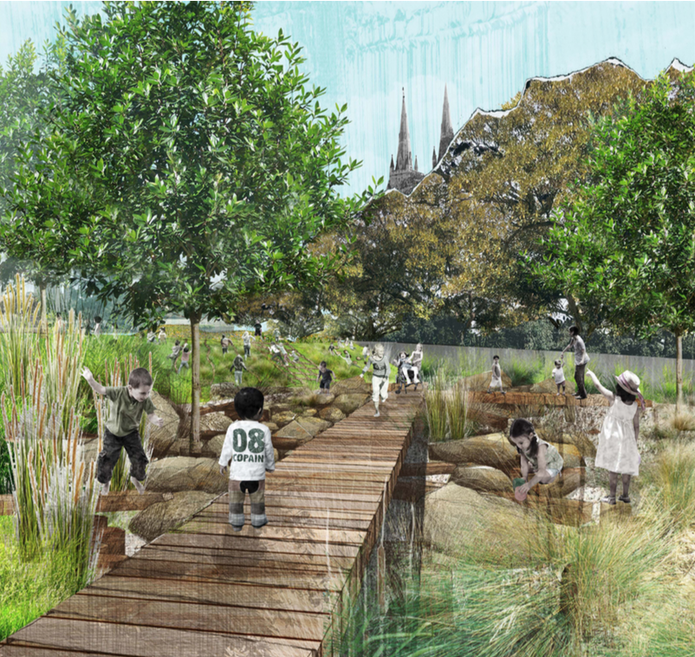 The design involves a diverse mix of features intended to spark play, including a sand play area, large group slides, tunnels, a timber boardwalk and a dry creek bed.
The design proposal reads, "The playground will include a range of equipment-based play elements and less structured play spaces, creating opportunities for a wide variety of games and experiences to occur within the playground.
"This will ensure that children are excited about returning to the playground again and again."
Part of the design process involved two workshops facilitated by Aspect and the City of Sydney at two local primary schools. Students were presented with a range of tasks that the designers have used to intuit what sorts of experiences the park should offer. One activity, for instance, asked students to design a "dream tree house," which generated ideas that have influenced the design of a series of elevated cubbies that provide views across the park.
Elsewhere in Sydney, Aspect Studios was responsible for the design of the Ian Potter Children's Wild Play Garden at the Centennial Parklands, which won the Landscape Architecture Award for Play Spaces at the 2018 AILA National Landscape Architecture Awards. The park is noteworthy for its "roguish sense of adventure," which creates opportunity for children to connect with nature.
Aileen Sage Architects, founded by Isabelle Toland and Amelia Holliday, were creative directors of the Australian exhibition at the 2016 Venice Architecture Biennale, along with Michelle Tabet.
The city is soliciting community feedback on the design here until 1 March.
Related topics