Aspect Studios has unveiled its design for the public realm surrounding the proposed Western Sydney Stadium designed by Populous.
Earlier this month, Aspect Studios, Populous and Lend Lease won a competition to design and deliver the $300-million stadium precinct project.
The project will be located on a bend of the Parramatta River, within the World Heritage-listed Parramatta Park, on the western edge of the Parramatta CBD.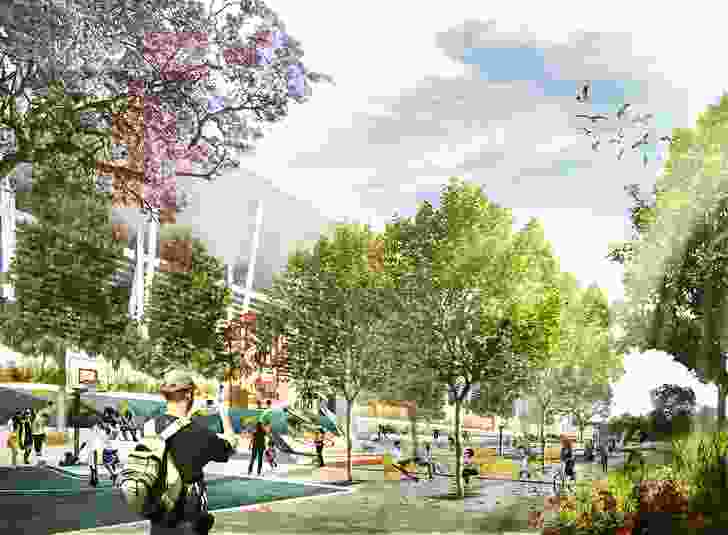 The design of the public realm will integrate the stadium facility with the surrounding city and parklands through a series of pedestrian and cycle paths, new plants and a range of outdoor event spaces.
An active urban park situated along O'Connell Street will form the heart of the public realm. The park will feature a terraced design to provide a range of settings for multiple uses and activities, including giant slides, sporting facilities and water activities.
The park will also has the capacity to transform into an event space during game days at the stadium.
The new Western Sydney Stadium precinct will see the demolition of Pirtek Stadium, designed by Cox Architecture and built by Lend Lease in 1986.
Also slated for demolition is the Parramatta and District War Memorial Swimming Pool designed by Figgis and Jefferson and built in 1959.
In a June 2016 press release NSW sports minister Stuart Ayres said the eastern end of the former Parramatta Golf Course had been identified as a potential site for a new aquatic centre. However, no further plans have yet been released.
Demolition of Pirtek Stadium will begin in early 2017 and the new stadium is scheduled to open in early 2019.
Related topics