Bad buildings, says Neometro's Jeff Provan, are like bad cars: "They're ugly, high maintenance and high cost." But unlike a bad car, a bad building is here forever. "We're stuck with it," the design director says.
It is, Jeff continues, a mandate of the architectural professional to take responsibility for the environment – both built and natural. For the last twenty-five years, architect-developer Neometro has done this by cleverly integrating the elements of landscape, architecture, interior design and environment into its various developments, most of which are located in Melbourne's inner suburbs. Its latest is in Bank Street, South Melbourne.
The development – three contemporary three-bedroom townhouses and one apartment – sits between two red-brick buildings, one of heritage significance. The site originally held a hall and office buildings built in the 1890s, but nothing remains of the site's former life, save for a red-brick fence, fragments of which now link each townhouse and pay homage to its history and surrounds.
Architecturally, the physical dimensions of each townhouse – 150 square metres – caused the greatest challenge. "We took it from being a house and gave it a bit of a hybrid-warehouse feel. There's no lawn, and the neighbours are vertical rather than horizontal, so it is really an adaptation of a contemporary cottage house," Jeff says.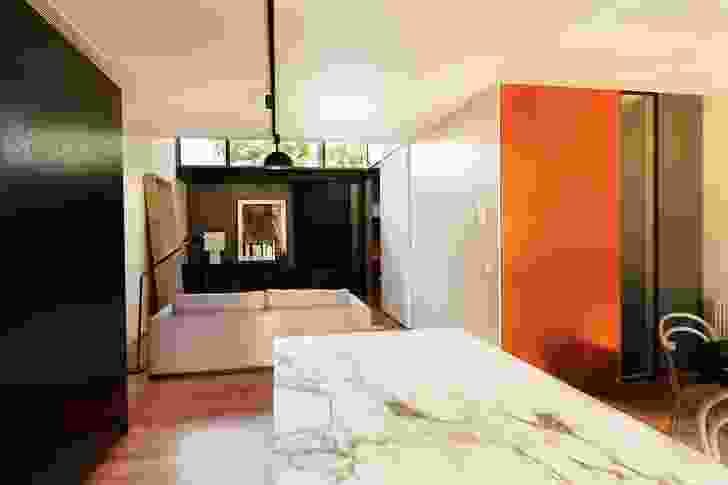 The townhouses spread over three levels connected by black-stained staircases. The ground floor sets the hybrid scene, with a home office or third bedroom located alongside the entry, a pivot door lending it a mixed-use, almost industrial feel. Another bedroom occupies the rear of the site, leading out to a small courtyard, the first of the house's three outdoor spaces. A bathroom sits between the two rooms, with a clever sliding wall separating the toilet to create a powder room for visitors. "Providing spaces that feel big comes down to offering volume and void spaces. We wanted it to be really simple and functional," Jeff says.
These factors drive the layout on the first floor too, where a compact study at the top of the staircase opens via another full-height sliding wall to an open lounge, kitchen and dining area, beneath 4.6-metre ceilings. A row of high windows above the living space faces south onto neighbouring chimneys and gum trees; on the opposite side, facing north, is a deck that opens seamlessly via bifold doors to merge the indoor and outdoor spaces.
Another staircase leads up to the main bedroom and ensuite on the second floor. The third outdoor space, a neat terrace, is here as well, encased within muted Colorbond cladding that allows it to visually recede when viewed from the street.
Environmental considerations are a fundamental part of Neometro's philosophy. Just as no space is wasted, sustainable features are carefully integrated. Orientation is used to maximum effect – spaces typically accessed during daylight hours, such as the kitchen and meals area, are oriented north, while the lounge area, typically used for evening relaxation, faces south. Elsewhere, casement windows in the bedrooms and kitchen provide cross-ventilation while adding a certain period charm, while the rainwater tank in the ground-floor courtyard doubles as a storage shed.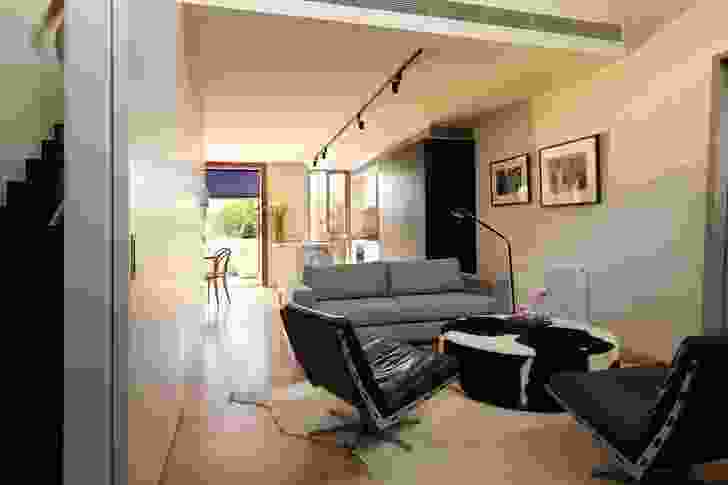 It is Neometro's interior design that binds all of the elements together, as expressed in Jeff's brief for the project: "We wanted to stimulate the senses by creating a low-maintenance, low-energy place that has a sense of identity – and that isn't one of two hundred."
Every material and finish has been chosen for tactile allure: traditionally domestic elements like the soft blackbutt timber flooring, grooved doors and walls, and natural bluestone on the living room hearth contrast with the almost industrial feel of painted brick and the bedrooms' concrete feature walls to consolidate the mixed-use aesthetic. The material palette in the kitchen follows a similar theme – benchtops of marble and stainless steel, glass splashbacks and pleasantly minimal appliances. "We're always interested in using materials in their natural form. Natural timber and stone weather quite gracefully – they wear in rather than wear out," Jeff says.
The interiors employ a muted palette, save for two splashes of colour that enliven the house. The first is an orange ceiling in the downstairs bathroom; the second an orange wall panel in the dining room. "We always like a bit of colour – it adds frivolity," Jeff says. "As the interior is largely black and white, we used little glimpses of colour so that it's like a little pinch of saffron or orange rind."
This mastery of fine details reappears in the thick leather strap that doubles as a door handle on the pivot door enclosing the front room downstairs. Cheekily, Neometro has dubbed it the "Hermes look."
As Jeff explains it, "It's all about coming back to the senses – that special tactile feel."
Products and materials
Roofing

Corrugated iron; R 3.5 insulation.
External walls

Colorbond cladding; brick and render; painted brick,
Internal walls

Solid brick party walls.
Windows

Timber-framed, acoustic glazing.
Doors

Groove painted timber doors.
Flooring

Polished concrete; blackbutt tongue-and-groove flooring; carpet; stone.
Lighting

Low-voltage spots; low-energy fluorescent downlights.
Kitchen

Miele oven, cooktop, rangehood and dishwasher; ss benchtop with integrated sink; black glass splashback; stone benchtop.
Bathroom

Ceramic tile floors; chrome tapware.
Climate control

Reverse-cycle airconditioning; hydronic heating; solar-assisted hot water.
Other

Open fire with black metal surround.
Credits
Architect

Neometro
Melbourne, Vic, Australia
Project Team

Jeff Provan, Karen Alcock, Clare McAllister, Maria Danos
Consultants

Builder Neocon3
Engineer BCM
Heritage architect Bryce Raworth
Interiors Neometro
Landscaping Neil Barnes, Neometro
Lighting Maisons Lighting

Site Details

Location Bank Street, South Melbourne, Melbourne, Vic, Australia
Building area 150 m2

Project Details

Status Built
Design, documentation 6 months
Construction 12 months
Category Residential
Type New houses

Source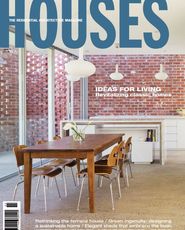 Project
Published online: 1 Apr 2010
Images: Trevor Mein
Related topics